Atlanta Man Attacks Driver With Machete For Pulling Into Gas Station Too Slowly
A machete-wielding assault on a safe motorist this weekend was captured on video.
Joshua Evans claims he was pulling into a Texaco gas station in Austell, Georgia, when the driver behind him, identified by police as Dave Anthony Williams, started honking for him to move faster. "The light just turned green," Evans told WSB-TV. "[He] is just honking his horn,"
Williams then reportedly followed Evans into the Texaco, where the two argued for some time. Evans admits he punched Williams, but says it was in self-defense when Williams charged at him.
After the punch Williams allegedly opened his trunk, pulled out a machete and started chasing Evans, who stumbled and fell. Williams then slashed at his face, hands, wrist and back. The attack only ended when Evans' girlfriend jumped on the suspect's back.
"It could've been half of my face," Evans told WSB. "It could've been my arm. I could've lost my life over that."
Evans' injuries were relatively minor, requiring stitches on just his finger and wrist.
A witness took video of the attack and shared it with Cobb County Police and WSB. Though he declined to be named, he told the station, "It didn't look like he wanted to kill him, but it did look like he wanted to hurt him bad."
Police tracked Williams down at a nearby Walmart where he worked—he actually left his vest, complete with Walmart name tag, at the scene of the attack.
Williams has been charged with aggravated assault with intent to murder and is being held at Cobb County Jail without bail. The charge carries a maximum sentence of 20 years in prison.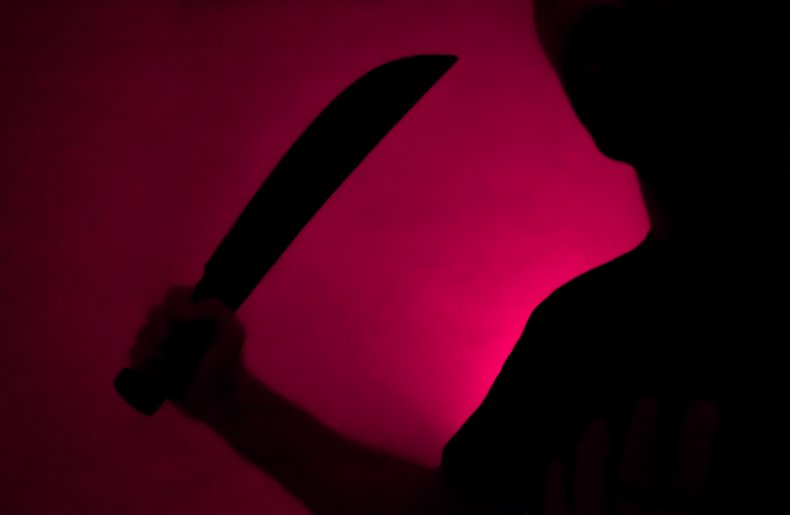 Machetes are increasingly popular as the weapon of choice in road rage incidents: In November 2018, a minor traffic accident in North Salem, New York, led to a saber assault: Robert Davis pulled onto the shoulder of I-684 to avoid traffic, but hit an oil truck stopped near the off-ramp. The two drivers argued, and Davis threatened the trucker with a machete. His blade broke, though, and hit an uninvolved vehicle. Davis was charged with felony criminal possession of a weapon. Once again, the encounter was captured on video.
In May, after a driver sideswiped another car on the LBJ Freeway in North Texas, the victim brandished a machete in an encounter similarly caught on video.
And just two days ago, a woman was accused of attacking three men in a Massachusetts hotel parking lot with a foot-long serrated machete, after they told her and her boyfriend to "get a room" instead of making out in her car.
The woman, Allison Maitland, claims she was defending her boyfriend, who was being beaten by the trio.