Taking on the Gun Lobby at New York Fringe Festival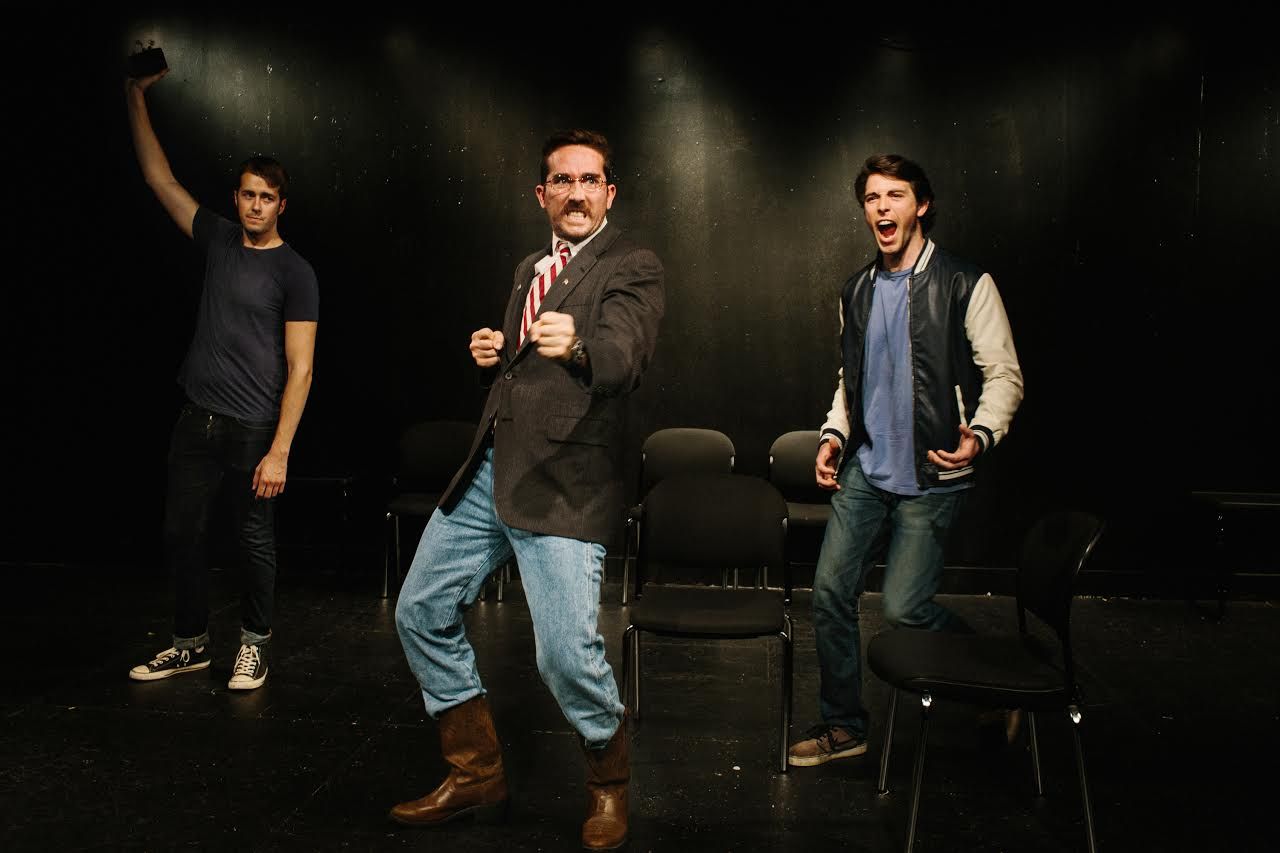 Updated | This is the first major election year since the December 2012 Sandy Hook Elementary School massacre—in which 20 first-graders and six educators were fatally shot—and while the subject of gun control has been widely discussed, little action has been taken at the federal level: After the June massacre at a nightclub in Orlando, Florida—the deadliest mass shooting in modern U.S. history—Capitol Hill lawmakers again rejected gun reform legislation.
With less than three months remaining until Americans head to the polls to elect their next president, though, activists aren't backing down. Their efforts are even extending to the art world. Inspired by real news stories, former journalist Joseph Huff-Hannon takes on American gun culture with a satirical musical titled Machine Gun America. A play with guns. And songs. (Tagline: "Star-crossed lovers tangle with well-armed toddlers, a powerful gun rights leader and depressed gun safety mascot.")
Machine Gun America, which runs through August 27 at the Flamboyán Theater at the Clemente at 107 Suffolk Street in New York City, takes its name from a real machine gun theme park in Orlando that admits anyone aged 13 and older. The show centers on members of a group called Young Shooters' Anonymous. One, named Bang Bang (Tim Murray), who as a child fatally shot his mother at a Wal-Mart, meets with Wayne LaPear at the National Machine Gun Association (note the similarity to Wayne LaPierre, executive vice president of the National Rifle Association), where he learns of LaPear's new initiative: to teach children how to shoot guns.
In May, the real-life NRA endorsed Republican presidential nominee Donald Trump, who touts his plans to eliminate gun-free zones in schools and on military bases and pledged that within his first hour in the White House he would overturn President Barack Obama's executive actions on gun laws. Meanwhile, the NRA's executive director, Chris Cox, often publicly portrays Hillary Clinton, the Democratic nominee for president, as an enemy to the Second Amendment who would take away Americans' guns.
Clinton, who has made gun safety measures a main plank in her platform, promises to take on the gun lobby with universal criminal background checks and to keep firearms away from terrorists, domestic abusers and other individuals who pose a risk to public safety. She has not, however, said she would seek to ban ownership of all guns.
Huff-Hannon tells Newsweek he wrote the play, which is running in August as part of this year's New York International Fringe Festival, because he is interested in "the daily gun nuttiness across the United States." He was particularly struck by a December 2014 shooting involving a 2-year-old who killed his mother while they were shopping at a Wal-Mart in Idaho. That tragedy inspired Bang Bang's story in Machine Gun America.
Huff-Hannon says he hopes that by dramatizing the gun stories and making the audience laugh uncomfortably at reality, his play can be a lens into the many firearm-related tragedies occurring in the U.S., from mass shootings to daily deaths not extensively covered by the media.
Also looking to spread the message about the importance of gun control is a coalition of at least 40 groups, including Gays Against Guns, New Yorkers Against Gun Violence and the National Action Network, which this weekend is kicking off 72 days of action against the gun lobby ahead of the November 8 general election. The organizations are planning to promote gun safety with rallies, sit-ins and marches in Washington, D.C., New York and other cities around the country. On Saturday, they will hold a rally outside of the NRA lobbying office in the country's capital.
As members of the gun safety movement vow to press their cause in statehouses across the country, Huff-Hannon is not the only arts figure exploring the issue of gun violence. Mother Emanuel, also running during the Fringe Festival (through August 25), celebrates the lives of the nine victims killed in the June 2015 massacre at the Emanuel African Methodist Episcopal Church in Charleston, South Carolina.
And, in an interview with Rolling Stone, Green Day frontman Billie Joe Armstrong says the band's new song, "Bang Bang," examines "the culture of mass shooting that happens in America mixed with narcissistic social media.… There's this sort of rage happening, but it's also now being filmed and we all have ourselves under surveillance. To me, that is so twisted."
Huff-Hannon is hoping to bring Machine Gun America to D.C. at some point during the 72 days of action. "We're not afraid," he says, "to use this show in a provocative, bomb-throwing kind of way to call out the gun lobby."
Correction: An earlier version of this story mistakenly said the Sandy Hook Elementary School massacre occurred in 2014. It occurred in 2012.