Machine Gun Kelly vs. Eminem: Rap Beef is a 'Battle Between Past and Future'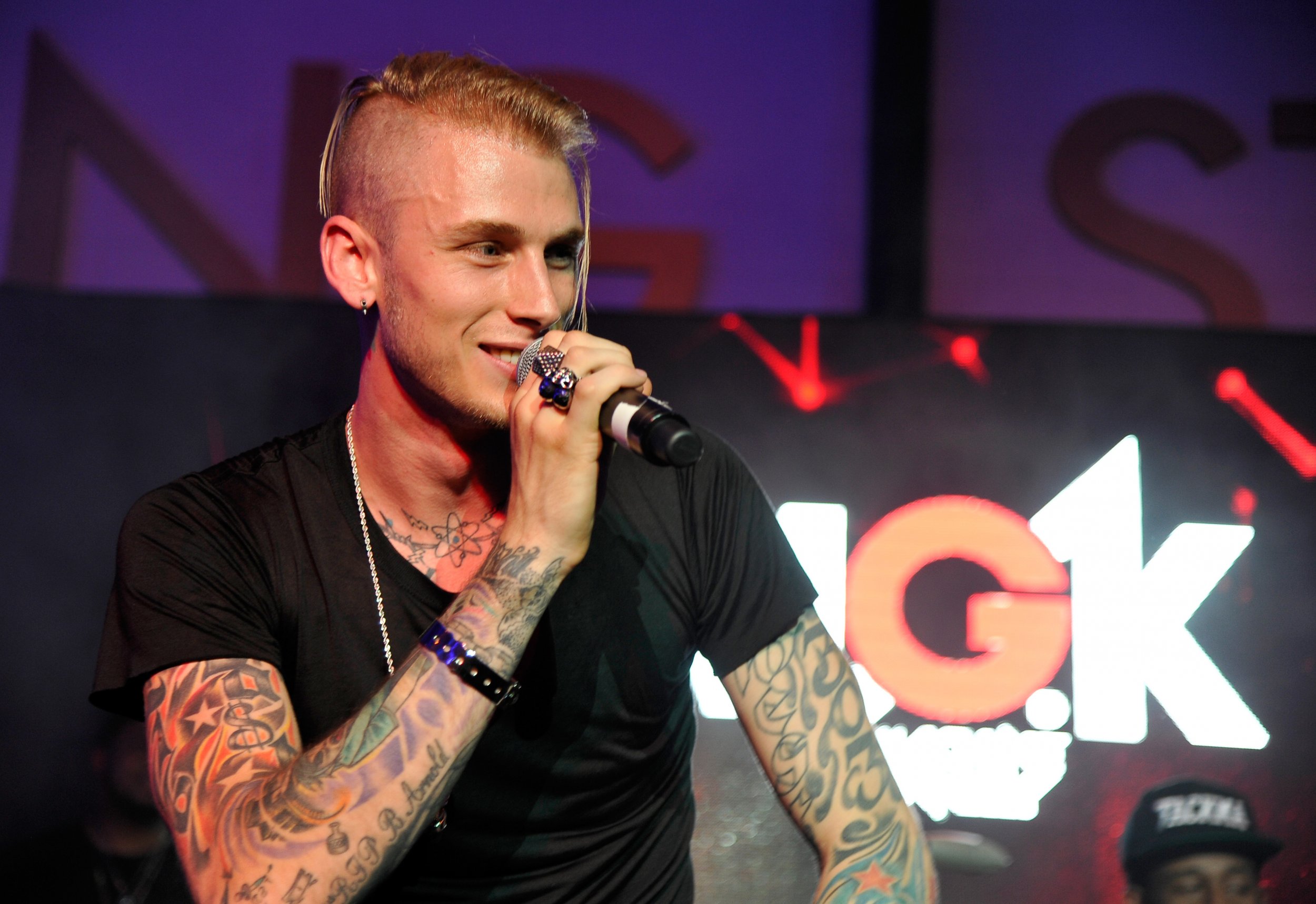 Cleveland-based rapper Machine Gun Kelly continues to drag Eminem after debuting his diss track, "Rap Devil," on Monday. As he made a stop Thursday on his The M A N I A Tour with Fall Out Boy in Eminem's home state of Michigan, Kelly continued the feud with his nemesis.
"This is not a battle between Michigan and Ohio," Kelly said before performing "Rap Devil" at the Van Andel Arena in Grand Rapids, Michigan. "This is a battle between the past and the motherf***ing future!"
Kelly's beef with Eminem first surfaced in 2012. At the time, the "Bad Things" rapper tweeted about his thoughts on the "Love The Way You Lie" artist's then-teenage daughter, Hailie Scott. Kelly suggested Scott was "hot as f***," and Eminem wasn't amused. Flashing forward to 2018, Eminem decided to reignite his drama with Kelly on his newly released Kamikaze album.
On "Not Alike," Eminem called out Kelly for his inappropriate comments about his daughter.
"He wants to keep up his tough demeanor / So he does a feature, decides to team up with Nina / But next time you don't gotta use Tech N9ne / If you wanna come at me with a sub, Machine Gun," Eminem rapped. "And I'm talkin' to you, but you already know who the f*** you are, Kelly / I don't use sublims and sure as f*** don't sneak-diss / But keep commenting on my daughter Hailie."
Kelly, as many fans are aware, did not take this attack lightly. On Monday, the Nerve actor hit back at the 8 Mile star with an equally shocking diss track, titled "Rap Devil." Kelly bravely called Eminem out for allegedly attempting to have music manager Paul Rosenberg ruin his career, blackballing another rapper and for orchestrating a conference call to obtain an apology from him.
"His f***ing beard is weird / Tough talk from a rapper paying millions for security a year," Kelly rapped. "'I think my dad's gone crazy,' yeah, Hailie, you right / Dad's always mad cooped up in the studio, yelling at the mic / You're sober and bored, huh (I know) / About to be 46 years old, dog."
Kelly additionally slammed Eminem for taking several years to produce a proper diss track against him, saying: "Man, you sound like a b***h, b***h / Man up and handle your shit (ugh) / Mad about somethin' I said in 2012 / Took you six years and a surprise album just to come with a diss / Homie we get it, we know that you're the greatest rapper alive / F***in' dweeb, all you do is read the dictionary and stay inside."
After Kelly unveiled "Rap Devil," Shady Records producer Mr. Porter confirmed Eminem has hit the studio to create a song in response to the "Wild Boy" rapper.
"Right now, he [is] in there working. We doing something else right now, but trust me, we'll get to it. I'll tell you this, I wouldn't wanna be [Kelly]," Mr. Porter said Tuesday on Culture Untold. "It's great that you took that opportunity and did that, hey, kudos to you, good for you. The one thing that I'm worried about, you remember when Thanos threw that whole planet at Iron Man?"
While Eminem hasn't confirmed whether the track is on the way, he made a rare appearance on Instagram Live playing Pac-Mac with complete focus. A week prior, he appeared on Instagram Live before dropping Kamikaze by surprise.