Machine Gun Kelly Fires Back at Eminem in New Diss Track, 'Rap Devil'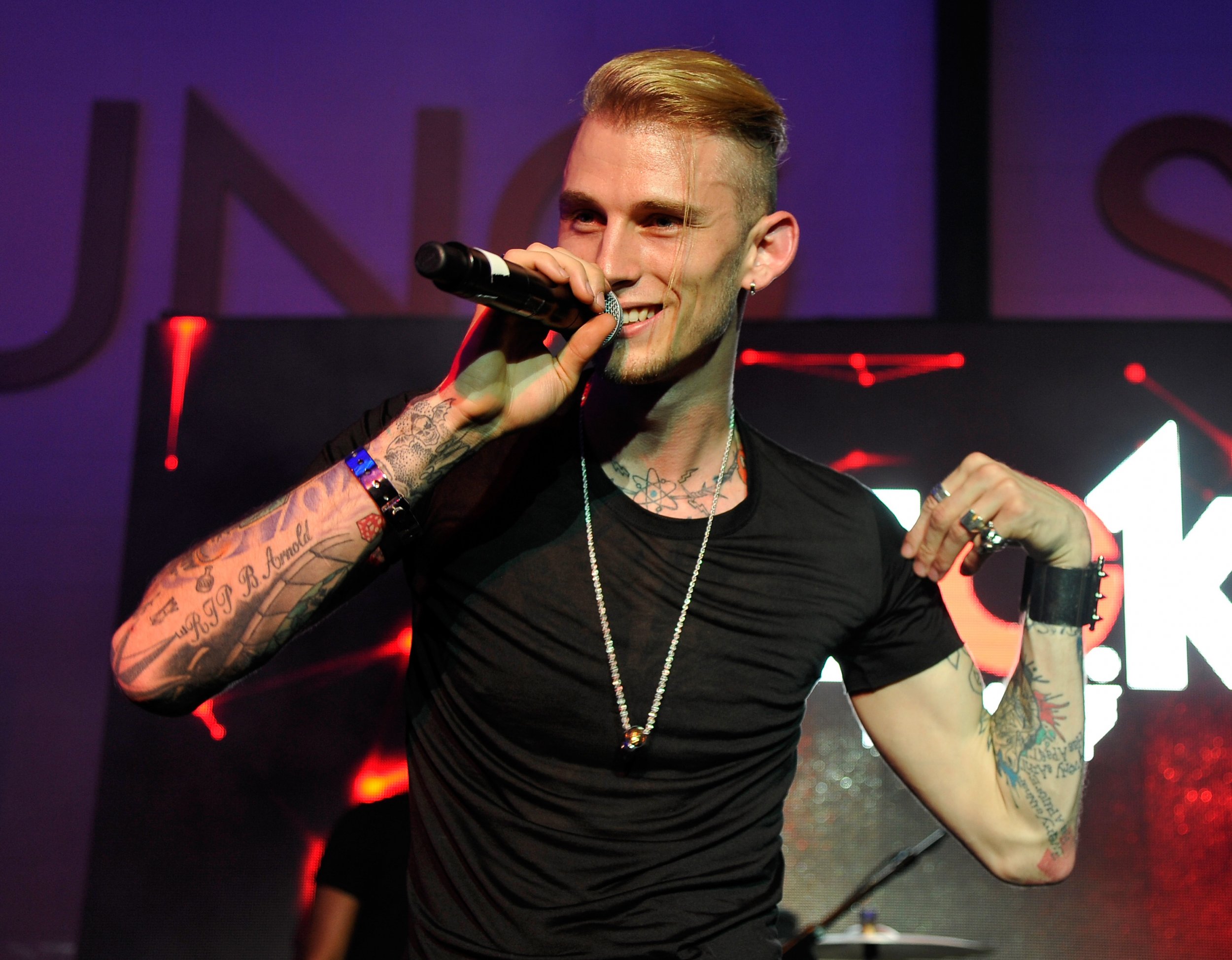 After Eminem took aim at fellow rapper Machine Gun Kelly on his newly released album Kamikaze, he returned the favor by dissing the hip-hop veteran on "Rap Devil."
Eminem, born Marshall Bruce Mathers III, unveiled Kamikaze to the surprise of fans and critics alike Friday. On the album, Eminem slammed rappers like Drake, Tyler the Creator and Lil Pump. He additionally targeted President Donald Trump, the Grammy Awards and opposers of his last album, Revival. His tenth studio effort features a track, titled "Not Alike," that directly targets the Cleveland-based talent.
"He wants to keep up his tough demeanor / So he does a feature, decides to team up with Nina / But next time you don't gotta use Tech N9ne / If you wanna come at me with a sub, Machine Gun," Eminem rapped. "And I'm talkin' to you, but you already know who the f*** you are, Kelly / I don't use sublims and sure as f*** don't sneak-diss / But keep commenting on my daughter Hailie."
Kelly, born Richard Colson Baker, was not amused by Eminem's comments. Four days after "Not Alike" arrived, the "Bad Things" rapper took aim at Eminem in "Rap Devil."
"His f***ing beard is weird/ Tough talk from a rapper paying millions for security a year," Kelly began, "'I think my dad's gone crazy,' yeah, Hailie, you right / Dad's always mad cooped up in the studio, yelling at the mic / You're sober and bored, huh (I know) / About to be 46 years old, dog."
Kelly didn't stop there, however. The Nerve actor claimed Eminem allegedly "blackballed a rapper that's twice as young as" him and how he apparently had music manager "Paul Rosenberg trying to shelf" Kelly. The wildest accusation, however, revolves around an apparent meeting Eminem supposedly orchestrated to obtain an apology from Kelly.
"Em you're pushing 50 / Why you claiming that I'ma call Puff? / When you the one that called Diddy (facts) / Then you went and called Jimmy (facts)," Kelly rapped. "They conference called me in the morning (what?) / They told me you mad about a tweet / You wanted me to say sorry (what?) / I swear to God I ain't believe him (nah) / Please say it ain't so (no) / The big bad bully of the rap game can't take a f***ing joke."
Kelly's diss track caught the attention of many on Twitter. One fan suggested how he was "hitting Eminem harder than Chris hit Rihanna," whereas another claimed how "Someone [should] buy a casket and order a hearse. We need to get ready for MGK's funeral."
Kelly's feud with Eminem first surfaced in 2012. At the time, the rapper-actor tweeted about how he thought the "Lose Yourself" rapper's daughter Hailie Scott was "hot as f***." Kelly's comment was problematic because Scott, all the while, was still a teenager. Fast forward to 2018, Kelly argued why he decided to release a diss track for the Missouri native after Eminem's jabbed surfaced on Kamikaze Friday.
"I'm standing up for not just myself, but my generation. I'm doing the same shit you did back in ur day," Kelly, 28, tweeted on Monday. "Life is still real on my side, and I had to take time from the grind to defend myself from someone I called an idol."