Machine Gun Kelly and Eminem's Feud Explained
Machine Gun Kelly has responded to Eminem's latest diss as the pair continue to be embroiled in a war of words.
Both of the blonde performers are known for their edgy and often controversial lyrics and their spat is somewhat reminiscent of an old school rap beef—but in 2020.
The latest diss track comes courtesy of Marshall Mathers. The 48-yea-old Detroit rapper took a pop at the pop-punk singer—whose real name is Richard Colson Baker—on his new album.
Eminem has released a surprise Side B addition to his Music To Be Murdered By album from earlier this year.
In the song "Zeus," he rapped: "Fair weather, wishy-washy/ She thinks Machine washed me/ Swear to God, man, her favorite rapper wish he'd crossed me."
While on the song "Gnat" he added: "They come at me with machine guns/ Like trying to fight off a gnat."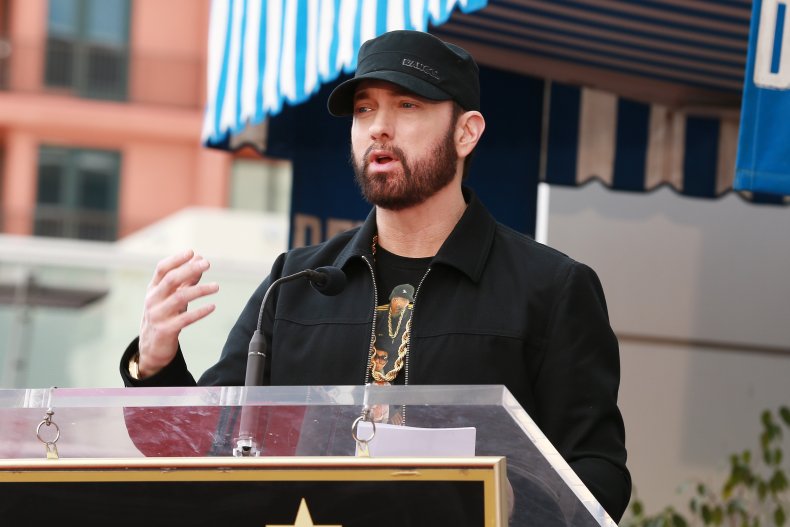 The references in each song appear to be aimed at Kelly.
This week, Kelly, 30, has seemingly responded to these two insults via Twitter—"those subliminals," he tweeted alongside the looking eyes and the garbage emojis.
Previously, Kelly released a new song called "Bullets With Names," on which he seemingly bragged about having "killed" Eminem.
The feud began back in 2012 when Kelly tweeted about seeing a photo of Eminem's teenage daughter Hailie.
"I have to say, she is hot as f***, in the most respectful way possible cuz Em is king," he tweeted.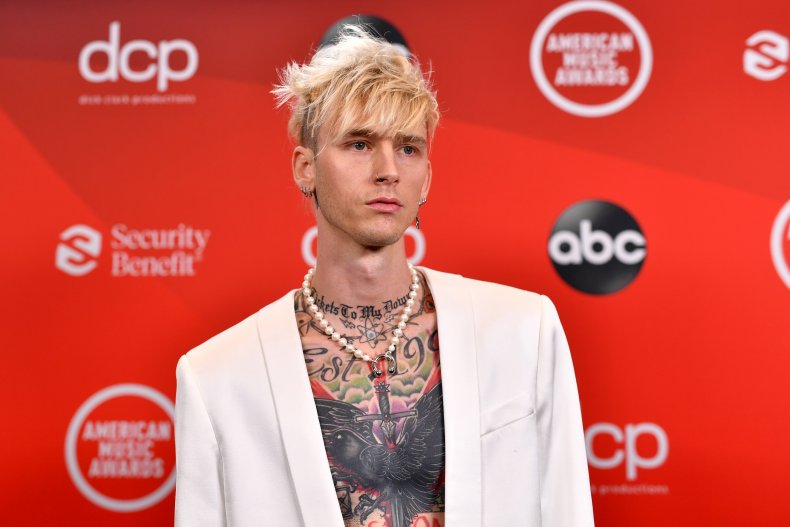 It wasn't until six years later that Eminem responded on the song "Not Alike" from the album Kamikaze.
The lyric goes: "I'm talkin' to you, but you already know who the f*** you are, Kelly / I don't use sublims and sure as f*** don't sneak-diss / But keep commenting on my daughter Hailie."
This then led to Kelly responding in the track "Rap Devil," where he references Eminem's sobriety and age.
He referenced Eminem in the song with the lyric: "Took you six years and a surprise album just to come with a diss."
He also sings: "Tough talk from a rapper paying millions for security a year /'I think my dad's gone crazy,' yeah, Hailie, you right / Dad's always mad cooped up in the studio yelling at the mic / You're sober and bored, huh (I know) / About to be 46 years old, dog."
Kelly also tweeted: "Im standing up for not just myself, but my generation. Im doing the same s*** you did back in ur day. life is still real on my side, and i had to take time from the grind to defend myself from someone i called an idol."
In a 2018 interview with Sway, Eminem referenced the now long-standing beef with MGK—and said he was not over the tweet about his daughter.
"One day, you know, you go down a f****** wormhole on YouTube or whatever," he said. "I see 'Machine Gun Kelly Talks About Eminem's Daughter' or whatever. I'm like, 'What the f***?' I click on it...he starts doing a press run, basically, about Hailie. I'm like, 'What the f***? Yo, my man better chill.'"
The "Without Me" rapper then went on to say: "The reason I dissed him is actually a lot more petty than that. The reason that I dissed him is because he got on—first he said, 'I'm the greatest rapper alive since my favorite rapper banned me from Shade 45' or whatever he said, right? Like I'm trying to hinder his career. I don't give a f*** about your career. You think I actually f****** think about you? You know how many f****** rappers are better than you? You're not even in the f****** conversation."