Machine Gun Kelly Calls Megan Fox 'Wife' at Concert, Quashes Breakup Rumors
Machine Gun Kelly called Megan Fox his "wife" onstage at a concert amid rumors that the couple had broken up.
Social media speculation had suggested that Fox and Kelly had called time on their two-year relationship, but Kelly, real name Colson Baker, referred to Fox as his "wife" over the weekend, implying that the rumors are false.
The couple have made headlines on numerous occasions during their relationship with their public displays of affection often going viral. Kelly also recently paid tribute to Fox in his Hulu documentary Machine Gun Kelly's Life in Pink, and credited her with helping him quit drugs.
Footage from Kelly's gig on Saturday August 13 shows him referencing Fox.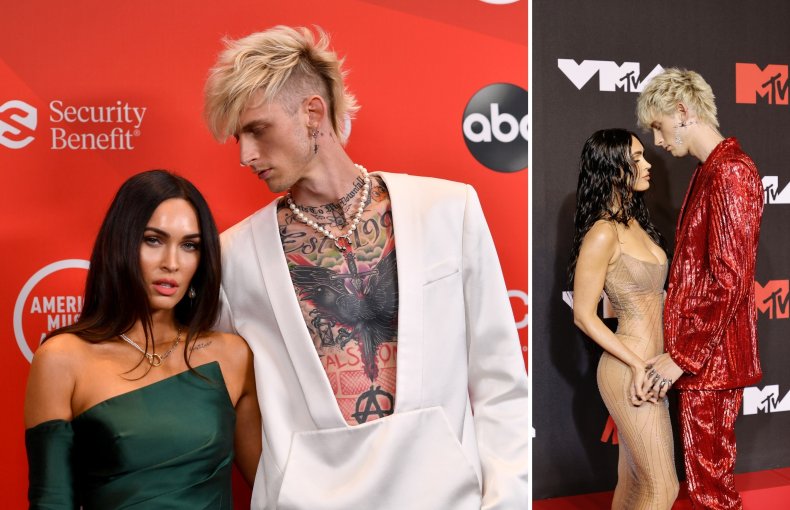 "I talked to my wife before I got on stage tonight and I said," he paused for a while as the crowd in Cleveland, Ohio screamed in support.
"She said 'when you're on stage, you're where you love to be. Don't think about anything, you don't have to prove anything to anybody. They all came to see you, so just give them the best f****** performance of their life,'" Kelly said.
He was performing at the FirstEnergy Stadium in Cleveland, Ohio on Saturday. The show was the final leg of his U.S. tour before he moves on to perform in Europe from September 17.
Kelly also referred to Fox as his wife at the 2022 Billboard Music Awards in May when he announced he'd written the song "Twin Flame" for her.
His performance in Ohio was eventful for other reasons, as he zip-lined across the stadium and bloodied his face after smashing a bottle on himself, all on what Cleveland Mayor Justin Bibb announced was officially Machine Gun Kelly Day.
Speculation surrounding the status of Kelly and Fox's relationship has been fueled by the fact that they've not featured on each other's social media posts since June. Despite the talk online from concerned fans, neither have publicly addressed the rumors regarding their relationship.
Sources close to the couple, according to TMZ, reported on Wednesday morning that the couple are "just fine" and they're both working separately at the moment.
Kelly has been on tour since early June while Fox has most recently been filming the upcoming movie Johnny and Clyde. Fox will also feature in The Expendables 4 and provide a voice role in Naya Legend of the Golden Dolphins, both scheduled for release in 2022.
Newsweek has reached out to Machine Gun Kelly and Fox's representatives for further comment.