Machine Gun Kelly: Incident With Gun, Megan Fox Made Him Quit Drugs
Machine Gun Kelly's new Hulu documentary reveals that the singer had a paranoia-filled suicide attempt while on the phone with his fiancée Megan Fox.
The singer and actor credits the moment with turning his life around as he became sober afterwards and threw himself into his work. After the incident, MGK, real name Colson Baker, released the album Mainstream Sellout earlier this year which reached number one on the Billboard 200.
Machine Gun Kelly's Life in Pink is available to watch on Hulu now, and features Baker and Fox, as well as appearances from Halsey, Travis Barker and Lil Wayne.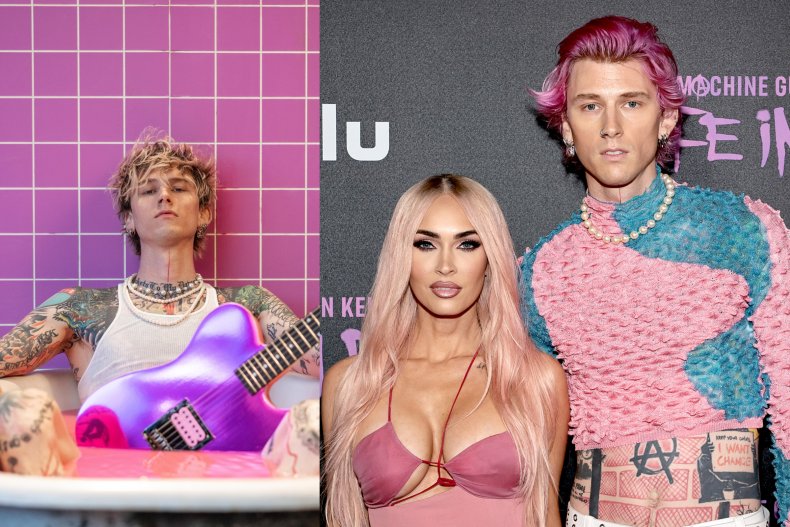 MGK explains in the documentary that after the death of his father in July 2020, he found himself alone as Fox was in Bulgaria filming a movie.
"I wouldn't leave my room and I started getting really, really, really dark," he said. "I started getting this really wild paranoia. I kept getting paranoid that someone was gonna come and kill me."
At the time MGK said he slept with a shotgun next to his bed and one day he "just f****** snapped."
"I called Megan, I was like, 'You aren't here for me.' I'm in my room and I'm, like, freaking out on her. Dude, I put the shotgun in my mouth. And I'm yelling on the phone and like the barrel's in my mouth. And I go to cock the shotgun and the bullet, as it comes back up, the shell just gets jammed. Megan's like dead silent." He added, "That was kind of where I started realizing, like, something's not right."
After that moment, MGK said he realized he needed to "kick the drugs" and he was helped by Fox and his 12-year-old daughter who told him they didn't "want to be talking to you through a veil anymore."
Heading onto the road to recovery, MGK is now living a life of sobriety, and claims to have replaced his drug habit with a healthier addiction, but he still wants to make time for his daughter.
"The problem is, I'm addicted to a new drug and that's work," he said. "It feels like I've dug a little too deep of a hole in that and I really need to get the f*** out of it and dig more into being what matters most, which is like a great father."
Life in Pink shows Machine Gun Kelly's rise in the music business, and delves into his origins from his upbringing in Denver. Directed by his frequent collaborator Sam Cahill, Machine Gun Kelly's Life in Pink is available to watch on Hulu now.