Donald Trump Enters Packed India Stadium as Village People's 'Macho Man' Blares Out During Rally With Narendra Modi
Village People's "Macho Man" blared as President Donald Trump entered a stadium packed with people welcoming him to India.
Trump kicked off a 36-hour trip to the country with a visit to the former home of independence leader Mohandas Gandhi before heading to a rally in Sardar Patel Stadium in Ahmedabad on Monday.
More than 100,000 people filled the world's largest cricket stadium, which is also known as Motera Stadium, as almost everyone in attendance donned a white cap with the name of the event "Namaste, Trump" ("Welcome, Trump") written on it, the Associated Press reported.
The crowd danced to numerous songs from Trump's campaign rally playlist as they awaited the president's arrival—but it was Village People's 1978 disco hit "Macho Man" that played as he walked into the stadium.
It comes after Trump welcomed Modi to the U.S. in September last year with a "Howdy Modi" rally, where the pair walked around the packed NRG Stadium in Houston, Texas hand in hand, waving to the crowds.
Maria Abi-Habib, a reporter for The New York Times, tweeted: "I never thought I'd be listening to 'Macho Macho man' in Gujarat, let alone with a crowd of 120,000 people anywhere in this world. But this was the song that Trump walked out to, for Namaste Trump."
Mark Knoller, a White House correspondent for CBS News, wrote: "Waiting for Pres Trump and PM Modi, they're playing the same music mix tape as at Trump Campaign rallies, including Village People's 'Macho Man.'"
CNN reporter Betsy Klein added: "The Trump rally playlist is in full effect in Ahmedabad, where "Namaste Trump" attendees are currently dancing to "Macho Man.'"
After an introduction by Modi, Trump gave a speech in which he touched on Bollywood, a trade deal with India and terrorism.
He opened his address to the crowd by declaring that "America loves India, America respects India and America will always be faithful and loyal friends to the Indian people."
Trump heaped praise on Modi, but called him a "tough negotiator" after criticizing India's trade policies and saying he wants a better deal in the future, CNN reported.
"Everybody loves him, but I'll tell you this, he's very tough," Trump said. "Prime Minister Modi has an inspirational story, but this country does as well. We are very, very proud of India."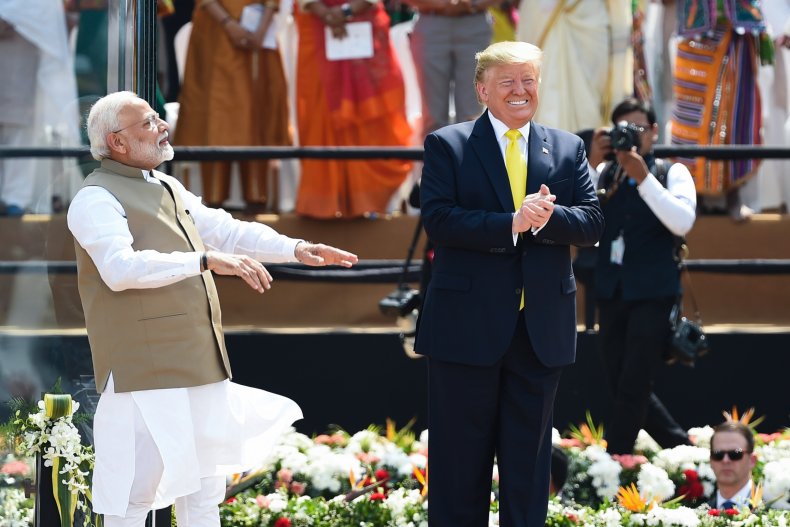 He later added: "I think that the Prime Minister and I can reach a fantastic deal that is good and even great for our two countries…except he's a very tough negotiator."
Trump also thanked India for the warm welcome he has received. "We will always remember this remarkable hospitality. We will remember it forever. From this day on, India will always hold a very special place in our heart," he said.
"Thank you India for this phenomenal welcome," Trump said before wrapping up his address. "God bless India, God bless the United States of America. We love you India, we love you very much!"
This infographic, provided by Statista, shows President Donald Trump's approval rating among Indians from 2016 to 2019.