What Is the Giving Pledge? MacKenzie Bezos Promises to Give Half of Her $36.6 Billion Fortune to Charity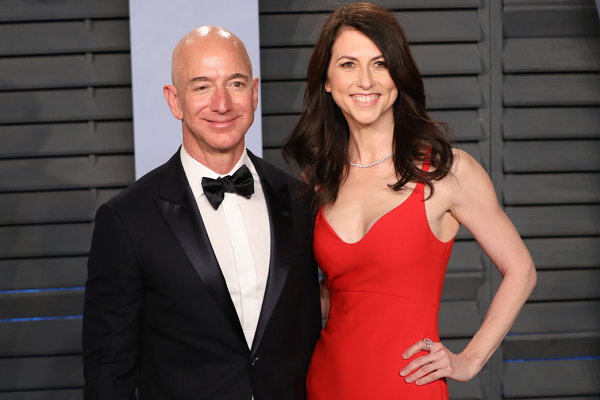 MacKenzie Bezos vowed to give at least half of her fortune to charity through the Giving Pledge. Bezos was awarded a four percent stake in Amazon following her April divorce from the world's richest man, Jeff Bezos, resulting in a net worth estimated around $36.6 billion.
Through the Giving Pledge—an agenda first launched by fellow billionaires Warren Buffett and Bill and Melinda Gates in 2010—a large chunk of MacKenzie Bezos' newfound fortune will aid charitable causes and philanthropic efforts. The newly minted billionaire announced her decision to join Giving Pledge in an open letter shared on the organization's website on Saturday.
"There are lots of resources each of us can pull from our safes to share with others—time, attention, knowledge, patience, creativity, talent, effort, humor, compassion. In addition to whatever assets life has nurtured in me, I have a disproportionate amount of money to share," she wrote.
MacKenzie Bezos did not reveal which specific charities her donation would fund, but noted her desire to continue to help those in need.
"My approach to philanthropy will continue to be thoughtful. It will take time and effort and care. But I won't wait. And I will keep at it until the safe is empty," she continued.
Initially proposed as an effort to spark a "new standard of generosity among the ultra-wealthy" in America, Giving Pledge is now a global charity service with more than 200 committed families across 23 countries. Richard and Joan Branson, Michael Bloomberg, Joe and Kelly Craft, Dave Goldberg and Sheryl Sandberg, Bob and Renee Parsons, David Rockefeller, Sanford and Joan Weill, Mark Zuckerberg and Priscilla Chan are among those who have pledged at least half their fortune to the effort.
The concept behind the pledge started as "an open invitation for billionaires, or those who would be if not for their giving, to publicly dedicate the majority of their wealth to philanthropy."
The goal of the organization, which Giving Pledge's mission statement says is "envisioned as a multi-generational effort," is to help "shift the norms of philanthropy toward giving more, giving sooner and giving smarter."
Money generated from Giving Pledge supports poverty alleviation, disaster relief, global health, education, refugee aid, medical research, criminal justice reform, environmental sustainability, women and girls' empowerment efforts and arts and culture programs. Those involved in the initiative also participate in global forums where they discuss ways to challenge and change typical ideas and thought surrounding giving and wealth.
"People who have joined the pledge are united by a shared commitment to learning and giving, and they have opportunities to gather throughout the year to learn from experts about how best to leverage their philanthropy to address some of the world's biggest challenges," the mission statement read.