Emmanuel Macron Criticizes French Heritage, Says Danish Can Change Because They're Lutheran
French President Emmanuel Macron took a jab at French heritage, criticizing his nation's people for being "resistant to change" due to the fact that they are descended from Gauls.
Speaking to Denmark's Queen Margrethe during a visit to Copenhagen on Wednesday, the French leader also praised the Danish economic model, suggesting it was due to the fact that the country's people are Lutheran.
"These Lutheran [Danish] people, who have lived through the transformations of recent years, are not exactly Gauls who are resistant to change," the president said, the BBC reported.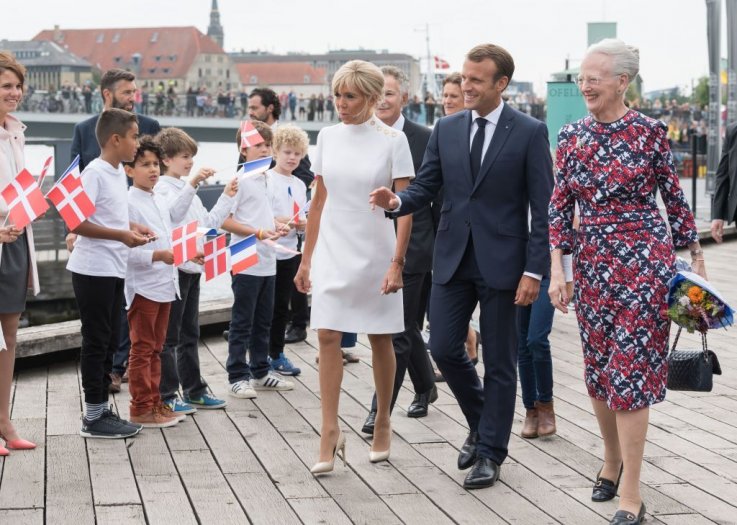 Macron has routinely criticized France's reluctance to reform and praised the "Nordic model" as one he aspires to transform his country to follow. Last year, during a visit to Romania, the president critiqued his country in a similar way, saying France is "not a reformable country," adding: "Many have tried and failed, because the French hate reform."
His comments in Copenhagen drew swift backlash from rival French politicians.
"The 'Gauls' will be happy to respond to his arrogance and contempt," Marine Le Pen, a far-right politician who lost to Macron in the 2017 presidential election said, The Local reported.
Other politicians blasted Macron's comments as well, accusing him of "humiliating" and "mocking" the French people.
"By his words of confusing foolishness, Macron in Denmark is not only very contemptuous against his own people, but also very ignorant about the Gauls who were formidable inventors," left-wing member of parliament Alexis Corbière tweeted.
"It is unacceptable to hear the president criticize and caricature the French like this," Laurent Wauquiez, head of the center-right Les Republicains party, said, Reuters reported.
Replying to the criticism, Macron defended his love for his country and the French people on Thursday. He said the remark was meant to be humorous.
"I don't have the feeling it's a scoop that France was originally made up of Gallic tribes, which for me is something to be very proud of," he told reporters during a news conference in Helsinki, according to Reuters.
"I love France and the French and I love these Gallic tribes with all their variety and paradoxes ... It's not contempt to say things as they are and to tell the truth."
The French president has faced significant criticism in recent months. Earlier in August, opposition politicians called out the leader for ditching a ceremony commemorating the 100th anniversary of World War I to enjoy his summer vacation. Macron also just survived two no-confidence votes in parliament at the end of July, after his former chief bodyguard was filmed hitting a male protester and wrestling a woman to the ground on May 1.
The bodyguard incident brought Macron's approval rating down to 36 percent. He has also recently been mocked for scolding a teenager who addressed him by his nickname, and for ordering 1,200 plates—at a cost of hundreds of thousands of euros—from a high-end producer. It was also reported last August that the president had spent about $30,000 on makeup during his first three months in office, leading some to call him "the president of the rich."
Emmanuel Macron Criticizes French Heritage, Says Danish Can Change Because They're Lutheran | World