Macron Says France Will Stay in Syria Despite 'Our American Friends,' Calls Trump's Withdrawal a 'Mistake'
French President Emmanuel Macron spoke at an army base near Toulouse on Thursday, vowing that France's forces will remain in Syria through 2019, despite the decision of President Donald Trump to "retreat" from the conflict.
"The retreat from Syria announced by our American friends cannot make us deviate from our strategic objective – eradicating Daesh [an Arabic acronym for the Islamic State (ISIS)]," Macron said in his speech, France 24 reported. "We are staying invested to participate in the stabilization of the region," he continued. "Any rush to withdraw would be a mistake," Macron said.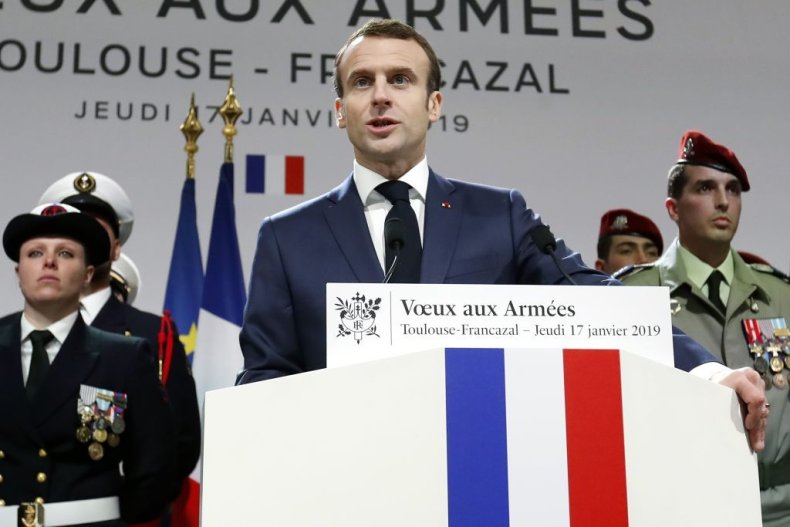 Trump's unexpected December decision that he would move to withdraw the United States from Syria was met with significant backlash within Washington, as well as from allies. Following Trump's announcement, in which he inaccurately stated that ISIS had been defeated, France's Defense Minister Florence Parly quickly pushed back, saying that the extremist group "has not been wiped from the map nor have its roots." She added, "The last pockets of this terrorist organization must be defeated militarily once and for all."
The U.S. president was staunchly criticized by Republican and Democratic lawmakers alike. GOP Senator Lindsey Graham of South Carolina blasted the move, calling it "a huge Obama-like mistake." Other senators, such as progressive Democratic Senator Elizabeth Warren of Massachusetts and Republican Senator Rand Paul of Kentucky, have said they agree with the decision. However, Warren criticized the abrupt way in which Trump had acted, saying the move should have been coordinated with allies and planned appropriately.
Due to his opposition to the announcement, Defense Secretary General Jim Mattis resigned from Trump's administration, as did Brett McGurk, the U.S. envoy to the international coalition fighting ISIS. Since then, the White House has given conflicting messages regarding the withdrawal. While the president initially said the troops would be coming back "now," the administration has since suggested the U.S. will remain involved for an unspecified amount of time.
On Wednesday, a suicide attack near a restaurant in the northern Syrian city of Manbij left two American service members and two Department of Defense contractors dead. Three other service members were wounded and at least 16 people were killed in total. ISIS quickly claimed responsibility for the blast.
Graham again attacked Trump's Syria withdrawal plan following the news, suggesting the announcement had emboldened the extremist militant group. "I hope the president would look long and hard about what we're doing in Syria," Graham said, suggesting that Trump's decision to leave the conflict "set in motion enthusiasm by the enemy."
Macron also pointed to the bombing in his Thursday remarks, saying it demonstrated the importance of remaining in Syria. The majority of American voters appear to agree with Graham's and Macron's assessment of the conflict as well. According to the results of a poll conducted by The Hill and HarrisX, 59 percent of U.S. voters said they favor keeping some American forces in Syria. Only 10 percent agreed with Trump's assessment that ISIS has been defeated and that troops should be withdrawn.