Emmanuel Macron Launches Boutique With Macaroons, Mugs of His Face and Coloring Set
French President Emmanuel Macron may have promised to make his country more business friendly, but his administration is now turning itself into a franchise after launching jewelry, mugs, and coloring strips with his face on them, as well as macaroons.
The gift shop of the presidential Élysée Palace launched the collection of trinkets, new to the French political system—but similar to what the White House already has—to coincide with European Heritage Day, French broadcaster France Bleu reported. Although the online store's products tie to the president and are emblazoned with Macron's face, it has opened at a time when his popularity is plummeting. Nonetheless, the project dates back months earlier, and the items include a few curious gift options.
"You may have seen it on the wrist of the President of the Republic," the caption to the tricolor watch reads. "This special edition of the Dauphine watch was created in 1957 by the French watch company LIP. You too, wear our national colors!"
Other items include a poster with Macron's official portrait, priced 9.90 euros ($11.60); a mug with his face costing 24.90 euros ($29); a coloring poster with Macron and his wife in the Élysée, which will set you back 14.90 euros ($17.38), with accompanying coloring pencils priced 9.90 euros ($11.50); and a T-shirt with the president's silhouette, leaping in celebration of France's triumph at the World Cup, which will cost the avid fan 55 euros ($64.15).
Many of the other products bear the president's seal and include equally ostentatious merchandise, such as macarons by renowned chocolatier and pastry chef Pierre Hermé (a pack of seven worth 19.50 euros [$22.70]); and scented candles in the colors of the French flag housed in Duralex glass carved with the president's seal, at 6.50 euros ($7.60).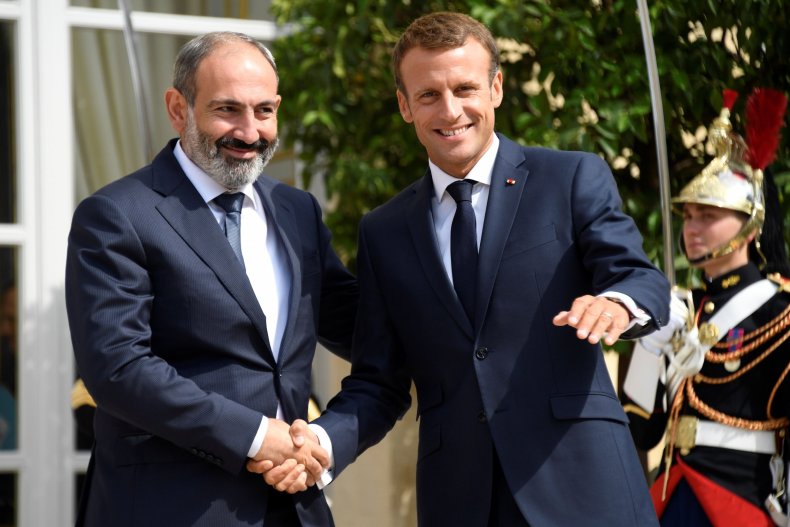 The boutique is not out of step with the public image of Macron, whose sense of legacy and rank recently lead to him correcting a teenager who referred to him by a nickname, as opposed to addressing him as "Mr. President." But it is also intended to support a cause: Proceeds will go to the upkeep of the historic Élysée Palace, which is home to the republic's leader.
"The Élysée is a great dame of 300 years," the mission statement of the boutique said. "Our duty (is) to preserve this heritage because it is yours. To put it in other words, renovate."
The building's renovation began this summer. At the moment, funds are being collected to revamp the reception hall, which will be the next element of the Parisian residence to be renovated.