Macron Heralds Opportunity to 'Make Our Planet Great Again' After Biden Win
President Emmanuel Macron of France celebrated President-elect Joe Biden's victory and the prospect of his administration signing the U.S. back up to the Paris Climate Accord next year, arguing that the move would offer a chance to "make the planet great again."
Alluding to the "Make America Great Again" slogan of President Donald Trump, the French leader said Biden's election win and the likelihood of the U.S. rejoining the climate accord was proof that signatories "had to stand firm" in the wake of Trump's departure.
According to Reuters, Macron told an online summit: "It is proof that we had to stand firm against all the headwinds. 'Make our planet great again' is a possibility, not just in words but also in deed."
The U.S. officially exited the Paris climate pact on November 4, a day after the presidential election. Trump repeatedly railed against the measures designed to combat climate change. Biden has promised to rejoin the agreement on the same day he becomes president.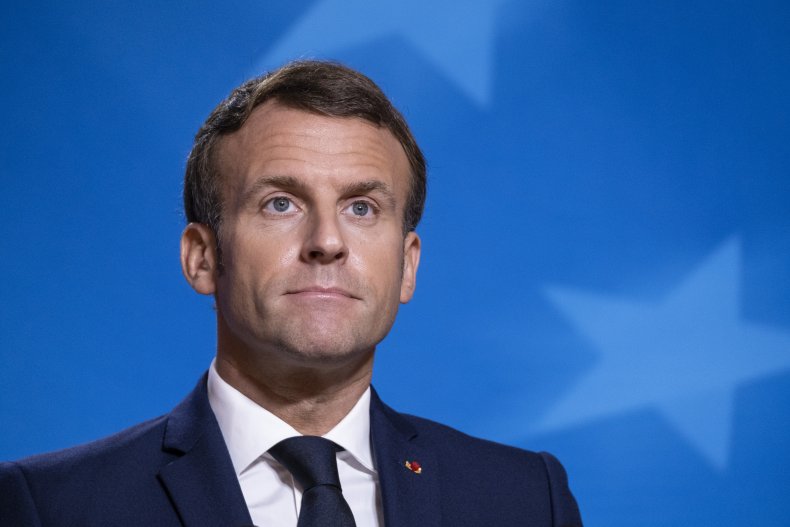 "Today, the Trump Administration officially left the Paris Climate Agreement," Biden tweeted on November 5, prior to his election victory on Saturday. "And in exactly 77 days, a Biden Administration will rejoin it."
Macron celebrated the prospect of Biden bringing the U.S. back into the accords two days after the French president called the U.S. president-elect to congratulate him on his election win.
According to a readout of the call supplied by the Democrat's transition team, Biden "conveyed his interest in reinvigorating bilateral and trans-Atlantic ties" on the call with Macron.
"They discussed cooperating on a range of shared interests, such as containing COVID-19 and building global health security; tackling the threat of climate change; strengthening human rights, and laying the foundations for a sustainable global economic recovery," the readout continued.
Several world leaders have now offered their congratulations to Biden despite President Trump's refusal to concede the election almost a week after it was called in the president-elect's favor.
China's foreign ministry spokesperson Wang Wenbin was the latest official to offer praise to Biden on his win, following a delay of several days.
"We respect the American people's choice and extend congratulations to Mr. Biden and Ms. Harris," she said, according to China's state-backed newspaper Global Times. "We also understand that the U.S. election result will be decided in accordance with U.S. laws and procedures."
China did not initially congratulate Biden in the aftermath of the election, but instead issued vague remarks about being willing to work with the next administration.