Macron: I Am Like Trump—We Are Both Dealmakers
French President Emmanuel Macron has offered insight into why he gets on so well with the U.S. President Donald Trump, saying that they both understand business.
Ahead of what was viewed as a successful visit to Washington, Macron, who was a former banker with Rothschild, told Forbes he wanted to open his country up to entrepreneurs and saw a kindred spirit in Trump.
"The fact that both of us had a business background is very important," Macron said. "Your president is a dealmaker. I understand his personality. He's a dealmaker. And for a lot of classical politicians, he makes counterintuitive things. When you see him as a dealmaker, as he has always been, it's very consistent. That's what I like about him and working with him, and that's where my business background helped me a lot."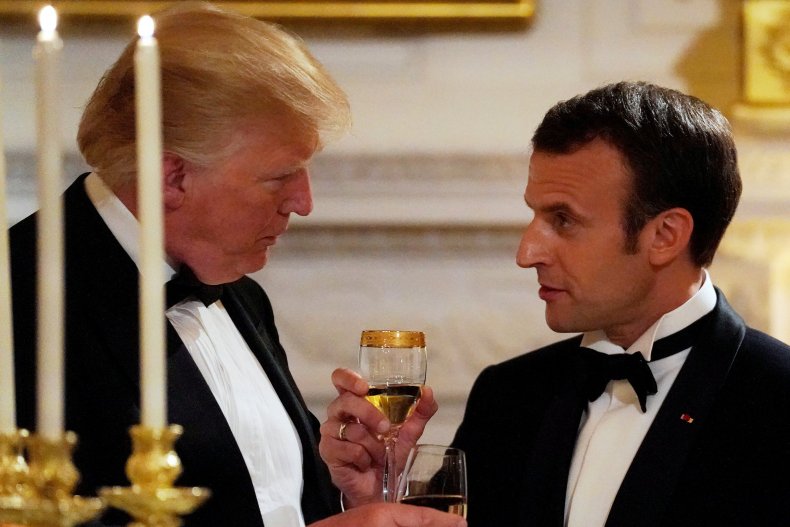 Macron said in the interview that he wanted to scrap some of the red tape that is seen as a barrier to foreign investment in France, including ending a 30 percent tax on entrepreneurs who want to take their money out of the country, which is known as the "exit tax."
"People are free to invest where they want. I mean, if you are able to attract, good for you, but if not, one should be free to divorce. And I think, if you want to get married, you should not explain to your partner that 'if you marry with me, you will not be free to divorce.'
"I'm not so sure it is the best way to have a lady or a man who loves. So I'm for being free to get married and free to divorce," he said.
His government is also looking to reshape the French economy through easing labor regulations, cutting a wealth tax and introducing a 30 percent flat tax on capital income.
As a symbol of their friendship during Macron's visit to Washington, the leaders planted an oak tree on the White House lawn which then went missing. This was because it had been put into quarantine, having been brought from Belleau Wood in France to commemorate a World War One battle in which French troops fought alongside American and Allied troops.
Macron caused a social media stir this week with his equally warm words for the wife of the Australian Prime Minister, Malcolm Turnbull. In what may have been an inadvertent mistranslation, he described Lucy Turnbull as "delicious".
Macron: I Am Like Trump—We Are Both Dealmakers | World