Macron Frustrates Ukraine With 'Unacceptable' EU Plan
Ukrainians took French President Emmanuel Macron's landmark speech on his vision for the European Union as a disappointing signal on their hopes for a swift route to membership of the bloc, expressing frustration with his predicted timeline.
Macron proposed on Monday a "new European political community" open to non-member states like Ukraine, adding that it may take "several decades" for Kyiv to fully realize its EU ambitions. He spoke at the European Parliament in Strasbourg.
EU membership is a key goal for President Volodymyr Zelensky's government, as Kyiv formulates a future in which the country can be rebuilt and protected from future Russian aggression. Ukraine has been resisting a Russian invasion since February 24.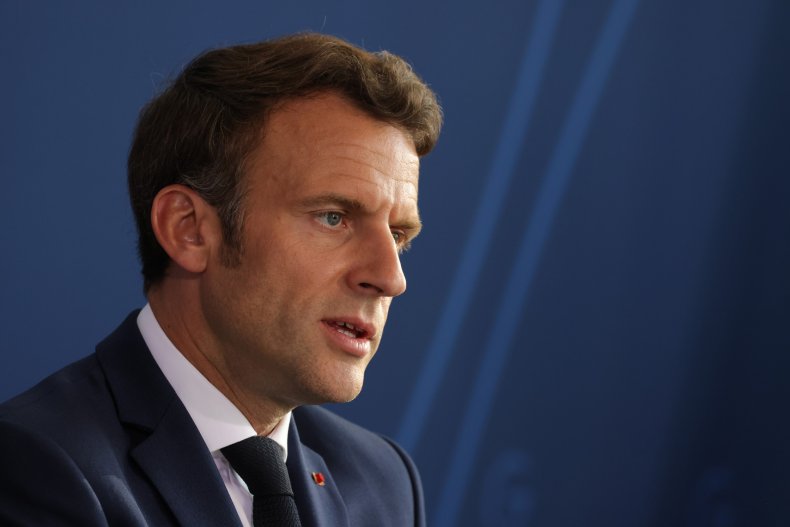 Zelensky's repeated calls for an accelerated membership roadmap have fallen flat in several key EU capitals despite enthusiastic pan-European public rhetoric. Though several in central and eastern Europe support Ukraine's rapid accession, Kyiv does not have the united backing of the bloc's 27 members.
Macron's Monday address came on the same day as Zelensky's government completed the second part of its EU membership questionnaire, and prompted frustration in Ukraine.
Oleksandr Merezhko, a member of Ukraine's Rada parliament and the current chair of its foreign policy committee, told Newsweek that Macron's proposal is "unacceptable to Ukraine."
"Ukraine needs fully-fledged membership in the EU," Merezhko explained. "We have fully deserved to be an EU member due to our fight for European values and Europe.
"One of the reasons why Russia is waging aggressive war against Ukraine is because Ukraine wants to be an EU member; Ukraine had a Revolution of Dignity to become an EU member.
"It is already in the constitution of Ukraine to become an EU member. And we don't want to—and will not—change our constitution just because Macron has a different vision of our future."
Macron himself acknowledged that years of delay to Ukraine's membership bid might demoralize Kyiv. "We take the risk that they will despair, that they will give up," the president said.
"Because there is this geographical proximity, they hold on to the same basic values, I would like to emphasize that once again, because Ukraine today is fighting for exactly that and taking all the risks for exactly that...we need to build a new political form, and not just a legal form."
A spokesperson for Macron's office told Newsweek that the president's proposal would now be discussed among the EU partners.
Senior Zelensky aide Mykhailo Podolyak, meanwhile, condemned what he interpreted as an attempt to replace Ukrainian membership with a "symbolic" alternative. "Thousands of Ukrainians paid with their lives for the European choice, not for the new series of thimbles," he wrote on Twitter.
German Chancellor Olaf Scholz noted the risk that blocking Ukrainian accession might worry would-be members who for years have been struggling to push ahead on their own EU roadmaps.
Scholz said Macron's plan was "a very interesting proposal to deal with the big challenge that we are facing," adding it was "absolutely necessary to find ways" for more non-member states to move closer to the bloc.
"It's clear that this must and won't dissuade us from the accession processes on which we are already working for so long," Scholz warned, applauding the "courage" of the Western Balkan applicants.
Georgia and Moldova applied for EU membership soon after Ukraine in March, the three new applicants joining the existing list consisting of Balkan nations.
Kira Rudik, a member of Ukraine's parliament and the leader of the liberal, pro-EU Voice party, told Newsweek that Macron risks alienating more than Ukraine.
"Pushing Ukraine back would be sending a negative signal to other countries that aim to become EU members soon. Right now, it does not seem a wise thing to do," Rudik said. "Our aim is full EU membership and we will be pushing towards that. I do not think, however, that Macron's proposal would get support among the EU members."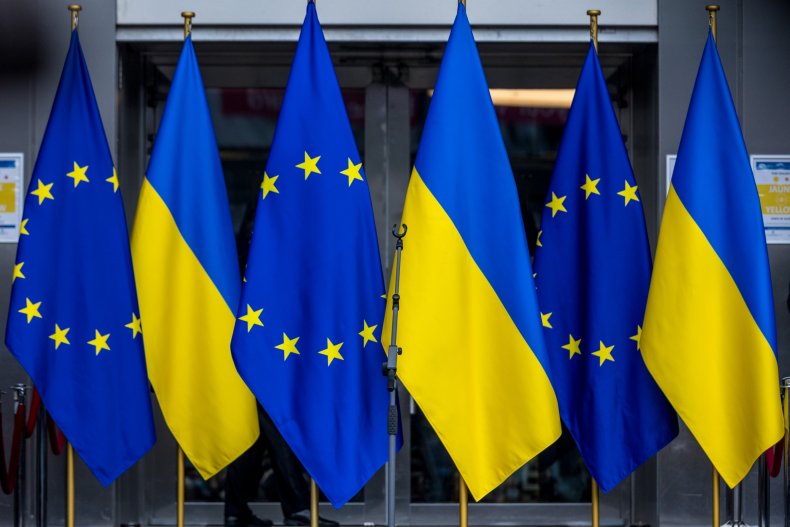 The EU is currently discussing its sixth round of sanctions against Russia in response to its invasion of Ukraine.
The bloc has embarked upon a historic realignment on Russia, introducing unprecedented sanctions, rapidly weaning off Russian energy imports, expanding military spending, and supplying weapons to Ukraine's defenders.
But the union—and particularly nations such as Germany and Hungary which have deep commercial ties to Russia—has been criticized for not responding faster with tougher measures.
The EU—a collection of varied states with different priorities, whose Council can only act in unanimity—is forever grappling with deep divisions. "We see that there is no firm decision in the EU about future Ukrainian accession," Iuliia Mendel, a former Zelensky press secretary, told Newsweek.
"Some countries are looking for new formats for making Ukraine an official part of European society as fast as possible. The offer to have this new format of a European community can be an example of such an effort, though I am not sure if the creation of this new format can happen quicker than accelerating the existing way.
"What matters is that the European unit doesn't underestimate the Russian threat, understands that Moscow's current leadership is beyond the existing laws and rules, and firmly stands for Ukraine."
Mendel said she sees Macron's proposals to create "new formats in this hard time to be a step to complicate geopolitics. On the other hand, if this step is cleared with Ukraine and European partners it can bring positive benefits to all."
"It is important that this step doesn't cancel the European Union aspirations of Ukrainians. This decision cannot happen in exchange for EU membership. These must be parallel processes," she said.
Ukrainians consider EU membership a vital bulwark against future aggression, whether military or economic. The bloc holds the promise of vital reconstruction funds and helps with reforms that would fortify the national economy.
The EU also has a joint defense clause, though it is less binding than NATO's Article 5 collective defense obligation.
"EU membership for Ukraine is also a matter of our security," Merezhko said. "Putin would hardly have dared to attack Ukraine if it had been an EU member, because he understands that behind each EU member is the support and solidarity of the whole EU, of all its member states."
Macron's European Parliament address has rekindled Ukrainian fears that the EU's "big two" of Germany and France are primarily interested in ending the war and its related economic strains, even if it requires Ukrainian compromises.
Germany and France were members of the failed Normandy Format, which sought a peaceful resolution to the conflict between Kyiv and Russian-backed separatists in the eastern Donbas region in 2014.
Ukrainian officials repeatedly complained that the EU heavyweights allowed Russia to dominate and disrupt proceedings, and sought to force Kyiv into concessions that would threaten the very existence of the state.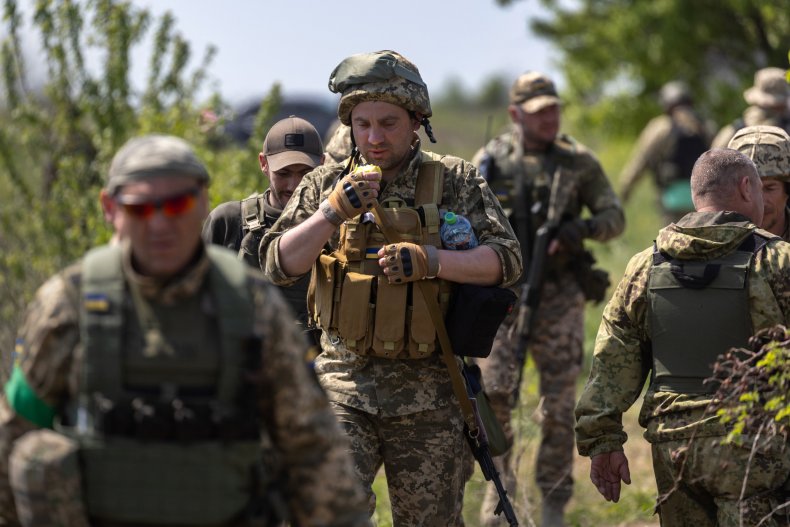 "I get an impression that we are dealing here with a new, more subtle version of the old policy of the appeasement of the aggressor," Merezhko said.
"France has seriously let us down. First of all, at the Bucharest summit of NATO [in 2008] it was against Ukraine's membership in NATO. Second, France is one of the guarantors of our sovereignty and security under the Budapest Memorandum, but, unfortunately, we don't see from her the same help and support which we get from the U.S. and the U.K."
"By such statements, Macron ruins France's credibility," Merezhko continued.
"The truth is that for some politicians in these countries, Ukraine is just an obstacle to their plans to get back to the business as usual with Russia. They would prefer Ukraine to surrender.
"Instead of providing us with heavy weapons they [France and Germany] push us in the direction of the peace deal with Russia on Putin's terms.
"It's totally unfair when Ukraine—being a country fighting for Europe—is not an EU member, while some other countries—which undermine European and transatlantic solidarity—are EU members."
Macron is walking a line between dialogue with Moscow and support for Ukraine. While France supports sanctions and sends weapons east, the president has also kept a line of communication open with President Vladimir Putin, though their much-publicized calls appear to have achieved nothing of note.
The president has also not visited Kyiv since Russia's invasion began in late February, making him along with Scholz one of the few major European leaders not to make the trip. In April, Macron said he would only visit if he deemed it useful.
Macron secured a second term in office last month, defeating far-right populist challenger Marine Le Pen and making much of her ties to Russia and past refusal to condemn Moscow's annexation of Crimea in 2014.
He cast himself as an experienced European statesman and a key part of the collective EU and NATO response to Russia's invasion. His decisive electoral victory, some observers suggested, put him in pole position to lead a reinvigorated European response to revived Russian imperialism.
But the early signs have been disappointing for some Ukrainians. "I'm very disappointed by Macron," Merezhko said. "I hoped that after the elections he would change. But he has remained the same.".
5/11/22 7:50 a.m. ET: This article has been updated to include comment from the Élysée Palace.