Macron's Summer Officially Over as President Returns to Paris to Face Plummeting Ratings, Sluggish Economy and Obstacles to Reforms
French President Emmanuel Macron has returned from his quiet vacation behind the walls of an actual fortress and now must face a scandal that has battered his popularity and a major fight in his second year of reforms.
The leader spent his first official summer break in southern France's Fort de Brégançon—the summer residence for the republic's president—and returned to Paris from the low-key, 18-day sojourn on Tuesday. Macron announced he would hold a meeting with his cabinet on Wednesday in what French media outlets have widely regarded as the event to kickstart his second year in office.
Macron left Paris at an awkward time, days after his approval reached its lowest point yet following a scandal involving his top bodyguard. Not only was his guard Alexandre Benalla caught manhandling a protester on May Day, but Macron appeared to brush off the significance of the revelations last month.
Only 39 percent of respondents told French pollster Ifop they were satisfied with the president at the end of July. This figure fell to 36 percent, according to regional newspaper Ouest France's average from all major French pollsters last month. Macron's government faced and survived a vote of no confidence, but the so-called "Benalla affaire" summoned a backlash at an uneasy time for the president's ambitious plans.
Macron's first order of business since returning has been to sit down with Prime Minister Édouard Philippe in fresh talks about next year's budget, daily newspaper Le Parisien reported. This will be of prime importance to Macron: He still seeks to reform France's scattershot pensions by universalizing a service that now has dozens of schemes, and he wants to cut 120,000 jobs from the public sector.
The shake-up follows a year in which Macron has faced strikes over his bid to overhaul generous government guarantees for railway workers in France, introduce general reforms geared at making it easier to hire and fire people, and slashed the wealth tax to boost business. The sheer volume of reform bills tabled in Macron's first year was an attempt to benefit from the optimism around his win, Georgina Wright, Europe program associate at Chatham House, the international affairs think tank, said.
"Now we are in a [situation] where his popularity has dropped, many reproach him for seeming slightly arrogant and also his reforms to date have only had marginal effect on the economy," she said.
Macron's pro-business approach failed to prevent economic growth from dropping 0.5 points to 0.3 percent growth in the first quarter of the year. The following quarter, growth was down to 0.2. His government has reduced growth projections for the year from 2 to 1.8 percent, and unemployment is once again creeping up. His cuts, despite the lack of economic benefit, so far have further bolstered the moniker "President of the Rich," given to Macron by France's left-wing firebrand Jean-Luc Mélenchon last year.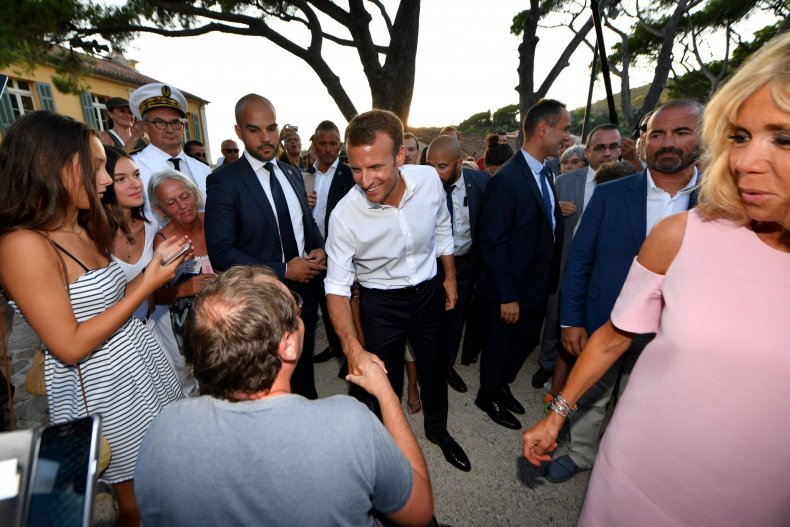 "Economic reform and in particular labor reform has never been popular in France," Wright says. The country's public sector is famously vast, employing 5.4 million people and boasting influential unions. "Any attempt to reform that is going to be controversial. The problem is that if the economy is not growing to the extent they thought it might be, that will not do wonders to support Macron's view that these reforms are going to reap lots of benefits for the French worker."
The president's rapidly formed En Marche! Party still commands a majority in the lower house; however, voters will have a chance to mount a backlash against it at the polls next year in elections that have frequently invited protest voting in France.
"We can talk as much as we want about the Benalla affair and Macron's popularity, but the first test is next year in May, when French people will vote in the European parliamentary elections," Antonio Barroso, Europe analyst at Teneo Intelligence, says. "Even though they are considered of secondary importance, they tend to be a good bellwether of where things stand politically in the country. Last time, National Front attracted the highest share of the vote," he added, referring to France's nationalist, anti-establishment party, whose leader Marine Le Pen rode a surge in popularity to a run-off at the presidential election ahead of the country's usual main parties.
At the moment, Macron's popularity is down but stable, Barroso notes, and despite criticism from the left and right wing in parliament, a surge among other parties has not yet materialized. "The positive thing for Macron is the opposition remains in disarray," he says. However the national assembly's pews are not the only place where anti-leadership sentiments can twist the arm of a French president, and Macron will be aware of that.
"In France you face revolt in parliament or you face revolt in the streets," Wright says. "In politics generally, promises of change for the sake of long-term benefit are not popular. People tend to want change now."
"Will Macron have a new tactic to pump up enthusiasm? He will continue to be open and communicative," Wright says. "His [meeting] with Édouard Philippe today will end with a press conference where he will address these issues. That's how he has done things so far."