Macy's Thanksgiving Day Parade 2020 Lineup, Performers for Historic Annual Event
No matter where you are this year, you can watch the Macy's Thanksgiving Day Parade from the same place as New Yorkers--from home. There will be no marching down the streets this year, so everyone is encouraged to enjoy the festivities from the comforts of their couches on Thursday, November 26, from 9:00 a.m. until 12:00 p.m. (in all time zones) on NBC.
To keep spectators at home, the 94th edition of the parade begins the holiday season with giant balloons, floats, street performances, musical acts, and, of course, the arrival of Santa Claus. But instead of taking place over two miles, the parade route will be one block long, right in front of the flagship Macy's on 34th Street.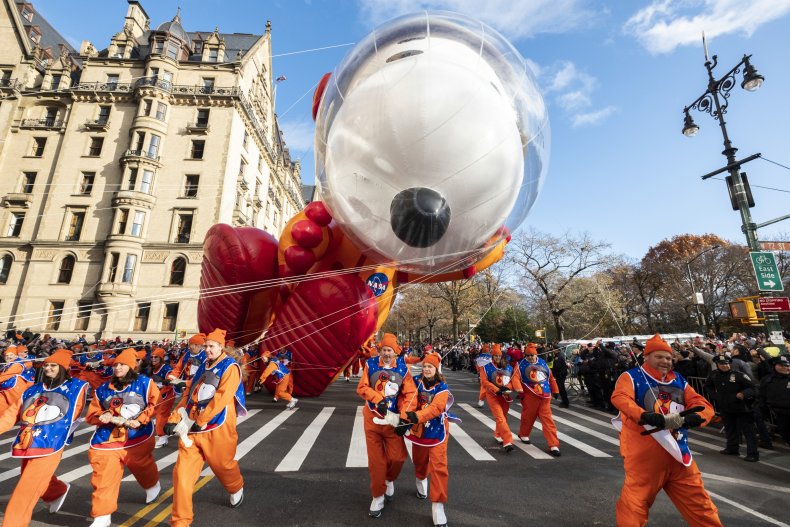 Much of the celebration will be pre-taped, including portions of groups from New York parades that were canceled earlier in the year. Now joining the Thanksgiving celebration for the first time will be representatives from the West Indian American Day Carnival, Coney Island's outrageous Mermaid Parade, and the National Puerto Rican Day Parade.
Balloons this year will mix old favorites with some new additions. Snoopy will be present for the 41st time--the most of any balloon--in an astronaut uniform in honor of 2018's 50th anniversary of man's landing on the moon, as will Smokey Bear, Ronald McDonald, and SpongeBob SquarePants. Making their debuts will be Red Titan, the superhero alter-ego of Ryan from the YouTube channel hit Ryan's World and Boss Baby, a suit-wearing, briefcase-carrying baby debuts ahead of next year's film The Boss Baby 2: Family Business.
New floats this year are Jennie-O's "Big Turkey Spectacular," which will feature a performance from pop star Bebe Rexha. The Lifetime network is also making its presence felt for the first time in float form with "Christmas in Town Square" with gospel singer Tori Kelly. Elsewhere, Karol G performs atop a new float from the skin care brand Olay called "Her Future is STEM-sational," which encourages young females to the study STEM. "Tom & Jerry's Tourist Trap" is another new float--it's hard to describe from the artwork representing it, but it looks like a can't-miss attraction already.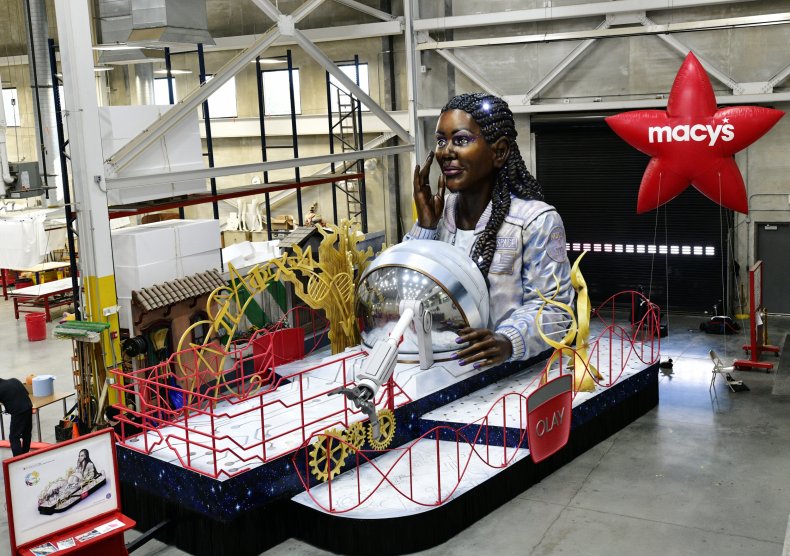 Also in the massive lineup are former Fifth Harmony singer Ally Brooke on a Blue's Clues float; New York City Ballet on a Central Park ice-skating float; dance-oriented pop singer Sofia Carson on an Entenmann's float; country singer Brett Young on a Green Giant float; a cappella group Pentantonix on a Hallmark Channel float; designer brand Coach's fun toy dinosaur float, made even more fun by the presence of Keke Palmer; Latin boy band CNCO will be on a Teenage Mutant Ninja Turtles float; and the great Darlene Love will sing "Marshmallow World" on the New York Life "Toy House of Marvelous Milestones" float. Not designated for a float, but also performing are Goo Goo Dolls, who have a new holiday album, and R&B great Patti Labelle.
The Lesbian & Gay Big Apple Corps Marching Band will make their parade debut on Thursday, and you can expect to see the NYPD band, the FDNY Pipes & Drums, the Big Apple Circus, clowns, and other assorted street performers. And, of course, the Rockettes will make an appearance.
But this next sentence contains everything you could hope for in any holiday celebration this year: Dolly Parton will perform on a Cracker Barrel country store float.
Though only operating at 12 percent of its typical work force, the parade will take place as it has every year since 1924, except for three years during World War II. The parade went on as scheduled six days after the assassination of President John F. Kennedy and in 2001 after the 9/11 attacks. Though completely reimagined, it will now go on amidst a historic pandemic for families to watch together, even if they are in different homes miles apart.