Macy's Thanksgiving Day Parade 2019: Complete Performance Lineup and Which Floats To Look For
Each year, thousands of spectators flock to the streets of New York to see the Macy's Thanksgiving Day Parade while millions more tune in at home, hoping to catch a glimpse of their favorite celebrities riding on floats between the parade's trademark balloons. With performances from Disney stars, R&B legends, K-pop zeitgeists, classic rockers and more, the 2019 Thanksgiving Day Parade will offer something for everyone.
For its 93rd edition since 1924, the parade will air on NBC from 9 a.m. to noon ET with commentary from Today Show hosts Hoda Kotb, Al Roker and Savannah Guthrie. The parade will begin at West 77th Street and Central Park West at 9 a.m. and end at Macy's Herald Square flagship. Balloon inflation is scheduled to begin Wednesday at 1 p.m. outside of the Museum of Natural History.
For those looking to attend the parade in person, the Macy's website provides details about the parade route, including food and coffee options as well as public restrooms locations. Souvenirs for the 2019 parade can also be purchased online.
Alongside the celebrity appearances and performances, many other groups will be performing. As always, the lineup will include clowns and a variety of marching bands and performance groups. Marching bands from eight high schools will play in addition to Morgan State University's Magnificent Marching Machine, The NYPD Marching Band,and Macy's Great American Marching Band, which is composed of 240 musicians and performers from all over the United States. Other performance groups include the 610 Stompers, Big Apple Circus, Spirit of America Cheer, and Boss Kids.
The complete list of performance groups, marching bands, floats and more can be found on the Macy's site.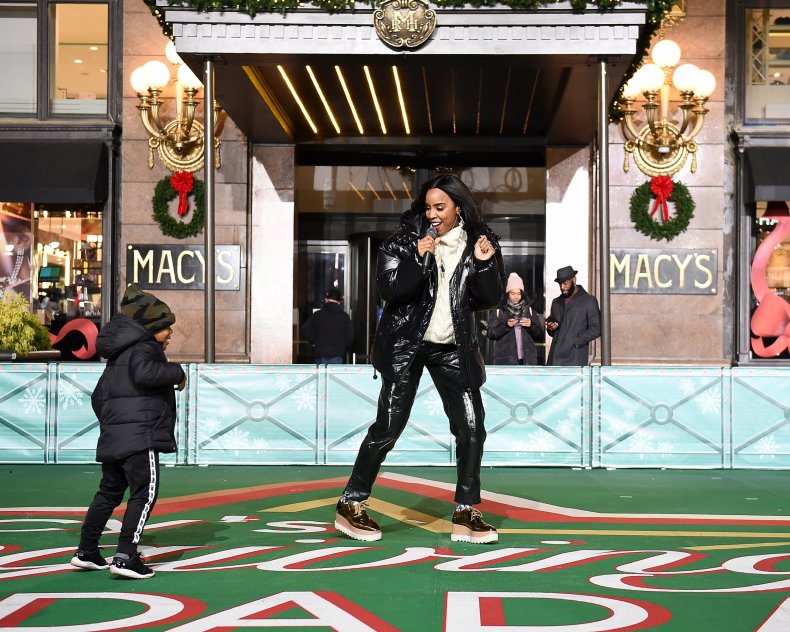 Macy's Thanksgiving Day Parade 2019 Performers and Floats
Billy Porter on Rexy in the City
Black Eyed Peas on NHL Most Valuable Hockey Mom
Celine Dion
Chicago on Heartwarming Holiday Countdown
Chris Janson on Harvest in the Valley
Chris Young on Mount Rushmore's American Pride
Ciara on Rise of the Teenage Mutant Ninja Turtles
Debbie Gibson on the Shimmer and Shine
Dr. Janet L. Kavandi on Snoopy's Doghouse
Idina Menzel on the Deck the Halls
Josh Dela Cruz on Blue's Clues & You!
Kay Hire on Snoopy's Doghouse
Kelly Rowland on The Toy House of Marvelous Milestones float
Lea Michele on Central Park
Natasha Bedingfield on The Fantasy Chocolate Factory
NCT 127 on The Brick-Changer
Nia Franklin on Big City Cheer
Ozuna on Parade Day Mischief
Tenille Townes on Home Sweet Home
That Girl Lay Lay on Universal Playground
TLC on Splashing Safari Adventure