Macy's Thanksgiving Day Parade 2022 Performers and Float Details
The Macy's Thanksgiving Day Parade promises to return in fine style on Thursday, as viewers are treated to the usual host of musical performances, Broadway stars, and procession of our favorite characters in gargantuan balloon form.
The New York City spectacle has, for decades, kept families across the U.S. entertained and glued to their TV screens, hours before gathering around their dining tables to celebrate Turkey Day.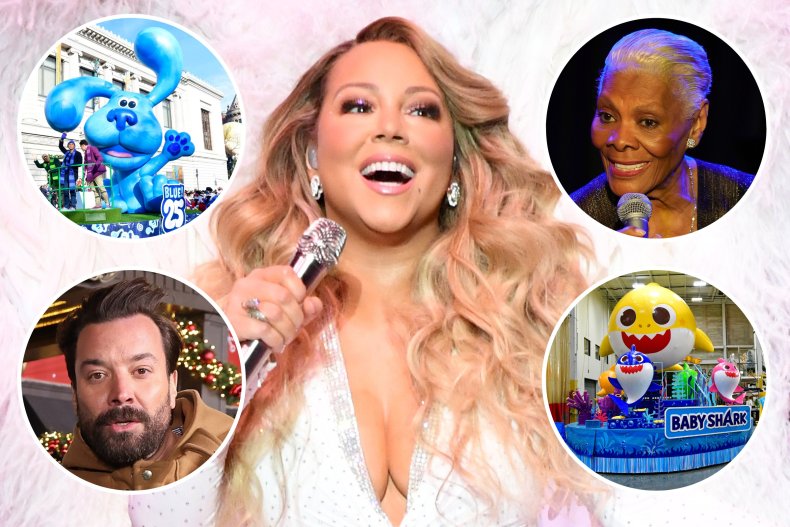 Now in its 96th year, the parade will see a number of returning favorites hitting the streets of Manhattan, as well as several new additions—all with the common goal of keeping the televised event fun, festive, and family-friendly.
The show will kick off with an opening number from Lea Michele and the cast of Broadway's Funny Girl. Other Broadway performances will include the casts of A Beautiful Noise, Some Like It Hot and, celebrating its 25th anniversary, The Lion King.
Returning favorites the Radio City Rockettes will close out the festivities, along with recently announced performer Mariah Carey, who will usher in the Yuletide season with her enduring hit "All I Want for Christmas Is You."
With everything from Nickelodeon and Sesame Street to McDonald's and Wonder Bread inspiring floats this year, Jordan Dabby, vice president of partnership marketing at Macy's, told Newsweek what it takes to qualify for the iconic parade.
"I think what it really comes down to is our ability to tell a wonderful visual story for our audience," Dabby said. "We have a multi-generational audience that's watching parade day. We know that there are children watching with their parents who are often also watching with their grandparents.
"And for us, we need and look for brands that represent that cross culture reference, and it represents the best that entertainment can provide."
The Today show's Savannah Guthrie, Hoda Kotb, and Al Roker will return as hosts of the NBC broadcast, which will show the parade kicking off at 9 a.m. EST at West 77th Street and Central Park West.
There are 2.5 miles of the parade route for spectators to watch as the procession concludes in front of Macy's Herald Square.
In all, there will be 28 floats and a McDonald's-themed specialty unit lighting up the parade route with bold and whimsical visuals.
Newsweek has provided a full list of what to expect during the broadcast.
The Floats and Performers
1-2-3 SESAME STREET—SESAME STREET WORKSHOP
Float Fact: In 2022, Sesame Street is celebrating its 46th appearance in the Parade.
Performance by: The cast and Muppets of Sesame Street.
BABY SHARK—PINKFONG AND NICKELODEON
Float Fact: The float's underwater seascape features eight starfish and three different species of anemone.
Performance by: Ziggy Marley.
BIG CITY CHEER!—SPIRIT OF AMERICA PRODUCTIONS
Float Fact: The float uses a specialized LED technology that resembles neon but shines with more luminosity and uses less than 3 percent energy consumption.
Performance by: Miss America 2022 Emma Broyles.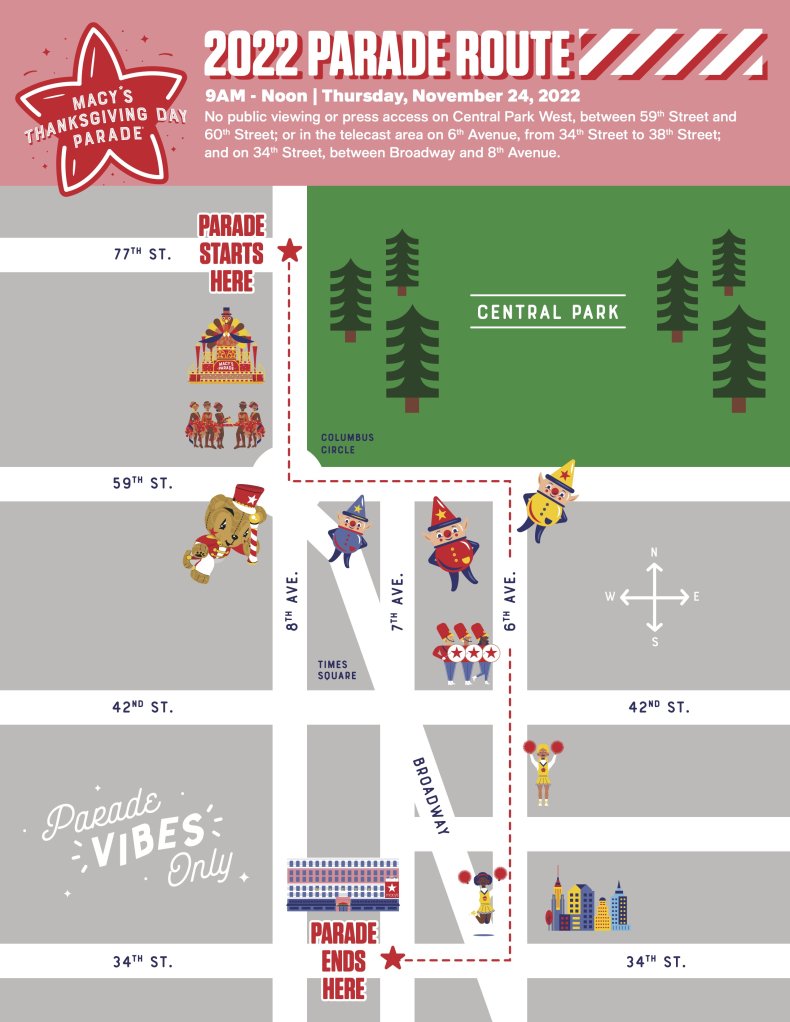 BIG TURKEY SPECTACULAR—JENNIE-O
Float Fact: This float, which is making its third appearance, will feature each of the performers carrying feathered fans to bring the tail of the turkey to life.
Performance by: Paula Abdul.
BIRDS OF A FEATHER STREAM TOGETHER—PEACOCK
Float Fact: Peacock is the first float to stream a live feed of the Parade route. With a camera operator riding on the float and big screens on the tail end, spectators will get to see themselves live-streamed as the Peacock float rolls by.
Performance by: The cast of Peacock's Pitch Perfect: Bumper in Berlin—Adam Devine, Sarah Hyland, and Flula Borg.
BLUE'S CLUES & YOU!—NICKELODEON
Float Fact: Blue has been marking clues in the Parade since 1999; she's been both a balloon and a float.
Performance by: Josh Dela Cruz.
THE BRICK-CHANGER—THE LEGO GROUP
Float Fact: In 2022, The LEGO Group celebrated its 90th anniversary. The name LEGO is an abbreviation of the two Danish words "leg godt," meaning "play well."
Performance by: Fitz and the Tantrums.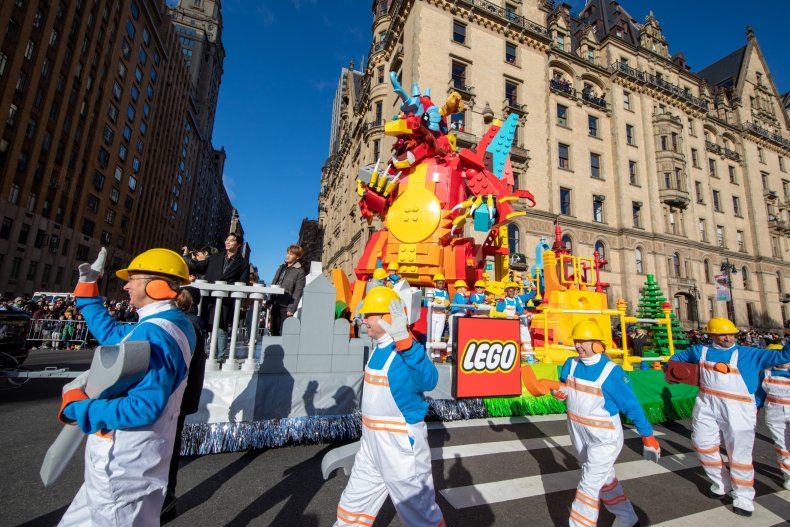 CELEBRATION GATOR—THE LOUISIANA OFFICE OF TOURISM
Float Fact: This gargantuan gator measures 60 feet from mouth to tail.
Performance by: Trombone Shorty and Orleans Avenue.
CHRISTMAS IN TOWN SQUARE—LIFETIME
Float Fact: With all of the snow in the town square, you could make approximately 9,000 snowballs.
Performance by: Kirk Franklin.
COLOSSAL WAVE OF WONDER—KALAHARI RESORTS AND CONVENTIONS
Float Fact: The float skirt is an original design by renowned South African artist Karabo Poppy.
Performance by: Sean Paul.
DECK THE HALLS—BALSAM HILL
Float Fact: The float is trimmed with more than 300 feet of garland and a giant Balsam Hill Vermont White Spruce, which was carefully crafted to replicate a real tree and stands 3 stories tall.
Performance by: Gloria, Sasha, and Emily Estefan.
ELF PETS—THE LUMISTELLA COMPANY
Float Fact: Elf Pets first joined the Parade in 2018. The float features a larger-than-life-size Saint Bernard named Barry, Santa's oldest friend, whose barrel charm holds approximately a half-ton of Christmas cheer.
EVERYONE'S FAVORITE BAKE SHOP—ENTENMANN'S
Float Fact: The enormous mixing bowl on the float can hold enough dough to bake more than 70,000 cookies.
Performance by: Blanco Brown.
FANTASY CHOCOLATE FACTORY—KINDER
Float Fact: The float features multiple turning gears, flashing lights and ticking gauges, giving the chocolate fantasy factory a steampunk aesthetic.
Performance by: Big Time Rush.
GEOFFREY'S DAZZLING DANCE PARTY—TOYS"R"US
Float Fact: The giraffe that accompanies the float is an inflatable costume worn by two people walking in tandem.
Performance by: Jordin Sparks.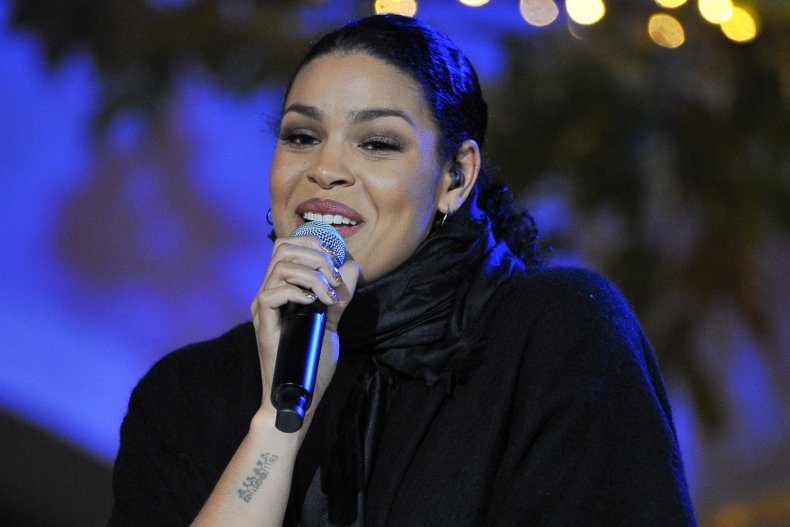 HARVEST IN THE VALLEY—GREEN GIANT
Float Fact: Research shows that Americans eat more veggies on Thanksgiving than turkey, and Green Giant is up to the task as he glides down the parade route at more than 2 stories high.
Performance by: Jordan Davis.
HEARTWARMING HOLIDAY COUNTDOWN—HALLMARK CHANNEL
Float Fact: If the candy cane on the float were real candy, it would have more than 32,000 calories.
Performance by: Joss Stone.
HER FUTURE IS STEM-SATIONAL—OLAY
Float Fact: Olay's astronaut woman would be more than 40 feet tall when standing. At that height, her rocket ship would need to be approximately the same size as One World Trade Center, the tallest skyscraper in New York City.
Performance by: Betty Who.
MACY'S SINGING CHRISTMAS TREE—MACY'S
Float Fact: The choir sings an original holiday carol each year for their 34th Street performance.
Performance by: Macy's Choir.
MAGIC MEETS THE SEA—DISNEY CRUISE LINE
Float Fact: This is the first Parade float that is longer than the float bed; the bow of the ship juts out 8 feet.
Performance by: Captain Minnie Mouse and Friends.
PEOPLE OF FIRST LIGHT—MACY'S
Float Fact: Sitting in a place of honor atop the float are elders from the Wampanoag tribes of Mashpee and Cape Cod, Massachusetts.
SANTA'S SLEIGH—MACY'S
Float Fact: Santa's Sleigh is the largest float in the parade at 60 feet long, 22 feet wide, and 3.5 stories tall.
Performance by: Santa Claus.
SNOOPY'S DOGHOUSE—PEANUTS WORLDWIDE
Float Fact: Accompanying Snoopy on his launch is his pal Charlie Brown, decked out for the space mission and cheering on the high-flying beagle with some special friends.
SUPERSIZED SLUMBER—NETFLIX
Float Fact: The supersized bed can quickly strut through the city with a stride length of 35 feet.
Performance by: Ballet Hispánico.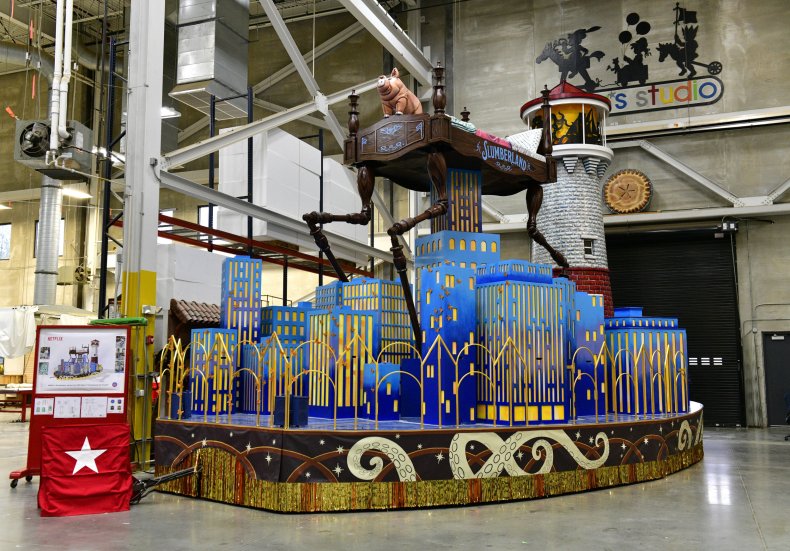 TOM TURKEY—MACY'S
Float Fact: Tom Turkey, the longest-running title float in the parade, is the only self-propelled one.
Performance by: Mario Lopez and family.
TOY HOUSE OF MARVELOUS MILESTONES—NEW YORK LIFE
Float Fact: The toy house's address is 51, a nod to the address of New York Life's headquarters, a National Historic Landmark located at 51 Madison Avenue. Its signature gold peak has been a beacon in the New York City skyline for almost 100 years.
Performance by: Dionne Warwick.
WINTER WONDERLAND IN CENTRAL PARK—MACY'S
Float Fact: The frozen water on the pond is made from Teflon.
Performance by: Jimmy Fallon and The Roots.
THE WONDERSHIP—WONDER BREAD
Float Fact: As The Wondership sails down the parade route on its inaugural appearance, more than 900 "foam" slices of Wonder Bread will rise into the sky for attendees to see along the way.
Performance by: Cam.
SPECIALTY UNIT: BIG RED SHOE CAR—MCDONALD'S USA
Float Fact: The Big Red Shoe Car is equal to a men's size 266 shoe.
Macy's Thanksgiving Day Parade airs live on NBC and streams on Peacock on Thursday, 9am to noon in all time zones.