Macy's Thanksgiving Day Parade Performers 2018: Who Will Be in the Parade This Year?
The Macy's Thanksgiving Day Parade is one of the time-honored Thanksgiving Day traditions for many people. From the Rockettes to the Broadway Musical performers, this year's parade is sure to have something for everyone watching.
While some acts are always in the parade from year to year, others change. The usual members of the lineup will be there, including the massive balloons that float down the streets of Manhattan every November.
Interspersed with marching bands from around the country and balloons will be performers hanging out on floats waiting for their chance to sing to the cameras from their spot in the parade.
The list of all the balloons, clowns, marching bands, performers, floats and more is available on the Macy's website along with what floats the performers will be on. The parade has been a tradition since 1924 and has since grown to include more than 8,000 participants.
The parade will be broadcast live on television, beginning at 9 a.m. and running until noon. The parade begins far uptown at West 77th Street and Central Park West and the entire route, including a map marked with places to use the restroom, get coffee or food or places to stay is available on the Macy's site.
The other stars of the parade, the massive balloons, were inflated on Wednesday uptown at the American Museum of Natural History where the balloons are blown up each year. The balloons were inflated between 1 p.m. and 8 p.m. EST Wednesday, during which time visitors could go see them get ready for the big day Thursday.
The musical guests of the parade vary from year to year and the types of musical performers are usually fairly varied as well to cover a variety of age groups and types of music for viewers. The performers started rehearsing outside of Macy's Tuesday night so that they would be ready come Thursday.
Macy's Thanksgiving Day Parade performers (this list does not include the marching bands, balloons and others in the parade):
Ally Brooke
Anika Noni Rose
Ashley Tisdale
Bad Bunny
Barenaked Ladies
Bazzi
Brynn Cartelli
Carly Pearce
Diana Ross & Family
Ella Mai
Jack & Jack
John Legend
Kane Brown
Leona Lewis
Mackenzie Ziegler and Johnny Orlando
Martina McBride
Pentatonix
Rita Ora
Sugarland
Tegan Marie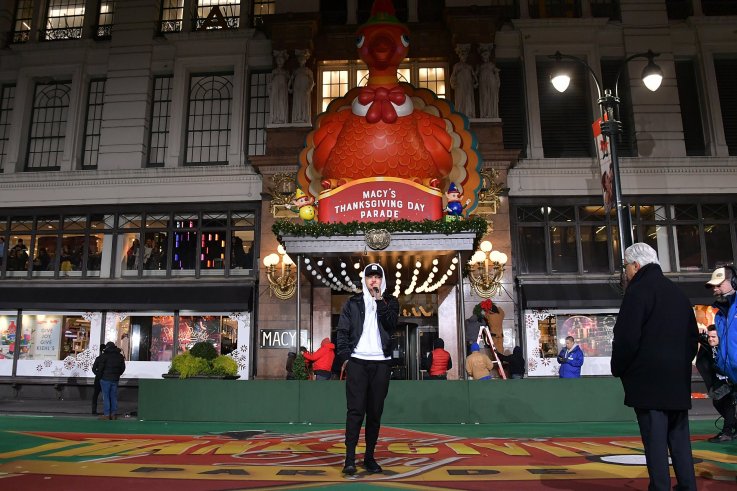 Macy's Thanksgiving Day Parade Performers 2018: Who Will Be in the Parade This Year? | U.S.