Macy's Thanksgiving Day Parade Praised As Show Continues Without Spectators
The show must go on—today the Macy's Thanksgiving Day Parade kicked off without spectators for the first time in 94 years.
But despite the unorthodox celebrations this time out, the scaled-back New York City event is being widely praised by viewers.
The pandemic led to there being no possibility of having the usual crowds in attendance so the festivities for 2020 are now geared to a TV audience as the parade deters its usual 2.5-mile route through the heart of Manhattan to take place on one block around Herald Square where the Macy's flagship department store is.
Much of the beloved parade was pre-taped before today and the giant balloons have fewer handlers than usual.
According to Macy's, more than 50 million people watch the parade from the comfort of their homes.
"Traditions like this are comforting and they're uplifting," parade executive producer Susan Tercero told the Associated Press. "New York has always been a tough city. It bounces back. It takes its blows and then it continues on. And I think it's extremely important for us to be that display this holiday season. Regardless of what's happened, New York needs to be that beacon of light in the darkness and this parade, I think, is symbolic of that."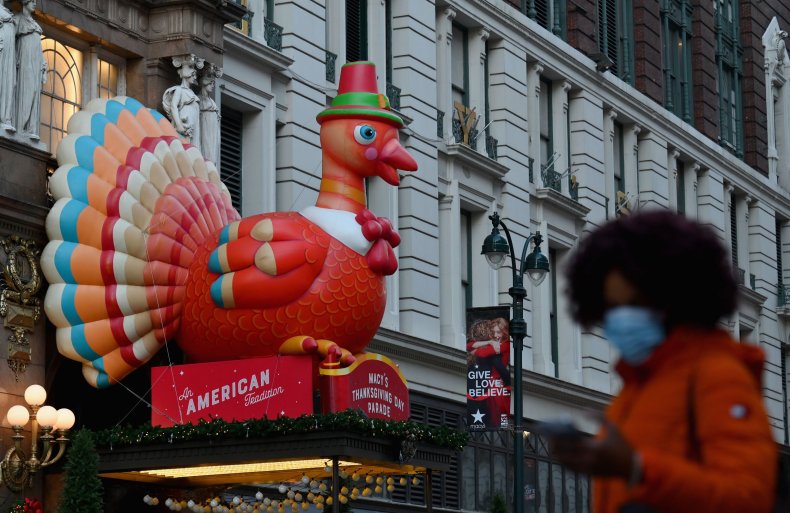 Over on Twitter, clips from the event are being widely praised, as viewers celebrate the efforts made by those to keep the show on the road.
Jimmy Fallon impressed with a musical number that kicked off the proceedings and Al Roker walked the parade route, catching up with volunteers.
"OMG! I'm laughing & smiling ear to ear with joy! I didn't know how much I needed this today. And seeing @hodakotb laughing & singing behind the @theroots @questlove @blackthought was everything! Yay! #HappyThanksgiving2020!" actress Rosie Perez tweeted.
Dolly Parton is also on hand for the event as well a host of other performers including The Radio City Rockettes, Lauren Alaina, Pentatonix, Bebe Rexha, Patti LaBelle, Keke Palmer, Hamilton's Leslie Odom Jr. and Jordin Sparks.
"Jimmy Fallon singing in the rain is the parade America deserves at this moment," another Twitter user said.
Another added: "The #MacysParade just started and @jimmyfallon has already made me cry. I heart NY."
Meanwhile, a performance of musical Hamilton has blown viewers away as the renowned Broadway production reminds people of why it's won so many awards.
One person tweeted: "This @HamiltonMusical performance is proof that Broadway never misses a beat. Seems like they've been doing this everyday. #MacysParade."
While another added: "I was so happy to see Hamilton featured on the Macy's parade! I probably shouldn't brag but damn, Hamilton continues to amaze and astonish."