Macy's Thanksgiving Day Parade: After ISIS-Linked Truck Attack in New York City, Is It Safe to Attend?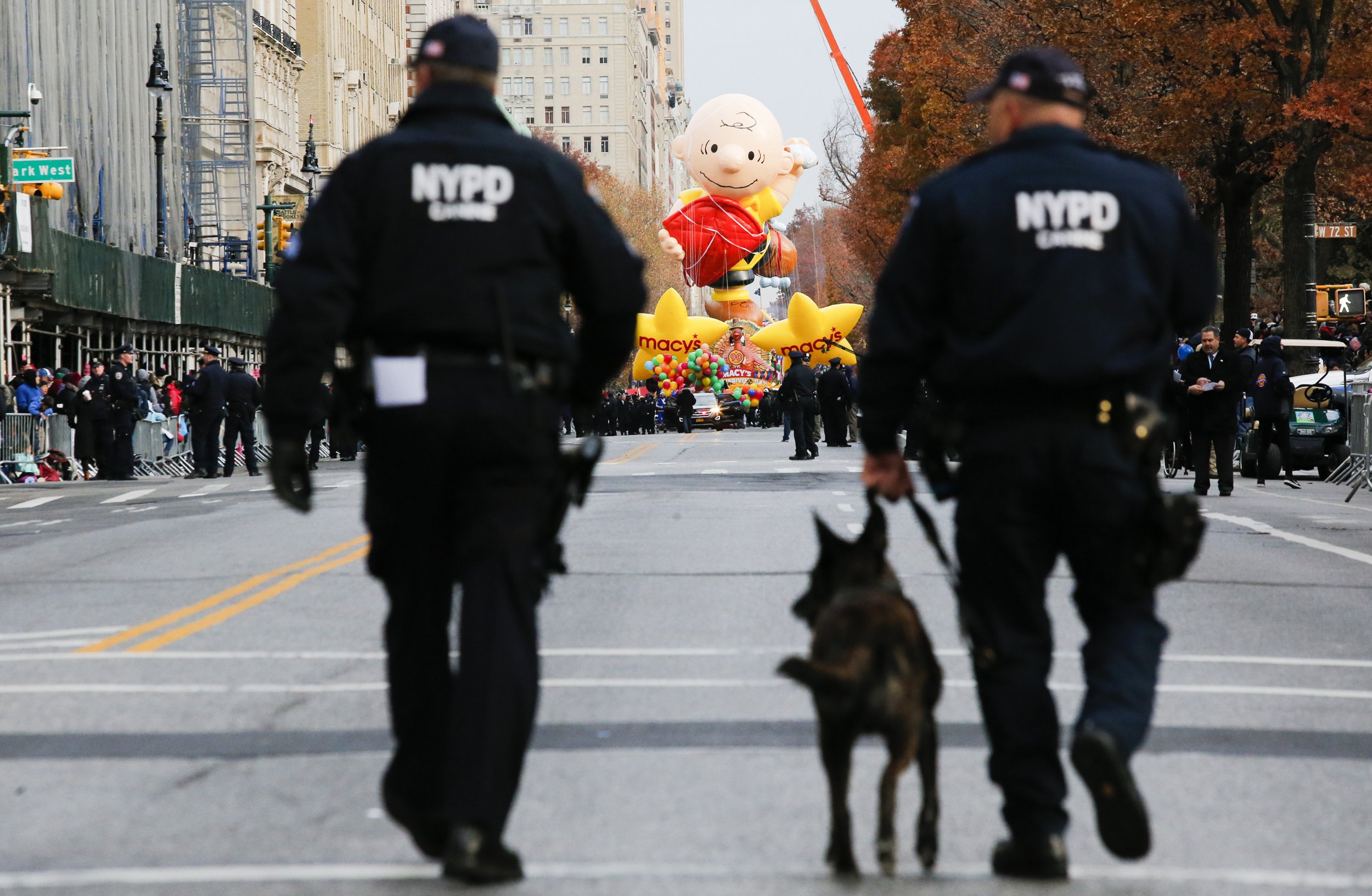 More than 3 million people are expected to stand along New York City's cold streets on Thursday to watch the 91st Macy's Thanksgiving Day Parade, an annual spectacle of lavish floats, giant balloons and celebrity performers. This year, many revelers will likely be thinking about more than the turkey they're going to eat later in the day—they'll be worrying about security, given that the parade is taking place less than a month after the deadliest terror attack in the city since 9/11.
Mayor Bill de Blasio teamed up with the New York Police Department for a Monday news conference to reassure parade-goers that the holiday event will be safe. De Blasio was quick to note that "there are no credible and specific threats" against the city so far, and said spectators could expect a law enforcement presence that's "stronger than ever."
NYPD Commissioner James O'Neill added that everyone should be vigilant.
"You can expect to see sand trucks, heavy weapons teams, observation teams, canines and aviation," he said. "We're doing everything to ensure a safe venue, so come out and enjoy the day, but if you see something, say something."
Eight people died and several were injured on Halloween, when an Uzbekistan immigrant named Sayfullo Saipov ran them over in Manhattan. Saipov, 29, plowed into passers-by along the West Side Highway in what de Blasio described as "a particularly cowardly act of terror." Authorities later found a note in the vehicle that had Saipov pledging his loyalty to the Islamic State group (ISIS).
The massacre followed similar ISIS-linked truck attacks in Berlin and Nice, France.
The attack is likely not the only thing putting New York City officials on high alert. Last fall, ISIS specifically mentioned the Macy's Thanksgiving Day Parade as a potential target. In the English-language version of its magazine Rumiyah, the extremists wrote that "vehicle attacks are one of the most effective weapons in the terrorist arsenal," according to the New York Daily News.
The NYPD upped its security accordingly, and nothing happened.
"We handle these large events almost every day," O'Neill said at the time, adding that the parade would be "the safest place in New York City."
If you want to catch a glimpse of the parade on Thursday, know that it kicks off at 77th Street and Central Park West, heads toward Columbus Circle, turns east on Central Park South, then heads down Sixth Avenue. It concludes at the Macy's at Herald Square. The newspaper amNY recommended camping out at Columbus Circle or the intersection of Central Park South and Sixth Avenue for the best viewing spots.