Macy's Thanksgiving Day Parade Balloons Fly Despite High Winds, Severe Weather in New York
The Macy's Thanksgiving Day Parade continued as planned in all its glory, despite concerns that wind could have grounded the much-loved balloons.
Around 7 a.m. EST Thursday, NYPD Midtown North tweeted this update that said, at the moment, the balloons will fly:
An hour later, the NYPD's Twitter account appeared to confirm the news:
The Associated Press reported earlier that the balloons would fly, but at a lower level. The balloons could still be grounded if winds reach dangerous levels.
On Thursday, thousands of people were expected to line the streets of New York City to see 34 floats, 21 performers and 11 marching bands pass by on their way to Macy's Herald Square. Heavy winds threatened to ground balloon look-alikes of some viewers' favorite animated characters, but on Thursday morning, officials decided to let them fly.
"We had the same concerns last year," New York Police Department Chief of Patrol Rodney Harrison said during a press conference on Tuesday. "It's going to be a game day decision."
Harrison explained that safety is paramount, but acknowledged that people travel from out of town to see the parade and it's an exciting day for little kids, so the NYPD wants to do the "best we can" to ensure it goes smoothly.
The NYPD uses anemometers to measure wind speed and determine the safe flying height of each balloon based on the balloon's individual specifications, such as weight and size.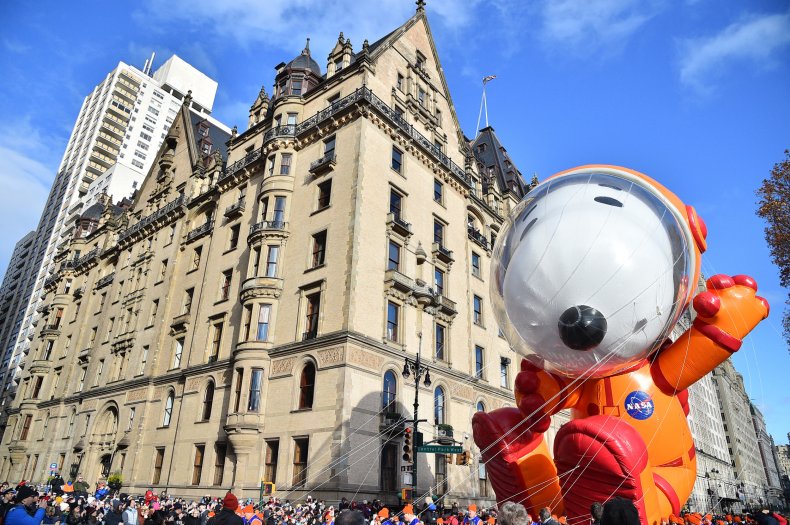 City regulations prohibit balloons from flying if winds exceed 23 miles per hour and gusts top 24 miles per hour. It's not uncommon for winds to raise the possibility that balloons wouldn't be part of the parade but they've only been grounded once, in 1971, according to CNN.
Winds in the Big Apple were forecasted to be between 15 and 25 miles per hour, according to the National Weather Service, and gusts could reach over 40 miles per hour.
At 9 a.m. EST when the parade was slated to start, the temperature was forecasted to be 45 degrees but will feel like 37 degrees because of the wind. By the time the parade ends at noon, temperatures will have reached 48 degrees, according to the NWS, but will only feel as if its 40 degrees to those who are outside.
People were expected to line up for the parade hours before the procession starts to ensure they have a good viewing spot. It was supposed to be sunny on Thursday, giving people some warmth, but sunrise isn't set to occur until shortly before 7 a.m., so it's likely some people were outside before the sun. The best way for spectators to ensure they were as comfortable as can be for the entire event was to wear layers under their coats and be sure to have hats, scarves and gloves.
As the broadcast began, Today hosts Savannah Guthrie and Hoda Kotb announced that the balloons would fly.
Due to the lower flights, the Power Ranger balloon's leg did scrape the street, as two workers carried a hand to try to avoid a further issue, CNN reported. A Ronald McDonald balloon partially deflated before reaching the end of the parade, forcing it to be dragged out, according to the New York Post.
Japanese artist Yayoi Kusama collaboration with Macy's, "Love Flies Up to the Sky," was pulled, according to CNN.
"We love it," Susan Koteen, a visitor from Florida, told NBC New York, about attending this year's parade. "Because it's exciting, it's patriotic, and it just — it warms your heart."
Updated 4:45 p.m. EST