The Macy's Thanksgiving Day Parade Through the Decades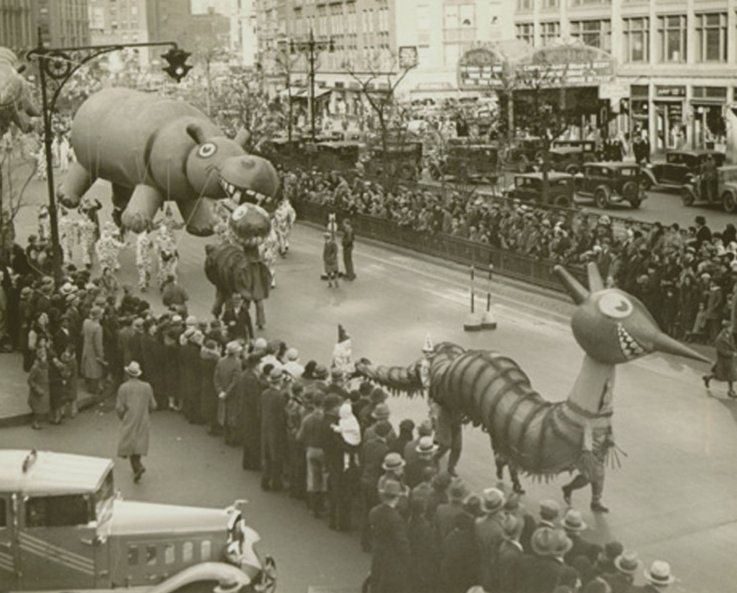 The Macy's Thanksgiving Day Parade is the biggest parade in the world and one of the oldest Thanksgiving parades in the United States.
The iconic procession premiered in 1924, the same year Macy's Herald Square location expanded to cover an entire city block, from Broadway to Seventh Avenue along 34th Street. Back then it featured live animals—and was actually known as Macy's Christmas Parade. At the conclusion, Santa Claus was enthroned on the balcony above Macy's 34th Street entrance and crowned "King of the Kiddies" before a crowd of more than 250,000 people.
The parade took on its more familiar incarnation in 1927, when the animals were replaced with giant balloons made out of Goodyear rubber. It was suspended during WWII, but quickly resumed after the end of the war—and only gained in popularity after 1947's Miracle on 34th Street, which included scenes from the 1946 procession. (The parade has been televised annually on NBC since 1952 and now reaches an audience of more than 44 million people.)
There are a variety of inflatables on display, but the most popular are licensed pop-culture characters in the full-size balloon class: The first, Felix the Cat, debuted in 1927, followed by Mickey Mouse in 1934. (Also debuting in 1934: A balloon of comedian Eddie Cantor, the only time a balloon was based on a living person). Since then, memorable additions have included Popeye (1957), Bullwinkle (1961), Kermit the Frog (1977), Garfield (1984), Bart Simpson (1990), Buzz Lightyear (2008) and, in 2018, Goku from Dragon Ball and Fleck, Bjorn, Jojo and Hugg from the Netflix holiday movie The Christmas Chronicles.
Over the years, improved safety measures have been implemented to prevent accidents and injuries, including wind-measurement devices that alert organizers to unsafe conditions. (If high winds are expected, the balloons are held closer to the ground. If wind speeds exceed 34mph, the balloons are removed from the parade altogether.) The parade has also added live performances from high school cheerleaders and marching bands, the Radio City Rockettes, and, since 1980, the casts of popular Broadway shows.
Click through to see how the Macy's Thanksgiving Day Parade has evolved through the decades.