'Mad About You' 2019 Reboot Release Date, Cast, Trailer, Plot: Everything You Need to Know
'90s sitcom fans are in for a treat this week as Spectrum TV releases the first set of episodes of its reboot of Mad About You. Original stars Helen Hunt and Paul Reiser are back to lead the cast, while the plot of the new series of the multi-Golden Globe-winning show will see the Buchmans struggle with empty nest syndrome.
When will the Mad About You reboot be out?
The first six episodes of the 2019 show will be released on November 20 on Spectrum TV, the online platform tied to the cable package of the same name. The second set of six episodes will then be released in a few weeks time on December 18.
Meanwhile, fans of the original series can watch all seven seasons of Spectrum or on the Starz app and Amazon Prime add-on.
Who will star in Mad About You reboot?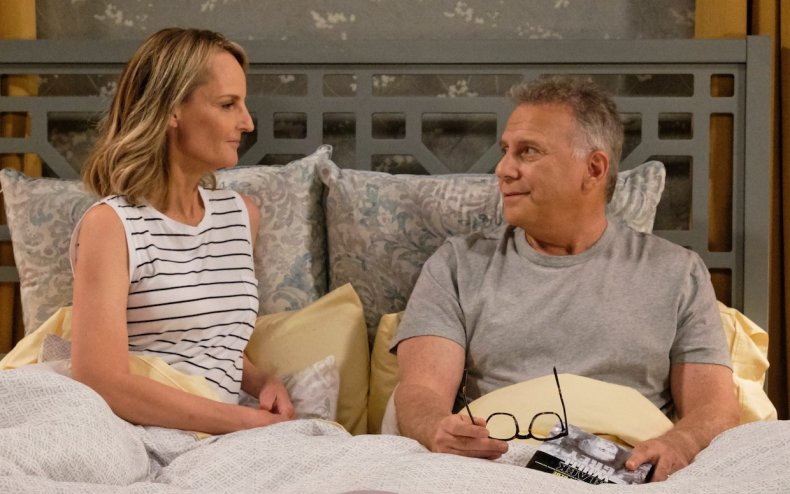 The series' dual leads Helen Hunt and Paul Reiser will both be back as Jamie and Paul Buchman, with Cynthia Harris returning as Paul's mother Sylvia alongside John Pankow as Paul's cousin Ira.
Supporting characters returning for the reboot include Richard Kin as Paul's friend Mark, while comedy legend Carol Burnett is reprising her role as Jamie's mother Theresa.
New to the cast, meanwhile, is After the Wedding star Abby Quinn, playing the grown-up version of Jamie and Paul's daughter Mabel. Speaking to Parade, the actress revealed she had not seen the series before auditioning for the series. She said: " I watched the last couple of episodes which really helped me find the tone of the show. There is so much history there so it was really nice for me to have all of that as research for my character. This was one of my aunt's favorite shows. So, she would come home really stressed and she was always really excited to watch this show."
Joining Oscar winner Helen Hunt in the series is another Academy Award-winner in the form of Cloris Leachman playing Mrs Mandelbaum, a therapy patient of Jamie's. According to Variety, the show's executive producer Peter Tolan also teased that they were working on getting Lisa Kudrow to appear as Ursula, the bad waitress who eventually became a Friends crossover character.
What will happen in the Mad About You reboot?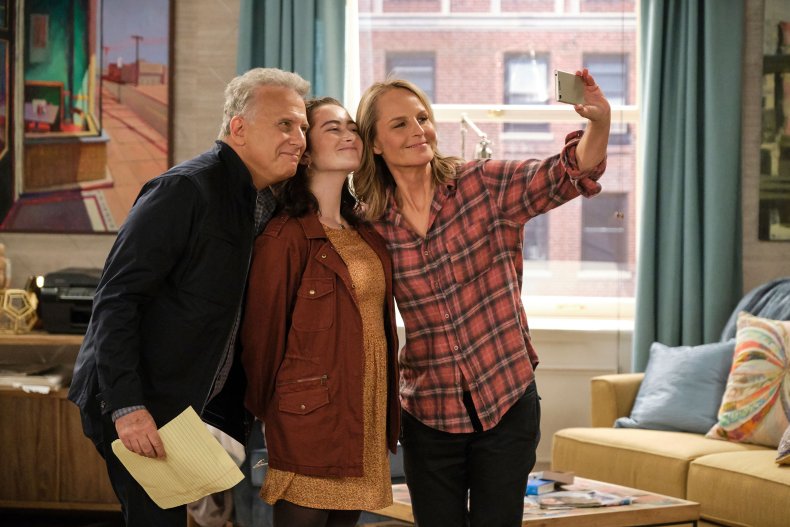 The official Spectrum trailer for the series reads: "The Buchmans are back! Paul Reiser and Helen Hunt reprise their roles on Mad About You. The limited series event will explore the fertile ground of modern marriage through the eyes of the Buchmans as newly minted empty-nesters after dropping their unpredictable, hard-to-control daughter Mabel (Abby Quinn) off at college."
Viewers of the finale will remember that it featured a time jump to 2021, with an adult Mabel (played by Janeane Garafalo) revealing her parents had separated before the family conspires to get them back together. Speaking about this to Variety, Tolan said: "The things that you saw in that might happen in the future, but some of it won't, so we're not strictly being held to that finale. I'm pretending it didn't happen."
Quinn said of the new season to Parade: "In the first episode of Mad About You, Mabel is going to college and everyone is struggling and she is keeping it a secret that she is going to miss them. It is a tight-knit family."
As for whether there will be more episodes, Reiser said to Decider: "On Mad About You again, we swore that we weren't going to ever do this, and for various reasons, and I can track it, but we ended up rolling the dice and we go, 'Yeah, come on, let's do it.' And I don't know what's going to happen with it. And going in, the given was, we're only going to do this once. We're not signing on for anything. If it's a hit and people like it and we want to do it, great. But this is a one-time thing."
Mad About You 2019 stars Wednesday, November 19 on Spectrum