Hillary Clinton Is President in an Alternate Universe, Where America Is Great Again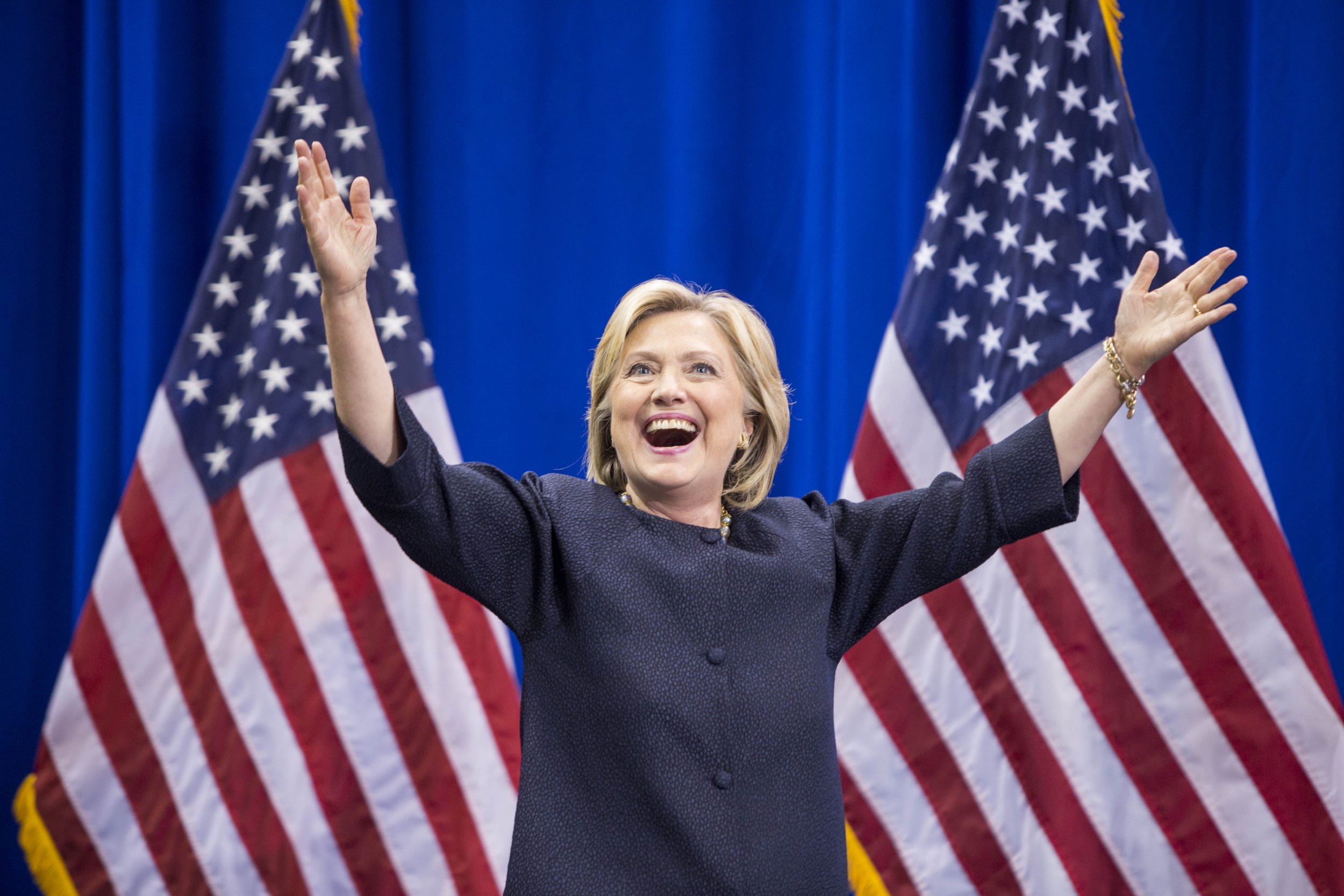 Hillary Clinton sits behind the resolute desk in the Oval Office, pulling out a large blue binder and a jar of hot peppers—her typical snack as the leader of the free world. It's 9:30 p.m., and madam president spent the day successfully rallying House Republicans and Democrats behind a health care bill that will improve upon her predecessor's landmark initiative, the Affordable Care Act. The bill passed an hour ago, but she isn't anywhere near done fulfilling her duties to the American people.
"I won't be taking any more calls," Clinton tells senior adviser Huma Abedin, who is walking toward the door near the grandfather clock. "I want to look through these Russian sanctions one more time. Tell Bill not to wait up for me."
Abedin, leaning on the half-open door to one of the most powerful rooms in the world, gives one last look at the president before leaving the White House. "You did a good job today, Madam President."
"Who runs the world?" Clinton asks, positioning her glasses higher on her head as she stares down at her documents.
"Girls. Girls run the world," Abedin responds, closing the door and leaving the president to her work.
Of course, none of these events have played out in reality: Donald Trump is the president of the United States in 2017. He prefers Diet Coke during his (near) daily briefings, tweets his frustrations about the "fake news" media and regularly continues blasting his former opponent in last year's election, often imagining what the state of the union would be like under Clinton.
"When I left Conference Room for short meetings with Japan and other countries, I asked Ivanka to hold seat," the real president tweeted Monday. "If Chelsea Clinton were asked to hold the seat for her mother, as her mother gave our country away, the Fake News would say CHELSEA FOR PRES!"
If Trump would like to continue pondering what Clinton might have done as president, he need not look any further than Twitter, on which he's spent time penning messages nearly every single day throughout his tenure in the White House.
The Twitter account @IfHillaryHad provides comedic updates based in a fictional land where Clinton defeated Trump in the 2016 election and has since gotten to work on her Democratic agenda.
The tweets provide a glimpse into what life is like for Americans living in Hillary Clinton's America: an alternate universe where alternative facts do not exist, and things seem to be going pretty swell. The messages often reflect on and compare the Trump presidency's shortcomings to Clinton's candidacy, as well as the real-life vows she made along the campaign trail.
"DAY 133: Reaffirmed our commitment to the Paris Agreement," the alternative POTUS Twitter account wrote June 1, the same day Trump withdrew from the Paris Climate Accord. "Told GOP leaders that they're morally bankrupt. Sent Bill out for falafels."
It's not just this one Twitter account that regularly escapes from Trump's America to a fantasyland. Countless users continue sharing their thoughts on what is happening in Clinton's America, a nation less consumed by Trump and the GOP's controversies and more focused on their own daily lives.
Clinton's America seems to have its flaws: alternative-madam president battles back repetitive, Republican-backed investigations into her emails, Trump is still decrying his loss and former President Bill Clinton's primary job seems to be picking up food for the White House staff.
Still, that's exactly what the alternative president wants, and probably real-life Hillary Clinton as well: to work on the "boring policy stuff" nobody would probably care about while avoiding public meltdowns, Twitter spats and pointless fights with newscasters.
Can you even imagine an America like that anymore?