'Madden NFL 19' Player Rating Update: Patrick Mahomes and Jared Goff Get Boosts
The 2018-19 NFL season is at its halfway point, and Madden 19 has updated its player ratings heading into the second half. Some updates to the player ratings are inevitable as some of the talented young players make their names known throughout the League, while others may come as a shock.
Of course, the Week 9 Madden Player updates don't take into account this week's Thursday night game so expect the performances (mostly from the Pittsburgh Steelers offense) to get a boost next week. You check out the entire Week 9 Player Ratings, here. Here are the most notable gainers and losers in Madden's coveted player ratings.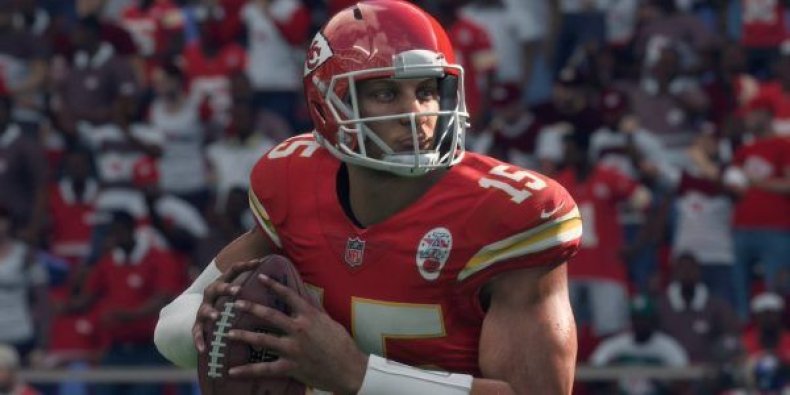 BIGGEST WINNERS
The biggest ratings winners in Week 9 are a couple of young QBs, one veteran and some notable skill position players.
Patrick Mahomes of the Kansas City Chiefs continues his record-setting pace as he cracks the 90 overall rating club for the first time. Jared Goff of the Los Angeles Rams put on quite a show in defeat against the New Orleans Saints last week but he's inching closer to a 90 overall rating.
Check out the notable gainers this week:
Patrick Mahomes QB KC
Philip Rivers QB LAC
Jared Goff QB LAR
James Conner RB PITT
Christian McCaffrey RB CAR
Adam Thielen WR MIN
Tyreek Hill WR KC
BIGGEST LOSERS
While Goff received a bump in his rating, his teammate on the defensive side, Marcus Peters, wasn't so lucky. The entire Rams defense took a shellacking against the Saints, but Peters was noticeably inefficient, causing his rating to drop.
The Dallas Cowboys season has been an uneven one so far, and the talented running back Ezekiel Elliott and linebacker Sean Lee both took hits to their overall ratings after the team's latest loss.
Here are the notable player rating drops this week:
Marcus Peters CB LAR
Ezekiel Elliott RB DAL
Jordan Reed TE WAS
Sean Lee LB DAL
What do you think of the latest Madden 19 player ratings? Where does your favorite player stack up? Let us know in the comments section below.