Like the NFL, 'Madden 21' Is Utilizing Next Gen Stats for Its PS5 and Xbox Series X Releases
If you've watched Sunday Night Football or any of the other primetime NFL games, you have probably seen the "Next Gen Stats" that have popped up in between plays. These statistics give more in-depth looks at how the athletes of the NFL make the catches, passes and runs that make them the best in the world.
And now, EA Sports is bringing those Next Gen Stats to the next-gen console versions of Madden 21.
While fans won't be able to hop into the PS5 and Xbox Series X/S versions of Madden 21 until December 4, EA developers have given a handful of media members a look at what to expect, and how the implementation of Next Gen Stats is meant to be a game-changer for the football sim.
In a virtual press conference on Monday, EA's developers explained that for two years they started developing programs to implement Next Gen Stats into the company's game. Now, the hardware of next-gen consoles is making those features a reality. From how receivers run routes, to how running backs move, these stats and data have helped EA Sports create an experience that is more fluid and lifelike than ever before.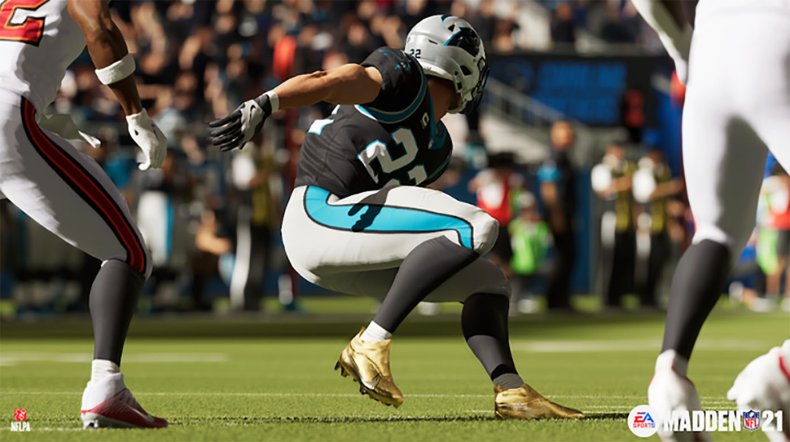 The NFL charts individual player movements within inches through sensors placed throughout every NFL stadium, and track tags on players' shoulder pads. That athlete data from thousands of plays captured by Next Gen Stats feeds into the Madden NFL animation engine to recreate athletic player movement when running, cutting and changing direction, all performed at realistic speeds and acceleration rates.
The animation engine is also leveraging player-specific route paths from Next Gen Stats for each individual receiver. Now the most elite receivers have the ability to run the same routes they do on the actual field onto Madden's virtual one. Logged by Next Gen Stats NFL game data, this creates fluid routes with more authentic rounded turns, athletic nuance and player differentiation.
Next Gen Stats also go beyond the virtual field in Madden 21's next-gen versions. Replays will get a boost with highlights that show the biggest plays and the best players in the game, along with data that showcases the most impressive feats of each contest.
Play calling in Madden 21 will also get an upgrade. Players will now find plays that focus on specific stars much easier. If you want to find a pass play for Deandre Hopkins, there will be plays in your playbook that you can find that specifically target the receiver. Players will also have the ability to save their favorite plays for the first time, putting them in a tab for quick reference.
And finally, body types in Madden 21 will become more defined on PS5 and Xbox Series X/S. Whether they're a "skinny" receiver, a "ripped" defender or a "soft" lineman, the Next Gen Stats will make players look more realistic on next-gen consoles.
This update to body types also helped the developers expand the player archetype system, by adding more nuance and differentiation to current archetypes. Developers captured thousands of new animations based on various body types to bring that fluid motion to Madden 21.
For example, a big, bruising ball carrier will run straight and use their weight to get those extra yards. A small, agile ball carrier will change direction and avoid tackles rather than trying to push through a pile of defenders.
All of these changes will hopefully make Madden 21 the most realistic football game ever created.
Madden 21 for PS5 and Xbox Series X/S will release on December 4.
What do you think of the Next Gen Stats coming to Madden 21? Let us know in the comments section.