Made in America and Russia: Democrat Congressman Wears 'Trump Putin 2016' Hat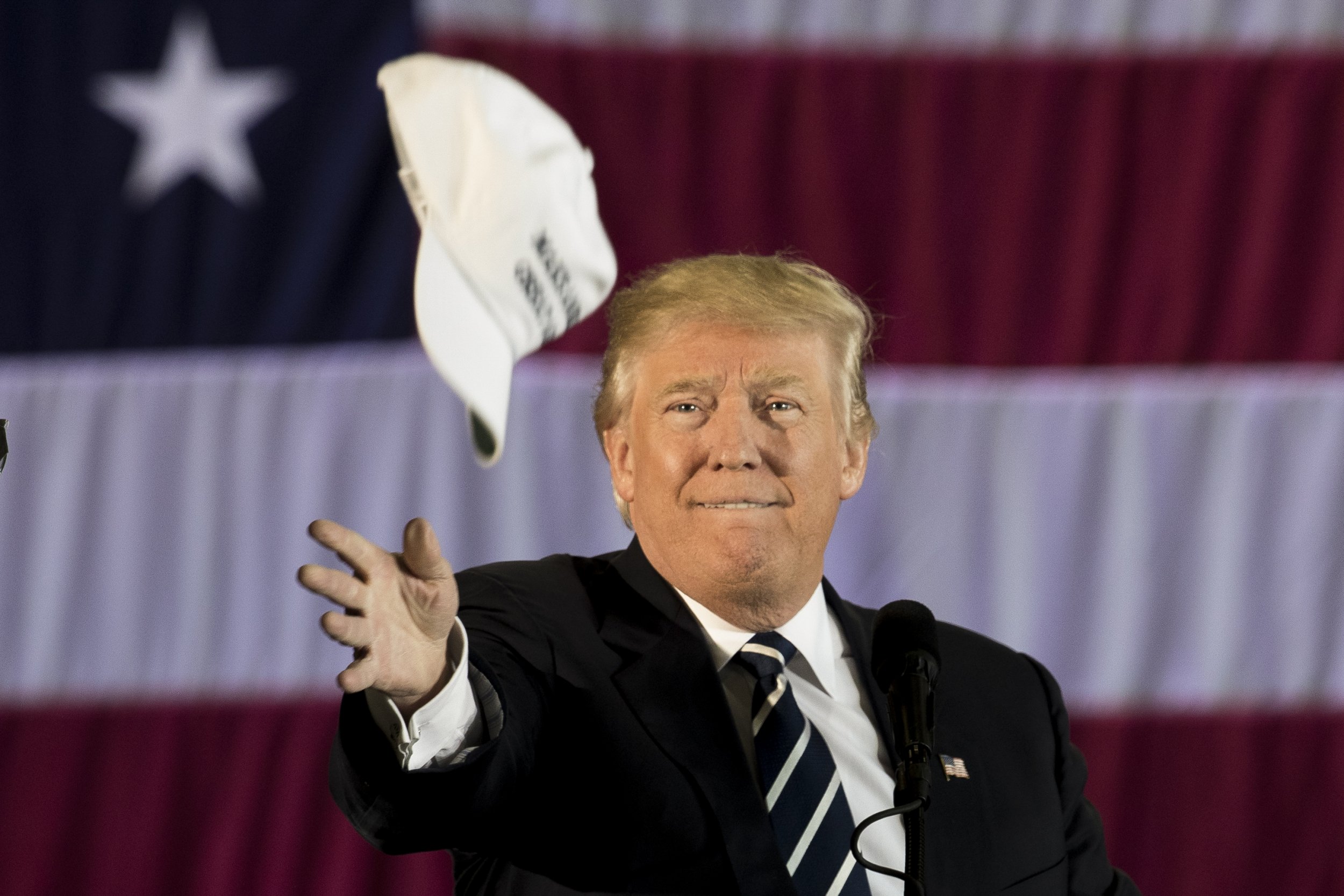 Updated | Democrat congressman Ted Lieu has offered a new take President Donald Trump's "Made in America Week."
While the president has been using the campaign to promote products made in the U.S., the California lawmaker offered his own contribution to the celebration of domestic-produced goods: A red cap in the style of Trump's signature "Make America Great Again" campaign hats, but emblazoned with "Trump Putin 16."
Lieu wore the hat outside the U.S. Congress building in Washington and claimed in his tongue-in-cheek post that "unlike products" made by the president and his daughter, Ivanka Trump, "it's Made in America!"
The claim was likely in reference to reports that many products under the Trump brand—from Donald J. Trump eyeglasses to ties endorsed by the ex-business mogul—were made overseas, largely in China. Many of the goods produced for the Ivanka Trump fashion line are also produced in China, with workers in some factories earning just $1 per hour. (Trump's signature hats, however, are made in the U.S.)
Allegations of ties between Trump and the Russian government—referred to in the motif on Lieu's cap—have snowballed in the first six months of Trump's administration. Several investigations are ongoing into alleged collusion between the Trump campaign and the Kremlin, and reports of a second, undisclosed meeting between Trump and Russian President Vladimir Putin at the G20 summit in Hamburg earlier in July have been greeted with concern.
Newsweek subscription offers >
President Trump kicked off "Made in America Week" with a product showcase at the White House on Monday, which brought together U.S.-made products from companies in each of the 50 states. "We want to build, create, and grow more products in our country using American labor, American goods, and American grit. When we purchase products made in the USA, the profits stay here, the revenue stays here, and the jobs—maybe most importantly of all—they stay right here in the USA," the president said.
Trump has positioned himself as a defender of American labor. In April, the president signed the "Buy American, Hire American" executive order, which directed U.S. government agencies to buy more products made at home and aimed to crack down on foreign workers, particularly those abusing the H1-B visa program for skilled workers.
Lieu is a frequent critic of President Trump and recently suggested that the president's oldest son, Donald Trump Jr., broke the law by meeting with a Russian lawyer in June 2016 in a bid to gain incriminating evidence about Trump's campaign opponent, Hillary Clinton.
This article originally incorrectly stated that Ted Lieu is a senator. Lieu is a congressman, not a senator.
Made in America and Russia: Democrat Congressman Wears 'Trump Putin 2016' Hat | U.S.