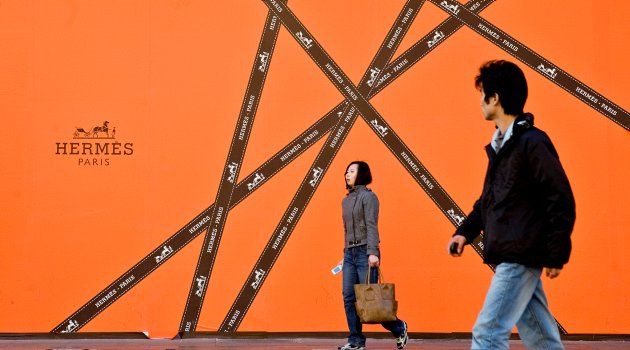 Conspicuous consumption may be out of fashion in the West. But in China, the luxury-goods business is booming, and the rich are becoming more discriminating than ever. No longer satisfied with snapping up the same Louis Vuitton luggage and Fendi baguettes they can find in New York or Paris, Chinese consumers are demanding luxury goods that are tailored especially to them.
The French luxury giant Hermès, for instance, recently opened a boutique in Shanghai for its new Chinese brand, Shang Xai. The offerings are in stark contrast to the brand's colorful trademark silk scarves. There are Ming-style chairs, eggshell porcelain bowls and jewelry inspired by unusual Chinese collectible baubles, such as teapots. The materials used—zitan wood, lacquer, and Mongolian cashmere—are luxurious, and local. Packed with customers since opening, the boutique has generated huge buzz, and other Western brands are taking notice.
American and European multinationals from Coca-Cola to Procter & Gamble have been trying for decades to capitalize on the world's most populous nation, but for many top brands progress has been surprisingly slow. That's in part because China is still a relatively poor country, with a high savings rate. But also, it's because many big brands have simply dumped their existing products on the Chinese market, with little thought to tailoring their wares to the audience beyond changing the language on the packaging. "Until quite recently, the attitude has been, 'Let's invent in the West and ship to China,'?" says Hubert Hsu, a senior partner at Boston Consulting Group and leader of the firm's consumer practice in China. "It didn't work."
But companies are beginning to wise up—and none too soon. With Western markets for luxury goods in a slump since the financial crisis, retailers are focusing on China, which is on course to become the world's third-largest consumer market, worth $2.3 trillion, by 2025, according to the consulting firm McKinsey & Co. The Chinese al-ready buy more cars and televisions than anyone else, and they are No. 2 when it comes to PC sales. Any number of other categories are booming, from jewelry (up 25 percent a year) to cosmetics (up 20 percent) to luxury automobiles (up 50 percent). "The redistribution of global growth following the financial crisis was more dramatic than anyone could have predicted," says McKinsey's Yuval Atsmon. "There's now a sense amongst many foreign firms that they need to start treating China as their home market."
Although selling to the Chinese market doesn't have to mean emulating a Chinese aesthetic, as Hermès has done, it does mean thinking much more carefully about what Chinese consumers actually want. Hence, a slew of firms have in recent months launched products custom-made for the Chinese. BMW introduced a China-only limited version of its muscly M3, called the Tiger, which is named for the 2010 Chinese New Year and features fiery orange-and-black coloring. French fashion house Chloe will soon launch a Chinese version of its Marcie handbag in red, which is a lucky color in the Middle Kingdom. And Levi Strauss & Co. has rolled out a jeans brand, Denizen, with slimmer cuts and more localized styles to appeal to the emerging Asian middle class.
Companies are bending over backward to let Chinese consumers know just how valuable they are. In Apple's Shanghai store, a new "customer is always right in China" message is on prominent display. Employees wear red shirts—not black ones—emblazoned with the slogan DESIGNED IN CALIFORNIA, MADE FOR CHINA in Mandarin. It's an obvious play on the DESIGNED BY APPLE IN CALIFORNIA, ASSEMBLED IN CHINA wording that you'll find on the back of your iPhone.
In addition to producing specially tailored goods for the Chinese market, many firms have started exporting these same products abroad. Hewlett-Packard recently set up a facility in Chongqing to turn out items like a low-cost "rural" laptop that's designed to withstand rain and extreme dust; the product is selling briskly in China, and HP has plans to roll it out to other emerging markets. Meanwhile, Porsche launched its new sedan in China first.
Of course, not all the new "made for China" products will be hits. Many large companies have stumbled in the Middle Kingdom by overlooking key differences in the local market. For example, while there's a place for cost-conscious brands in China, many Chinese who buy Western goods do so because they have status—thus, Walmart's attempt to use its standard EVERYDAY LOW PRICES slogan in China has flopped. Placement of stores is another frequent pitfall. Many wealthy, cosmopolitan Chinese buy luxury goods while traveling abroad, and so foreign brands like Ralph Lauren or LVMH, which opened their first Chinese stores on the coast, find they can often do better in second or third-tiercities like Chong-qing or Dalian, places un-familiar to most Westerners, as opposed to, say, Hong Kong.
Despite the challenges, there's a sense the Chinese market is finally poised to live up to its promise. Consumer spending has risen 15 percent a year over the last two years, and most analysts predict that growth will continue as a new generation of indulged only children—used to spending rather than saving—reaches maturity. There's huge potential in health and wellness products, for example, where growing ranks of middle-class Chinese are willing to pay top dollar for Western brands that are perceived to be less likely to cut corners. "There's big money to be made in high-end foreign food and beauty and health products that market their Chinese 'essence,'?" says Boston Consulting's Hsu. Witness the moves of firms like Estée Lauder and Lancôme to develop or buy cosmetic brands specifically for the Chinese market.
The trick, as always, is getting the formula right. While rich Chinese want their Ming chairs and locally made porcelain, they also look forward to an evening at Pizza Hut—which, in China, is a date-night restaurant kitted out with fine cutlery, white tablecloths and impressive artwork. "Whenever my team finishes a project, I always give them a choice of a meal at a top spot—the Four Seasons or the Ritz, for example," says Shaun Rein of CMR consulting. "But they always choose Pizza Hut." Luxury, it seems, isn't so much about price point as perception.