Madison Cawthorn Proposes 'JAB Act' to Keep OSHA From Enforcing Vaccine Mandates
Republican Representative Madison Cawthorn introduced a new bill, the JAB Act, which would prohibit OSHA from enforcing vaccine mandates issued by the government.
The North Carolina congressman's Justice for All Businesses Act (JAB Act) would prevent the Secretary of Labor from allowing government mandates that require employees to be vaccinated against COVID-19. The Occupational Safety and Health Administration (OSHA), an agency of the Department of Labor, is tasked with enforcing President Joe Biden's vaccine mandate.
"Forced injections mandated by the federal government are nothing short of subsidized medical apartheid. There is nothing American about ripping financial stability away from the American people simply because they choose to make medical decisions for themselves," Cawthorn said.
Under Cawthorn's two-page bill, the Secretary of Labor would also be prohibited from fining businesses that violate the requirement for the vaccine or weekly COVID testing.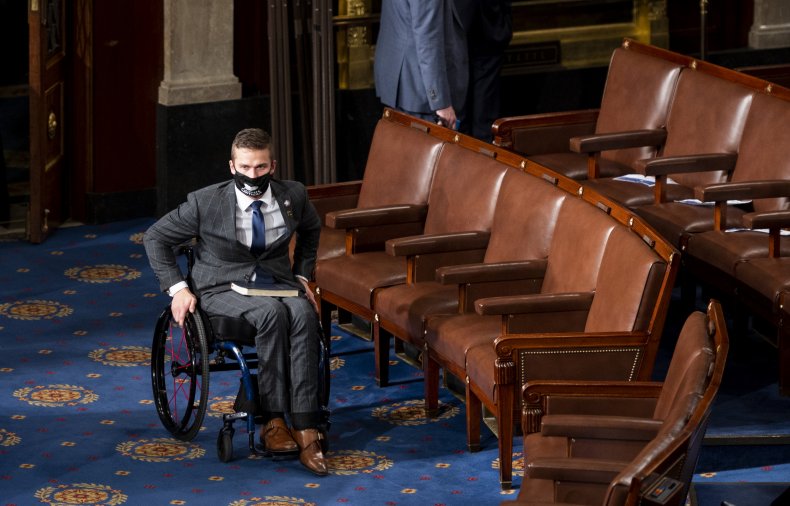 Seven other Republicans, congressmen Jeff Duncan of South Carolina, Louie Gohmert of Texas, Bob Good of Virginia, Tracey Mann of Kansas, Markwayne Mullin of Oklahoma, Scott Perry of Pennsylvania, and Randy Weber of Texas are original cosponsors of the legislation.
"I'm proud to introduce this bill denying the federal government and Joe Biden the chance to trample on Americans any further. This is not a matter of health, it's a matter of liberty," Cawthorn said. "There are patriots across the nation who would rather see their jobs ripped away from them then lose their right to life, liberty, and the pursuit of happiness. I stand with them to defend freedom at all costs."
Cawthorn also thanked the representatives in a tweet for joining him in "taking a stand against Biden's dictatorial decree."
The Republican's JAB Act comes one day after he called for "demon doctor" Anthony Fauci, federal infectious disease expert who heads the National Institute of Allergy and Infectious Diseases (NIAID), to be formally investigated on the House floor.
"Dr. Fauci has forsaken his Hippocratic oath and exchanged it for the mantle of unchecked power," Cawthorn said in a Tuesday speech.
He later said a formal commission will investigate the doctor for his role in creating the COVID-19 virus. The Republican also promised to personally ensure Fauci was charged with lying to Congress earlier this month if his party takes full control after the 2022 midterm elections.
It's unlikely Cawthorn's proposal will pass in the Democrat-controlled House but his latest attempt isn't the only new GOP effort to prevent OSHA from enforcing Biden's September 9 executive order. The agency is expected to unveil the rules to the public soon.
Earlier this week, Republican lawmakers in Florida announced they wanted to pull out of the workplace safety organization over the vaccine mandate and replace it with a state program. However, it would probably take too long to develop and would need to be approved by OSHA.
Nebraska Governor Pete Ricketts also said he would be "taking OSHA and anybody else in court" to request an injunction once the mandate rules are released. The Republican encouraged Nebraskans to get the shot but added the state would "stop what is a huge abuse of federal power to mandate vaccines through these emergency rules."
Newsweek reached out to Cawthorn's office for comment.