Madison Cawthorn Lectured by Republican on Senate Floor After Calling Zelensky a 'Thug'
After Rep. Madison Cawthorn (R-North Carolina) called Ukrainian President Volodymyr Zelensky a "thug" and "evil" in a video that surfaced earlier this week, Senator Joni Ernst (R-IA) gave her colleague a lecture on the Russia-Ukraine war.
A video of Cawthorn was published on Thursday by WRAL, in which the North Carolina lawmaker was seen insulting Ukraine's leader, breaking his only party line.
"Remember that Zelensky is a thug," Cawthorn said in the 13-second video clip. "Remember that the Ukrainian government is incredibly corrupt and is incredibly evil and has been pushing woke ideologies."
Republican Senator Joni Ernst addressed Cawthorn on Thursday in the Senate, recalling her time in Ukraine in 1989, two years before it became an independent state and broke away from the Soviet Union.
Ernst said she met with a group of farmers there. "The first question they asked 'what is like to be American' and 'what is like to be free?' They wanted to be free at that time. They were a fledgling democracy. They became a free nation in 1991 and they have been fighting ever since."
She said if anyone believes that any country is free of corruption they "are kidding ourselves."
"The Ukrainians want to be free, they have been fighting for this for the past 30 years and to just hand them over to an actual murderous thug called Vladimir Putin, is the wrong thing to do," Ernst added.
"So to my colleague in the house, I would push back and say it's not Ukraine that is invading Russia, it is Russia that is invading Ukraine."
Newsweek has contacted Cawthorn for comment.
Karl Rove, a former White House deputy chief of staff, mentioned Cawthorn's Ukraine remarks in a Wall Street Journal article on Wednesday, saying that the Republican lawmaker made them during a town hall in in Asheville, North Carolina, on Saturday.
Cawthorn's comments go against the bi-partisan support for Ukraine from Congress. Both Republican party leaders in Congress and the Senate have voiced their support for Zelensky.
Later on Thursday, after the controversial video surfaced, Cawthorn took to Twitter to distance himself from those comments, calling Russian President Vladimir Putin's invasion "disgusting."
"I am praying for Ukraine and the Ukrainian people," he added.
However Cawthorn didn't hold back on Zelensky, accusing him of promoting misinformation before posting a link to a conservative blog with examples, including a story of Ukrainians on Snake Island who were believed to have been killed in a February 24 Russian attack who later reported being "alive and well."
Russian declared an invasion of Ukraine on February 24. A U.S. official estimated on Wednesday that between 5,000 and 6,000 Russian troops may have been killed in just the first two weeks of the fighting, according to the Associated Press.
The official also said that 2,000 to 4,000 Ukrainian troops are believed to have died in the war. The person, who remained anonymous, said that the numbers were difficult to assess in real time.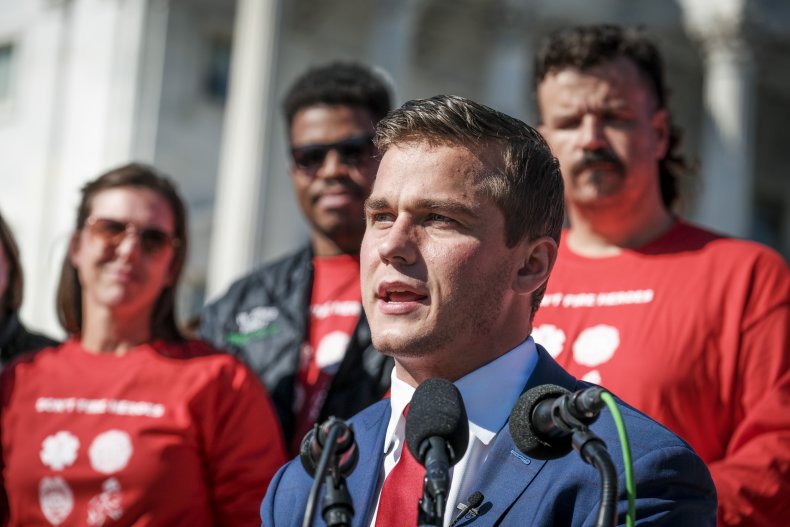 Correction 03/15/22, 8:36 a.m. ET: This article was corrected to state that Karl Rove is a former White House deputy chief of staff.