Madison Cawthorn Says Door-to-Door Vaccines Could Lead to Taking of Guns, Bibles
U.S. Representative Madison Cawthorn (R-N.C.) is speaking out regarding President Joe Biden's plans to go door-to-door and administer vaccinations to unvaccinated Americans. Cawthorn took issue to Biden's actions and expressed his disdain during an interview with Right Side Broadcast Network at the Conservative Political Action Conference (CPAC) event in Texas.
"The thing about the mechanisms they would have to build to be able to actually execute that massive of a thing—and then think about what those mechanisms could be used for. They could then go door-to-door to take your guns. They could then go door-to-door to take your Bibles," he stated.
Even though Cawthorn is opposed to the idea, Biden feels as if the door-to-door measures will help speed up the process of getting every American vaccinated against COVID-19.
"We're continuing to wind down the mass vaccination sites that did so much in the spring to rapidly vaccinate those eager to get their first shot and their second shot for that matter if they needed a second," said President Biden.
"Now we need to go to community by community, neighborhood by neighborhood, and oftentimes, door-to-door—literally knocking on doors—to get help to the remaining people protected from the virus," he continued. "Look, equity, equality, it remains at the heart of our responsibility of ensuring the communities that are the hardest hit by the virus have the information and the access to get vaccinated."
So, as we shift from the centralized mass vaccination sites where we were doing thousands of people a day, we're going to put even more emphasis on getting vaccinated, in your community, close to home, conveniently, and in a location you're already familiar with," he concluded.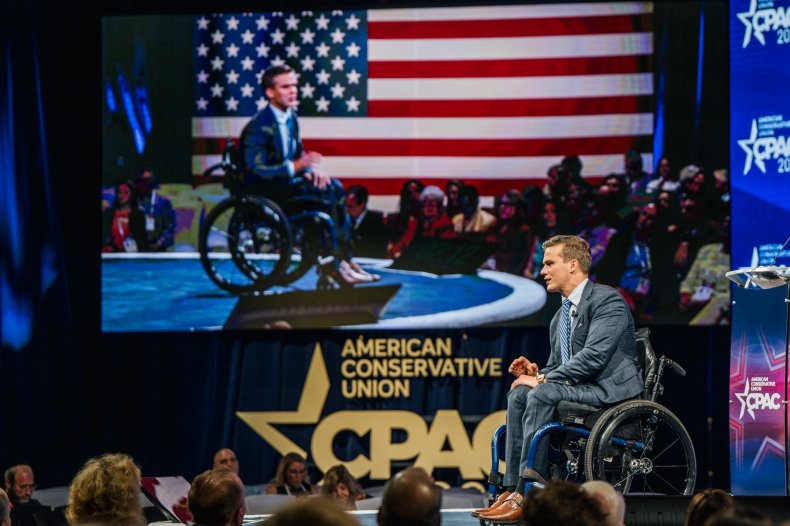 Biden is also hoping to make up for lost ground after missing his July 4 goal of having 70 percent of America's adult population vaccinated. Mark Shanahan, head of the department of politics and international relations at the University of Reading told Newsweek that Biden needs to zero in on the data, rather than the target itself.
"There is a political adage that says it's far better to under-promise and over-deliver than the other way round," Shanahan said. "Joe Biden seems to have briefly forgotten that and focused on the soundbite of the date over the reality of the data."
"As of now, a more dangerous strain of COVID-19 is spreading rapidly across parts of America and the world. The Delta variant was first discovered in India and has the potential to push the pandemic further into the future. So far, The World Health Organization has called the Delta variant the fastest and fittest," he added.
Newsweek has reached out to Madison Cawthorn for further comment.