Madison Cawthorn Says Sexual Misconduct Allegations Are False, Addressed During Election
Rep. Madison Cawthorn (R-N.C.) denied renewed allegations that he sexually harassed multiple women during his time in college on Friday.
Allegations that Cawthorn, a 25-year-old rising star of the Republican party's right wing, was responsible for a string of sexual harassment incidents during his short time at Patrick Henry College were highlighted in a BuzzFeed News article published on Friday. Cawthorn was elected to Congress in November. Similar claims of sexual harassment and assault were an issue during the campaign.
"These questions were repeatedly asked and answered during the course of the campaign," Micah Bock, Cawthorn's communications director, said in a statement to Newsweek. "The voters of Western North Carolina responded to these allegations by giving Madison Cawthorn a 12-point victory over his opponent."
"Rep. Cawthorn is now busy doing the work he was elected to do including helping our economy recover from the pandemic, creating jobs and opportunity, making health care more affordable, protecting our natural environment and defending life and our Second Amendment rights," Bock continued.
Cawthorn left Patrick Henry College, a small Christian liberal arts school in Virginia, after finishing one semester in 2016. The future congressman earned mostly "D" grades that he attributed to injuries sustained in a car crash that left him unable to walk about two years earlier, according to The Asheville Citizen-Times.
Several women who attended the college at the same time have accused Cawthorn of sexual harassment during off-campus "joy rides" in his car, Buzzfeed reported.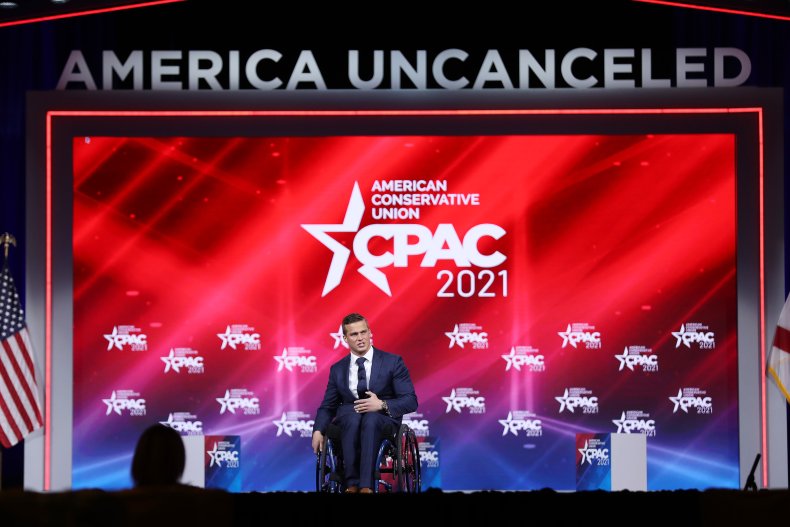 Classmate Caitlin Coulter, who accepted an invitation to go on one of the rides, said that she was subjected to roughly 20 minutes of uncomfortable and sexually-charged conversation, followed by a "reckless" drive back to campus after she rejected Cawthorn's advances.
"It was really scary," Coulter told the outlet. "And just I remember just being very happy to make it back home safely."
Katrina Krulikas, one of two women who claimed that Cawthorn forced them to kiss him in an August 2020 article in World Magazine, described a 2014 North Carolina car ride that allegedly ended in assault.
"He ends up asking me to come sit closer to him, sit on his lap. I laughed it off as a joke, and he says he just wants to get closer and talk, so I sit on his lap. At that point he tries to kiss me and I say no," Krulikas told BuzzFeed. "And we talk a little bit more, and then he ends up grabbing me really quickly, kind of, like, surprisingly, so that I couldn't really have time to get away."
Bock referred Newsweek to a denial of similar allegations Cawthorn had made during a debate on September 4, when he insisted that he had "never done anything sexually inappropriate."
"If I have a daughter, I want her to grow up in a world where people know to explicitly ask before touching her," said Cawthorn, who is not a parent. "If I had a son, I want him to be able to grow up in a world where he would not be called a sexual predator for trying to kiss someone."
The BuzzFeed article also detailed an allegation that Bock, a longtime friend of Cawthorn, engaged in "nonconsensual physical contact" including pressing his genitals against classmate Leah Petree.
Bock told Newsweek that "the allegation is completely untrue." Petree, a current GOP intern at the Capitol in Washington, D.C., has also accused Cawthorn of sexual harassment during their time in college.
Newsweek reached out to Patrick Henry College for comment.