Madison Cawthorn's Scandals Haven't Put Off His Donors
Republican Congressman Madison Cawthorn faces a tough test in the North Carolina Primary on Tuesday, after a series of controversies and antics that have threatened his chances of getting re-elected. Even Donald Trump has said he deserves a "second chance."
But Cawthorn's donors haven't been deterred.
Cawthorn's fundraising committee, Cawthorn for NC, saw a small decline in campaign contibutions in April. It received 827 donations in the month, according to Federal Election Commission filings, down from 1,252 in March, but that's in line with the flow of overall electoral donations nationally.
Cawthorn for NC raised just under $66,000 in April, down from $103,000 in March. His highest fundraising month was $251,000 in June 2021.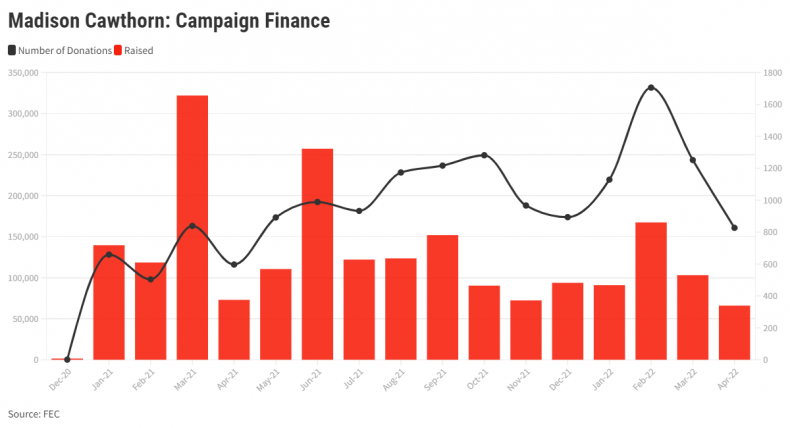 Equally, Cawthorn's Republican challengers who have raised the most in donations, Bruce O'Connell and Chuck Edwards, didn't see any major donation boosts to their campaigns in April, after Cawthorn's controversies, according to FEC data.
Cawthorn's recent troubles started in late March, when he claimed in a podcast that he had been invited to orgies by other members of Congress, and had witnessed drug-taking. The comments created a backlash among Republican colleagues. House Minority Leader Kevin McCarthy, a California Republican, said that Cawthorn had admitted to him in a private conversation that the claims were "exaggerated."
According to The Hill, McCarthy told reporters: "This is unacceptable. There's no evidence to this. That's not becoming of a congressman. He did not tell the truth."
Also in April, Politico published a story with images of Cawthorn wearing lingerie. Cawthorn was dismissive, describing the images as "goofy vacation photos." Critics argued that the photos demonstrated the conservative lawmaker's hypocrisy, as he has been highly critical of progressive views on gender and sexuality.
There have also been claims the congressman is involved in an illegal insider trader scheme related to a "Let's Go Brandon" cryptocoin—a cryptocurrency named after the Republican catchphrase used to attack President Joe Biden.
Then on April 26, Cawthorn was caught trying to bring a loaded gun through a TSA checkpoint at Charlotte Douglas International Airport.
This week, former President Donald Trump, who has endorsed Cawthorn, put out a statement that said: "When Madison was first elected to Congress, he did a great job. Recently, he made some foolish mistakes, which I don't believe he'll make again...let's give Madison a second chance!"
Cawthorn's polling numbers have reflected the cycle of awkward stories, with his support dropping from 49 percent to 38 percent in a poll from April 26. That put Cawthorn still comfortably ahead of Edwards, who was on 21 percent.
As a polling memo from political consultancy Differentiator said: "By every metric, Cawthorn's campaign trajectory is terrible. Every day seems to bring news of another self-inflicted wound."
However, the memo continued: "The field shows no signs of uniting behind one candidate in a common cause of defeating Cawthorn."