Ted Lieu Tells Madison Cawthorn 'Stop Your Tough Guy Act' After Right to Bear Arms Speech
Who Is Madison Cawthorn, The Political Newcomer Who Beat Trump's Pick In North Carolina GOP Primary?
Rep. Ted Lieu has mocked fellow lawmaker Madison Cawthorn for comments during a Second Amendment debate in which the Republican told the floor: "You want my guns."
Cawthorn, a freshman representative from North Carolina who is a rising star in the conservative wing of the GOP, addressed the House on Wednesday as it discussed measures to strengthen background check procedures for firearms.
HR 8, which would expand the checks, passed through the House in 2019 but stalled in the Senate. However, the bill's sponsors and gun safety groups hope the Democratic majority in the upper house will give it a better chance of success this time.
The legislation would make it illegal for any person who is not a licensed firearm importer, manufacturer or dealer to transfer a firearm to anyone who is not so licensed without a background check.
Also discussed was HR 1446, a bill that would increase the time taken for certain background checks to 10 business days.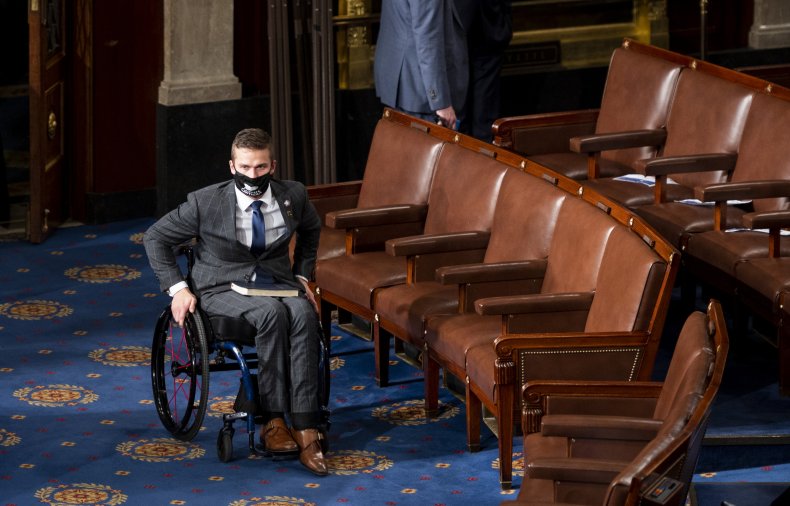 Cawthorn, however, condemned any moves to change the law. He said the legislation would "unconstitutionally place the burden of proof for firearm purchases and transfers on American citizens, instead of placing the burden firmly where it belongs, on the shoulders of the government."
He said Americans "have the right to obtain a firearm for lawful purposes," adding: "You will not take this right away from us."
"If you think this bastardization of the Constitution will be met with silence, then you know nothing of the America I know.
"You want my guns, I know it. We all know it. Mr. Speaker, you can come and take them," he added—in a video clip that was tweeted by Lieu, a Democrat who represents California's 33rd district.
In sharing the video, Lieu took a swipe at Cawthorn, adding the message: "I have 2 Air Force marksmanship ribbons. You lied about getting into the Naval Academy"—a reference to a report that the GOP representative had in fact been rejected by the academy before a car crash left him partially paralyzed and in a wheelchair.
"Stop your tough guy act and promoting conflict. We've had enough violence in the Capitol," Lieu added.
When contacted for comment, Cawthorn's office referred Newsweek to a follow up tweet in which the congressman directly addressed Lieu, writing, "This bill has NOTHING to do with guns on the house floor.
"It has everything to do with treating law abiding citizens like criminals. You seem to have forgotten your oath to the Constitution. My staff will stop by tomorrow with a copy for you."
Last week, Democrat Jasmine Beach-Ferrara announced that she would challenge Cawthorn in North Carolina's 11th district. After appealing for new Twitter followers, she increased her following from 4,500 last week to more than 136,000 followers on Thursday morning.
The graphic below, provided by Statista, shows Gallup data on U.S. attitudes towards gun ownership.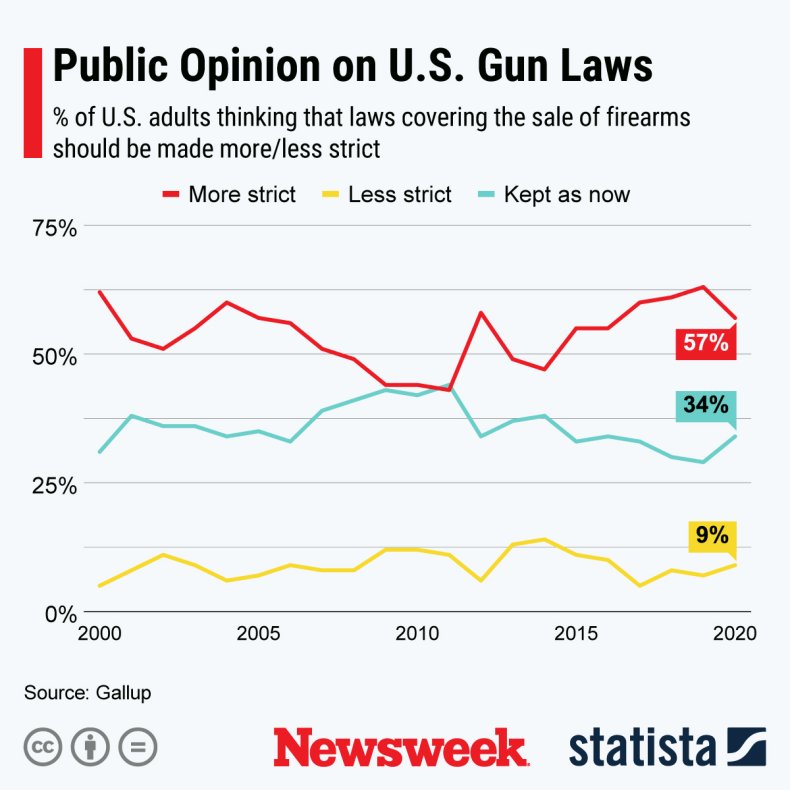 This story has been updated with a new graphic. A later update included a response to Newsweek from Cawthorn's office.