North Carolina Representative Madison Cawthorn has established an online bail fund for Republicans who are arrested for not wearing a mask inside the Capitol. The fund seemingly directs donations to his own personal campaign rather than a separate account.
"If Kamala can pay the bail for violent Antifa rioters, then I can pay the bail for any Republican staffer arrested for not wearing a mask. Join me," Hawthorn wrote in a tweet published Thursday afternoon.
His tweet referenced a disproven Republican claim that Vice President Kamala Harris donated to the Minnesota Freedom Fund (MFF), a group that bailed out violent racial justice and anti-fascist (Antifa) protesters. While Harris once tweeted a link to the MFF's fundraising page on June 1, 2020, she herself never donated to the group, the fact-checking site Snopes.com confirmed.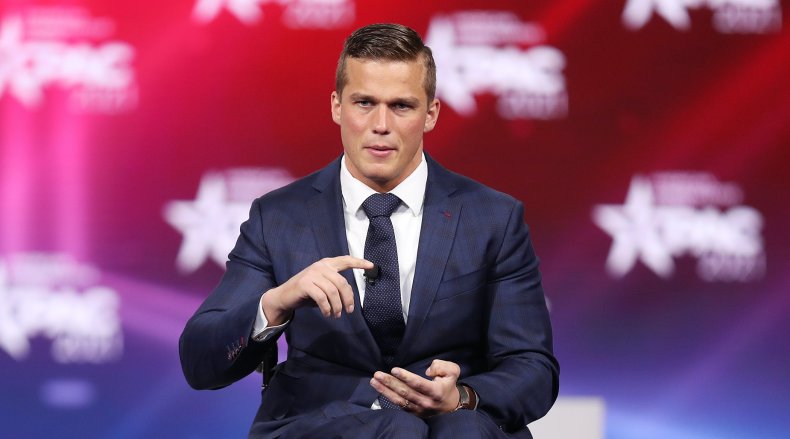 Along with his tweet, Cawthorn posted a link to WinRed, a fundraising platform endorsed by the Republican National Committee. The fundraising page's text says, "Donate below to help bail out Republican Hill staffers!" However, the text below the donation buttons says, "Your contribution will benefit Cawthorn for NC."
Cawthorn for NC is the name of the congressman's personal campaign fund. A separate WinRed page for donating directly to his campaign also says, "Your contribution will benefit Cawthorn for NC."
Newsweek contacted Cawthorn's office for comment but did not hear back in time for publication.
On Tuesday, the Office of Attending Physician, Brian P. Monahan, reinstituted the mandatory mask mandate in all House spaces, including offices, meeting areas and the main House chamber.
This week, Thomas Manger, chief of the Capitol Police, said that congressional aides and visitors that don't wear masks will be denied entry to House spaces. If they don't then put on a mask or leave the premises, they could be arrested for unlawful entry, he added.
It's unclear whether anyone connected to congressional Republicans has been arrested so far. It's also unclear whether the Capitol Police anticipates any such future arrests. Newsweek contacted the Capitol Police for comment.
Any legislators who refuse to wear a mask will have their cases referred to the House Sergeant at Arms, the chamber's chief law enforcement official, The Hill reported. Additionally, they could be fined $500 for a first offense and $2,500 for each subsequent offense, according to House Speaker Nancy Pelosi.
On Thursday, House Republicans demonstrated against the new reinstated mask rules by marching maskless in the Senate. The group included Cawthorn and dozens of other Republican legislators.
The group also included representatives who, like Cawthorn, represent the party's far-right wing: Lauren Boebert of Colorado, Louie Gohmert of Texas and Marjorie Taylor Greene of Georgia.