Wisconsin High School Security Guard Who Was Fired for Telling Student Not to Use N-word Gets His Job Back
A black school security guard in Wisconsin has been reinstated after he was fired for repeating a racial slur to a student who had been verbally abusing him.
In a case that sparked global publicity, the intervention of a teacher's union and a debate about the N-word, Marlon Anderson, 48, posted on social media his delight at being able to return to work.
He had worked as a security guard at West High School in Madison for three years and in the school district for 11. He said the racial slur to a male student who had called him the N-word 15 times during an altercation on October 9.
Anderson was fired by the Madison Metropolitan School District [MMSD] when he said: "Don't call me that, don't call me the n-word, and don't call me n*****."
He claimed he had been set up by the assistant principal who held her radio to his face during the verbal altercation for other staff to hear.
A zero-tolerance policy that district officials had adopted after other employees had used racial slurs in front of students in the past was enforced, but following his dismissal, Anderson received much support on social media. Singer Cher tweeted her support and offered to pay his legal costs.
Over 1,000 students walked out of class in protest before district officials rescinded the decision.
Anderson posted on Facebook that five days after his dismissal, he was able to return to work.
"I'm back!! ...Thank you to the 1,000 plus students for allowing your voices to be heard and to all the people from across the globe for reaching out to my family...Now we have to address the policy!! God is good!!!!" he wrote.
Madison Teachers Inc. union executive director Doug Keillor said Anderson will get full pay and benefits until his return to school is finalized.
"MTI is pleased to see the District rescind the termination of Marlon Anderson, paving the way for him to return to the incredible work he does with Madison's students," Keillor said, according to the Journal-Sentinel.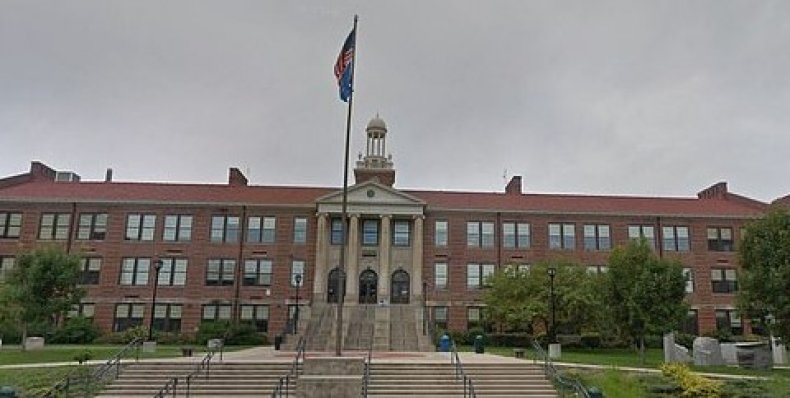 An emotional Anderson told NBC affiliate WECT that he was "very excited" to get back to work again. "I have had support from Turkey, Hungary, Australia,...all over the world. I thank God for the support, I thank God for the students, I am so glad they got out there and fought and they made it happen."
"We are going to keep fighting because the things that need to be fixed have to be fixed, because our teachers need to feel supported and for a long time they haven't felt that way. So hopefully we can use this platform to get support from our teachers."
Madison School Board President Gloria Reyes said there would be a review of the use of racial slurs in school, the Associated Press reported.
Meanwhile, in a statement to staff, interim district schools superintendent Jane Belmore said she would work with administrators to "mitigate any harm that was caused and begin the healing process and give the board time to review our practice."
"Our commitment to anti-racism and to use the input from community, especially our students is unwavering," Belmore said, according to the AP.