Madonna Biopic: Why Julia Garner or Florence Pugh Might Play Madonna
Madonna recently took to social media to reveal that she is set to direct a movie about her own early years as the Queen of Pop, and is currently writing the script with Diablo Cody, the Oscar-winning screenwriter of Juno. What she has not revealed, however, is who is set to be playing her in the as-yet-untitled biopic.
Her Instagram, however, may give us an insight into exactly who she is thinking about to play her in her early life of struggling to make it New York, taking dance classes while dating artist Jean-Michel Basquiat.
Recently, Madonna and her long-term manager Guy Oseary have started following a number of actors with more than passing resemblance to the singer. Notably, both of them recently started following Julia Garner, the Emmy-winning star of Ozark and recent movie The Assistant.
The 26-year-old actor, who plays Ruth Langmore on the Netflix show, definitely could star as Madonna in a biopic, with her blonde curly hair giving her a particular resemblance to Madonna around the time of her 1990 Blonde Ambition Tour.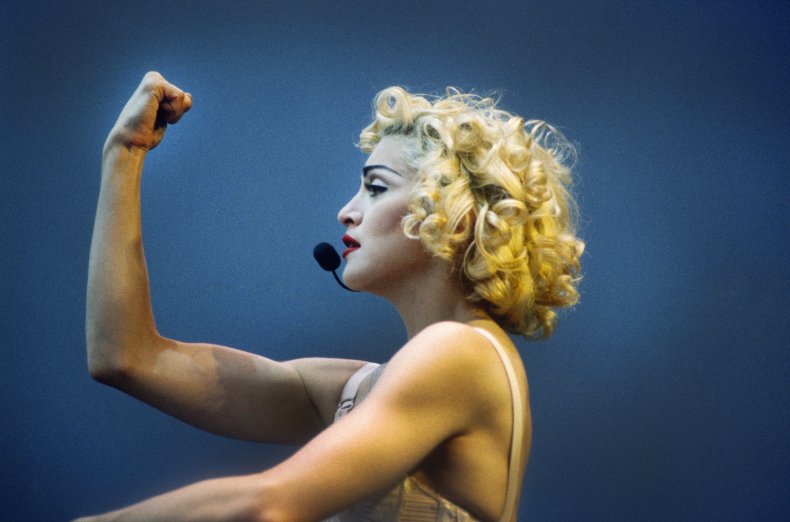 So far, however, neither Garner nor Madonna have confirmed whether they are in talks for the biopic. Newsweek has reached out to representatives for Garner and Madonna (as well as Florence Pugh) and will update this article when we get a response.
Garner is not the only actor who Madonna has started following since working on the script for her biopic. The "Vogue" singer also recently connected with Little Women star and Oscar nominee Florence Pugh.
This comes after numerous fans on Twitter (including this writer) pointed out the resemblance between Pugh and a young Madonna after the actor played the canny, forceful Beth March in Greta Gerwig's Little Women.
These are two actors that Madonna has followed most recently, she also follows a number of young actors who could conceivably take on the role of the Evita actor.
For example, the "Hung Up" singer also follows Emma Roberts, star of American Horror Story, and Riley Keough, the American Honey star (and granddaughter of Elvis Presley) who is currently starring in Netflix movie The Devil All the Time. She also follows Haley Bennet, who also stars in that film. All conceivably could pull off playing the Queen of Pop.
Though less likely than these options, it is also worth noting that Madonna follows Miley Cyrus. Though Madonna already followed Miley before she started working on the biopic (the pair performed together during Miley's MTV Unplugged), the "Wrecking Ball" singer and Hannah Montana star is actually a great choice for the biopic.
After all, the singer may be the closest thing we have to a modern Madonna, with her constant image reinventions and sometimes sexually charged performances. However, the Tennessee-born Miley may struggle with Madonna's mid-Atlantic accent.
Of course, with Madonna being known as the Queen of Reinvention, it could be that we will see multiple actors playing her. This is not unprecedented in the world of biopics—Todd Haynes' unconventional Bob Dylan movie I'm Not There, for example, got an array of actors like Richard Gere, Christian Bale and Cate Blanchett to play the folk legend.