Madonna Cancels Boston Concerts On 'Madam X' Tour Due to 'Overwhelming' Pain
Longtime pop icon Madonna has cancelled the upcoming Boston concert dates scheduled to begin this weekend in her Madam X tour, citing "overwhelming" pain and "doctor's orders" as reasons for the decision. Fans who bought tickets with their credit cards will be reimbursed.
"Madonna's Madame X concerts previously scheduled for November 30th, December 1st and 2nd at the Boston Center Wang Theatre are canceled due to doctor's orders," said Live Nation, who is handling the tour's promotion, in a statement on Wednesday. "We are sorry and regret the disappointment to fans in Boston."
The "I Rise" singer also issued a statement, writing to fans on Instagram: "Please forgive this unexpected turn of events. Doing my show every night brings me so much joy and to cancel is a kind of punishment for me but the pain I'm in right now is overwhelming and I must rest and follow doctor's orders so I can come back stronger and better and continue the Madame X journey with all of you."
Live Nation also stated that ticket costs for the performances will be returned to the credit cards used to make the purchase, however, the cancelled tour stops cannot be rescheduled "due to the tight scheduling through the balance of the year."
The tour, named for the 7-time GRAMMY winner's 14th full length studio album, kicked off on September 17 in New York City and consists of stops in multiple cities across the United States and Europe before culminating in Paris in March 2020.
According to Rolling Stone, which offered a review of the residency's opening night in Brooklyn, the set list for the U.S. leg of the tour is as follows:
"God Control"
"Dark Ballet"
"Human Nature"
"Vogue"
"I Don't Search I Find"
"Papa Don't Preach"
"American Life"
"Batuka"
"Fado Pechincha"
"Killers Who Are Partying"
"Crazy"
"La Isla Bonita"
"Sodade"
"Medellin"
"Extreme Occident"
"Frozen"
"Come Alive"
"Future"
"Crave"
"Like a Prayer"
"I Rise"
However, this is not the singer's first setback on the tour, as noted by Billboard. At the start of the Madam X residency, the "Medellin" artist had to cancel a show at the BAM Howard Gilman Opera House in New York, having suffered an injury, the report said.
Madam X was released by Interscope records on June 14, 2019, spawning the singles "Medellin," "Crave" and "I Rise." The musical effort debuted at No. 1 on the Billboard 200, giving the pop idol the ninth chart-topping album of her decades-long career, which launched with her eponymous debut in 1983.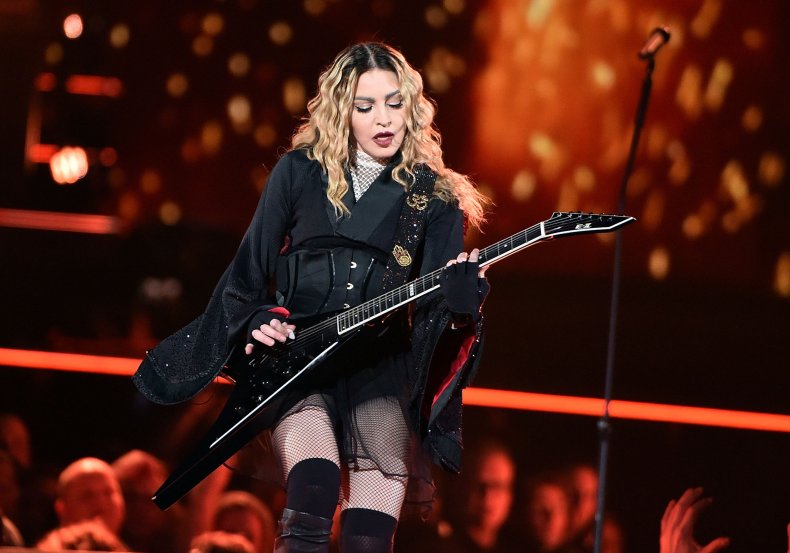 Madonna Cancels Boston Concerts On 'Madam X' Tour Due to 'Overwhelming' Pain | Culture