Madonna Calls Coronavirus 'The Great Equalizer' From Her Bath Full of Literal Rose Petals
Madonna recently shared a message about the novel coronavirus from a bathtub sprinkled with rose petals, in a video captioned "No-Discrimination- Covid-19!!"
Holding herself by her bathtub faucet handles into a tucked position, Madonna offered her thoughts about the equalizing power of the worldwide coronavirus pandemic, which she identified as both "terrible" and "wonderful."
"That's the thing about COVID-19, it doesn't care about how rich you are, how famous you are, how funny you are, how smart you are, where you live, how old you are, what amazing stories you can tell. It's the great equalizer," the singer said in the video, which was posted to her social media accounts on Sunday. "And what's terrible about it is what's great about it. What's terrible about it is it's made us all equal in many ways. And what's wonderful about it is that it's made us all equal in many ways. Like I used to say at the end of 'Human Nature' every night: We're all in the same boat, and if the ship goes down, we're all going down together."
She hashtagged the video "quarantine," "covid_19," "staysafe," "becreative" and "brianeno," referring to the English ambient-rock musician Brian Eno, whose music backs the bathtub soliloquy.
Earlier in March, Madonna ended her "Madame X" tour, cancelling her final two shows in Paris due to the spread of COVID-19. Meant to promote her June 2019 album of the same name, the "Madame X" tour was beset by other delays and cancellations. In her COVID-19 video, Madonna referenced her onstage message delivered after performances of "Human Nature," a song from her 1994 album, Bedtime Stories.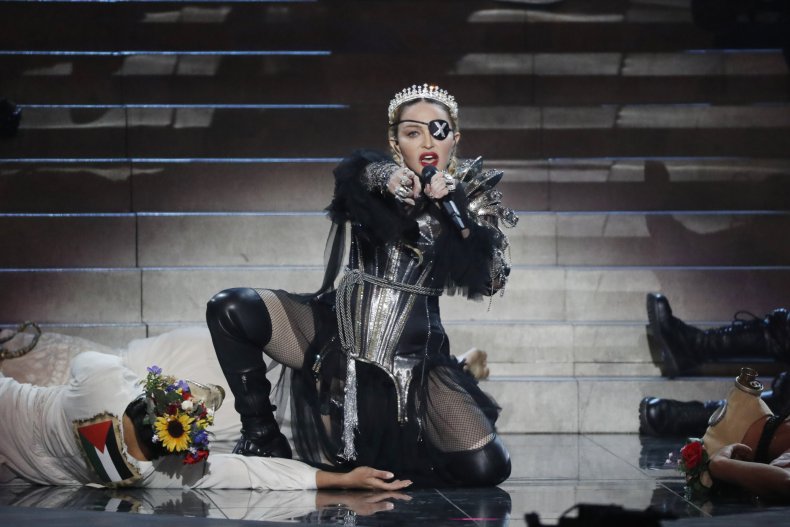 While her message was meant to evoke the universal fellowship of all people, united in dire times, Madonna's video instead prompted the opposite, as commenters pointed out just how unequal responses to the coronavirus outbreak have been.
"We all know that you are in your own rich confinement," one popular comment on her Instagram post said. "You live in other reality Madge. Stop it. With petals on your rich bath, oh m god. COVID-19 makes distinctions because you can afford your own respiratory machine."
"Sorry Madonna but the wealthy like yourself can get tested even with no symptoms but all us regular Joes get turned away," another commenter said.
The backlash was similarly intense on the Twitter version of her post, with one replier comparing her to a ghost girl in a Japanese horror movie:
The replies to Madonna's viral post also became a rallying area for Trump supporters and QAnon conspiracy theorists lamenting the decadence of celebrities.
But the backlash ultimately came from across the political spectrum, with most who objected to Madonna's viral post doing so along class conflict lines, with replies enumerating the many ways in which wealth inequality exacerbates health care inequalities.
"The great equalizer? Really?" a self-described supporter of Bernie Sanders wrote in the replies. "Some people have concierge doctors, COVID-19 tests, and in home equipment like ventilators. Others, are left to die."
The viral video wasn't the pop singer's only response to the novel coronavirus pandemic: Madonna's Raising Malawi organization lent support to a refugee aid group delivering antibiotics and other medical supplies to the Gaza Strip in Palestine, which confirmed its first cases of COVID-19 on Sunday.
Subjected to a crippling blockade by Israel and a closed border with Egypt since 2007, Gaza's healthcare system lacks essential equipment and supplies, with hospitals receiving on average only four to six hours of electricity every day. The World Health Organization has assessed the COVID-19 risk to the occupied Palestinian territory to be "Very High."