Madonna Crawls on Jimmy Fallon's Desk in 'Off the Rails' Interview
Madonna showed that her rebellious spirit remains very much intact when she made a hellraising appearance on The Tonight Show Starring Jimmy Fallon.
The pop superstar, 63, sat down for an interview with titular host Jimmy Fallon as she hit the promotional trail for her newly released documentary, Madame X.
As host Jimmy Fallon asked the singer what she hoped viewers would get from the film, she responded: "Art is important in our lives. I don't think people emphasize that enough. I'm really inspired by James Baldwin, the writer."
"He was a great source of inspiration for the show, and one of the things I quote over and over again in the show is that artists are here to disturb the peace," she went on. "And so I hope that I have disturbed not only your peace this afternoon but people's peace while they watch the show. But I mean that in the best way."
"Oh, yeah, you get in good trouble," Fallon, 47, said in agreement, before the "Express Yourself" singer suddenly rose from her seat, sprawling herself across the host's desk to raucous cheers from the studio audience.
A horrified Fallon yelled: "No! Madonna! Stop it! I don't know what to do. Stop it right now," before removing his jacket and placing it across Madonna's fishnet stockings-clad legs.
"No one's gonna see anything, my god!" Madonna exclaimed as she climbed off the table, before lifting up her black minidress to flash her bottom at the audience.
Cackling as she returned to her seat, Madonna quipped: "Life is not just about interviewing kitties. Don't you want to talk to an adult? Let's have some adult conversation."
"Are you talking to an adult right now?" Fallon asked, prompting Madonna to respond: "I'm not sure... I feel like you're in some kind of conflict right now. Have you been to a therapist?"
"I went once or twice," Fallon said in response. "It wasn't my thing."
When Fallon directed the same question back at Madonna, she replied: "I write... it's a form of therapy... And I also hope that I have good friends... I talk my s*** out with people. That's a kind of therapy, don't you think?"
When the conversation turned to smoking, Fallon asked Michigan native Madonna if she vapes, which prompted her to quip: "I like opiates!"
Footage of the interview was uploaded to The Tonight Show's YouTube channel on Friday, and was given the title: "Jimmy's Interview with Madonna Goes Off the Rails."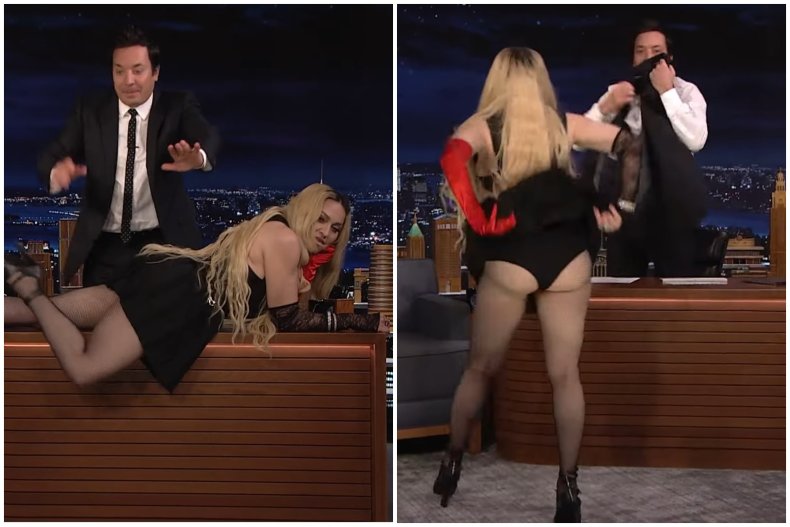 The mother-of-six's interview hearkened back to her memorably wild moment on Late Night with David Letterman back in 1994.
As the host introduced the singer, he said: "In the past 10 years, she has sold over 80 million albums, starred in countless films, and slept with some of the biggest names in the entertainment industry."
During her appearance on the show, Madonna kept the censors busy as she uttered the word "f***" 14 times, making it one of the most controversial talk show moments of all time.
After calling Letterman a "sick f***" while puffing on a cigar, she refused to leave the stage at the end of the interview, which has since been given its own multi-sectioned Wikipedia page.