Madonna Criticizes Instagram for Deleting Her Racy Photos, Reposts Images
Madonna has hit out at Instagram for removing a set of racy photos she shared on the platform, as she defiantly reposted the images.
The pop icon, 63, had shared snapshots that showed her posing on—and under—a large bed as she as sported lingerie, fishnet stockings and vertiginous heels on Wednesday.
By Thursday, the "Material Girl" hitmaker returned to Instagram to reveal that the social media giant had removed the photos because her nipple was visible as she shared the images once again, with the areas in question covered with red heart emojis.
Captioning her edited repost, the mother of six criticized the image-sharing platform, questioning why that particular part of a woman's body continues to be censored.
"I'm reposting photographs Instagram took down without warning or notification," she wrote to her 17 million followers. "The reason they gave my management that does not handle my account was that a small portion of my nipple was exposed.
"It is still astounding to me that we live in a culture that allows every inch of a woman's body to be shown except a nipple. As if that is the only part of a woman's anatomy that could be sexualized. The nipple that nourishes the baby!"
Suggesting that double standards were at play, she went on: "Can't a mans nipple be experienced as erotic ??!! And what about a woman's ass which is never censored anywhere."
The Michigan native then concluded her post by suggesting that the centuries-long Thanksgiving tradition is based on a "lie."
She wrote: "Giving thanks that I have managed to maintain my sanity through four decades of censorship...... sexism......ageism and misogyny.
"Perfectly timed with the lies we have been raised to believe about the pilgrims peacefully breaking bread with the Native American Indians when they landed on Plymouth Rock! God bless America... #artistsareheretodisturbthepeace."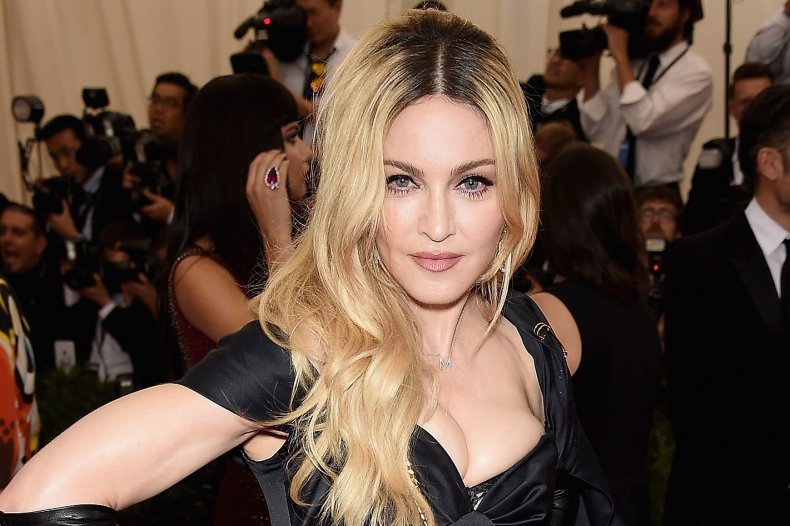 Responding to Madonna's post, a spokesperson for Meta, the parent company of Instagram, told Newsweek: "We take down content that breaks our rules whenever we find it, no matter who posts it.
"While we understand not everyone will always agree with where we draw the line, our rules are designed to help keep everyone of all ages safe on our apps, while giving space for as much expression as possible."
One major factor guiding the platform's stance on nudity is that it cannot always be verified that the person pictured is over 18, or that they consented to being photographed and having the images shared on social media.
In its Community Guidelines, Instagram says of its policy on nudity: "We know that there are times when people might want to share nude images that are artistic or creative in nature, but for a variety of reasons, we don't allow nudity on Instagram.
"This includes photos, videos and some digitally-created content that show sexual intercourse, genitals and close-ups of fully-nude buttocks.
"It also includes some photos of female nipples, but photos in the context of breastfeeding, birth giving and after-birth moments, health-related situations (for example, post-mastectomy, breast cancer awareness or gender confirmation surgery) or an act of protest are allowed. Nudity in photos of paintings and sculptures is OK too."
In a 2018 interview with New York magazine's The Cut, Madonna spoke about the ageism she has faced over the years, with a number of her critics deeming her past the age threshold of being sexy.
"It's an outdated, patriarchal idea that a woman has to stop being fun, curious, adventurous, beautiful, or sexy past the age of 40. It's ridiculous," she said.
"Why should only men be allowed to be adventurous, sexual, curious, and get to have all the fun until the day they leave this earth? Why should that only be the domain of men? How do we fight this?
"By standing up to men and by standing up to social mores or standards that say we cannot. The more women that do it, it will just be a matter of time."
Looking back on her rise to fame in the 1980s, Madonna told how she was seen as a "sexual provocateur," due to her "using sexuality as part of my creativity"—for which she was painted as a controversial figure.
"Now, all the challenges that I had to face 20 years ago seem ludicrous," she said. "What I am going through now is ageism, with people putting me down or giving me a hard time because I date younger men or do things that are considered to be only the domain of younger women.
"I mean, who made those rules? Who says? I'm going to keep fighting it. Ten to 20 years from now, it's going to be normal. People are going to shut up."