Donald Trump's Presidency Led Madonna to Move to Portugal: 'This Is Not America's Finest Hour'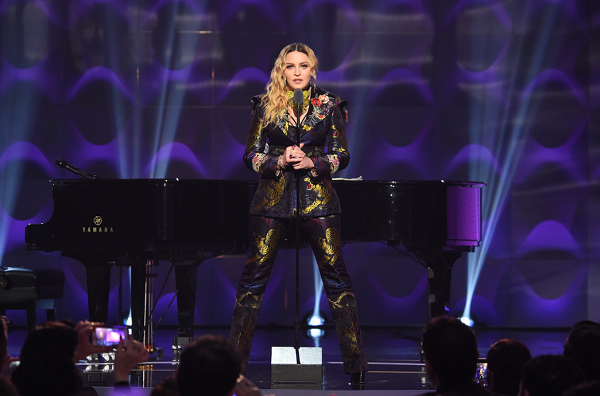 Madonna uprooted her family from America after President Donald Trump was elected. The superstar revealed she lives in Portugal, telling Vogue Italia she moved her family because they "needed a change."
"I wanted to get out of America for a minute—as you know, this is not America's finest hour," Madonna told the magazine during an interview released Wednesday.
Madonna isn't known to play coy about her disdain for the reality TV mogul-turned-president. She's publicly condemned Trump a number of times since he took office. Along with calling the election a "horror show," Madonna admitted to having thoughts about "blowing up the White House" while speaking at the Women's March on Washington, one week after Trump moved into the American staple in January 2017.
Trump hasn't been shy about his feelings for Madonna either. The 45th president called the singer "disgusting" during an interview with Fox News host Sean Hannity days after her Women's March comments.
This isn't the 59-year-old's first time living outside her native country, though. "Not that leaving America makes anything different or changes anything. I've lived in other places. I lived in London for 10 years," she said.
Madonna added: "I like to put myself in uncomfortable situations and take risks."
The "Material Girl" singer moved to Lisbon a year ago with four of her six children, including David Banda and Mercy James, both 12, and 5-year-old twins Stella and Estere. Madonna said her son David's passion for soccer fueled her decision to relocate.
"My son David, who is going to be 13 on September 24th, has wanted to play soccer professionally for years. I've been desperate to get him into the best academies with the best coaches, but the level of football in America is much lower than the rest of the world," she explained.