Madonna Exposes Fan's Breast Onstage in Latest Tour Controversy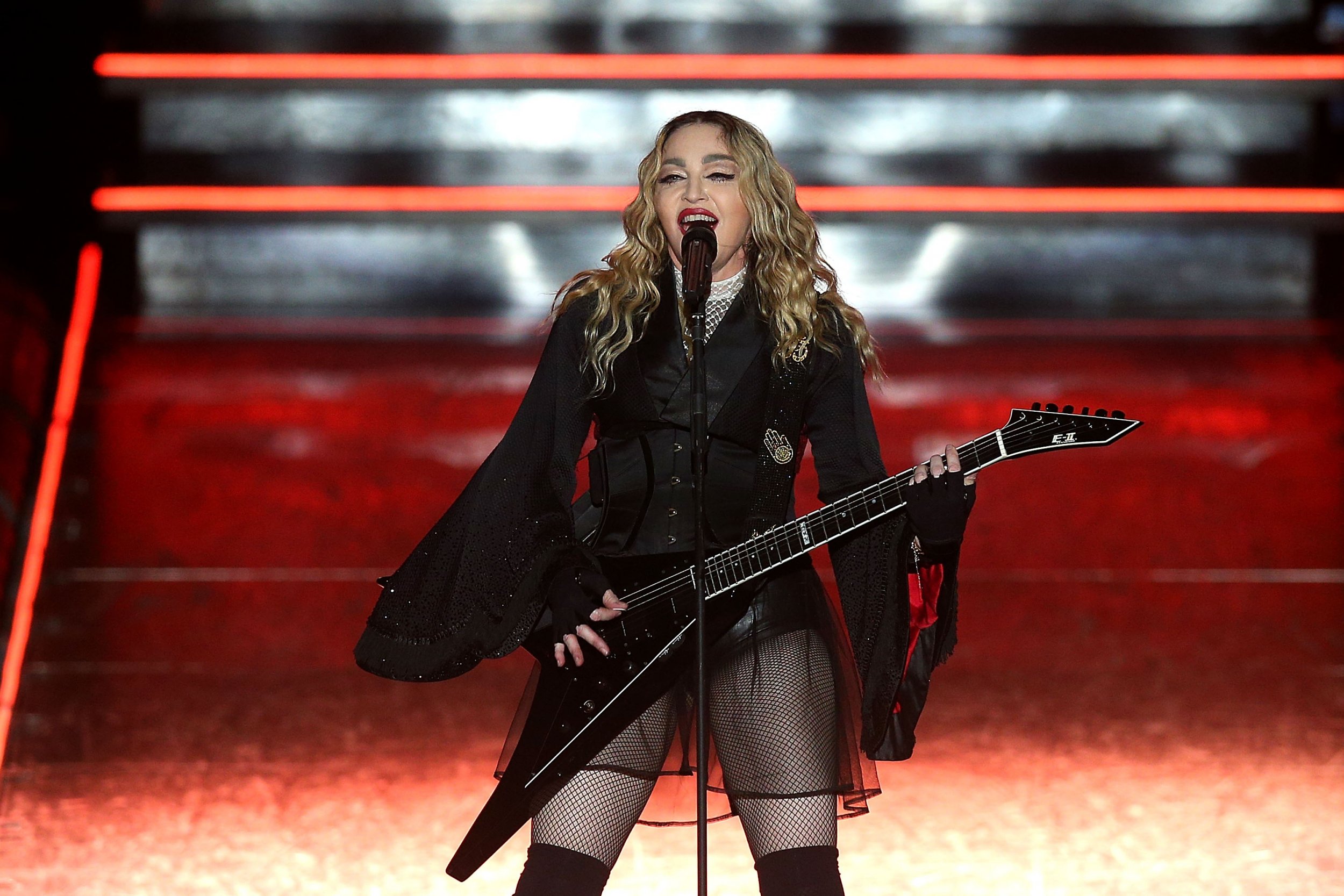 Madonna shocked fans on Thursday by exposing the breast of a young fan she invited to join her onstage in Brisbane, Australia.
The singer inadvertently pulled down 17 year old Josephine Georgiou's tube top after bringing the girl on stage for one of her songs. She said, "She's the kind of girl you just want to slap...on the ass...." Adding, "And pull," Madonna then appeared to yank Georgiou's top down and expose her breast.
The lascivious behaviour continued as the 57-year-old star said, "Oh shit. I am so sorry, sexual harassment. You can do the same to me." Gesturing to her crotch she added, "You want to make my hole big again?"
As fan footage disseminated online, Georgiou insisted she won't sue and defended the singer and said the incident was the "best moment of my life."
"It was the best night," she told The Courier Mail. "She was calling me a Victoria's Secret model the whole time I was on stage, which is so flattering."
Georgiou, a barista and aspiring model, explained how she wore her mother's tube top to the concert but had to keep adjusting it throughout the night as it was too big.
She added, "Only I get to decide if I'm humiliated or not. Why would people assume I am humiliated by my own breast, nipple or body?"
Is Madonna having a meltdown?
Madonna's Rebel Heart tour has been plagued by issues since she began its Australian leg at the beginning of March.
On Wednesday fans complained when she emerged onstage in Brisbane two hours later than billed. The pop star attempted to brush off her tardiness, joking: "You were here too early. You should have taken your time doing your hair and makeup. Then I wouldn't have been late."
There were also suggestions she performed to "half-empty" crowds in the city after angry fans sought refunds.
And last week Madonna was forced to deny claims she was under the influence of alcohol and drugs at a concert in Melbourne.
The tour comes in the midst of the singer's ongoing custody battle with ex-husband Guy Ritchie over their 15-year-old son Rocco.
Onstage at a more intimate show in Melbourne earlier in March, Madonna appeared to cry as she dedicated a song to the teenager. "Everybody knows the saga of me and my son Rocco. It's not a fun story to tell or think about," she opened up to select fans.
These ongoing work and life problems have seemingly interconnected, leading to tabloid headlines of a "meltdown."
But British PR guru Mark Borkowski says it isn't easy for stars of Madonna's magnitude to postpone tour dates to deal with personal matters because of the huge financial implications it could have on organizers and insurance companies.
"Unfortunately one of the prices of Madonna's global fame is that you're committed to a huge tour that's being sold out a year in advance. It's difficult to stop working and deal with the situation," he explains to Newsweek.
"This is a huge emotional distraction for her, it's not surprising, any human and any parent would understand this.
"The problems are likely what's happening backstage with the promoter, insurance companies, that don't allow her to take time out. Somehow only bereavements allow bands to do that."
Addressing the controversy around her latest shows, Borkowski adds, "Madonna's damned if she does, damned if she doesn't. What people are feeding is the emotional turmoil that make up what is a public soap opera."
While the star's tour may seem hampered by her personal problems, it's unlikely it will affect her career in the long-run.
"Madonna is pretty good at using the fabric of the media to paint her new narrative. Whether it'll kill off Madonna—no, it makes her more interesting. People that haven't bought tickets might buy tickets out of curiosity," says Borkowski.