Madonna Slams Planned Biopic of Her Life: 'Lies Have No Legs'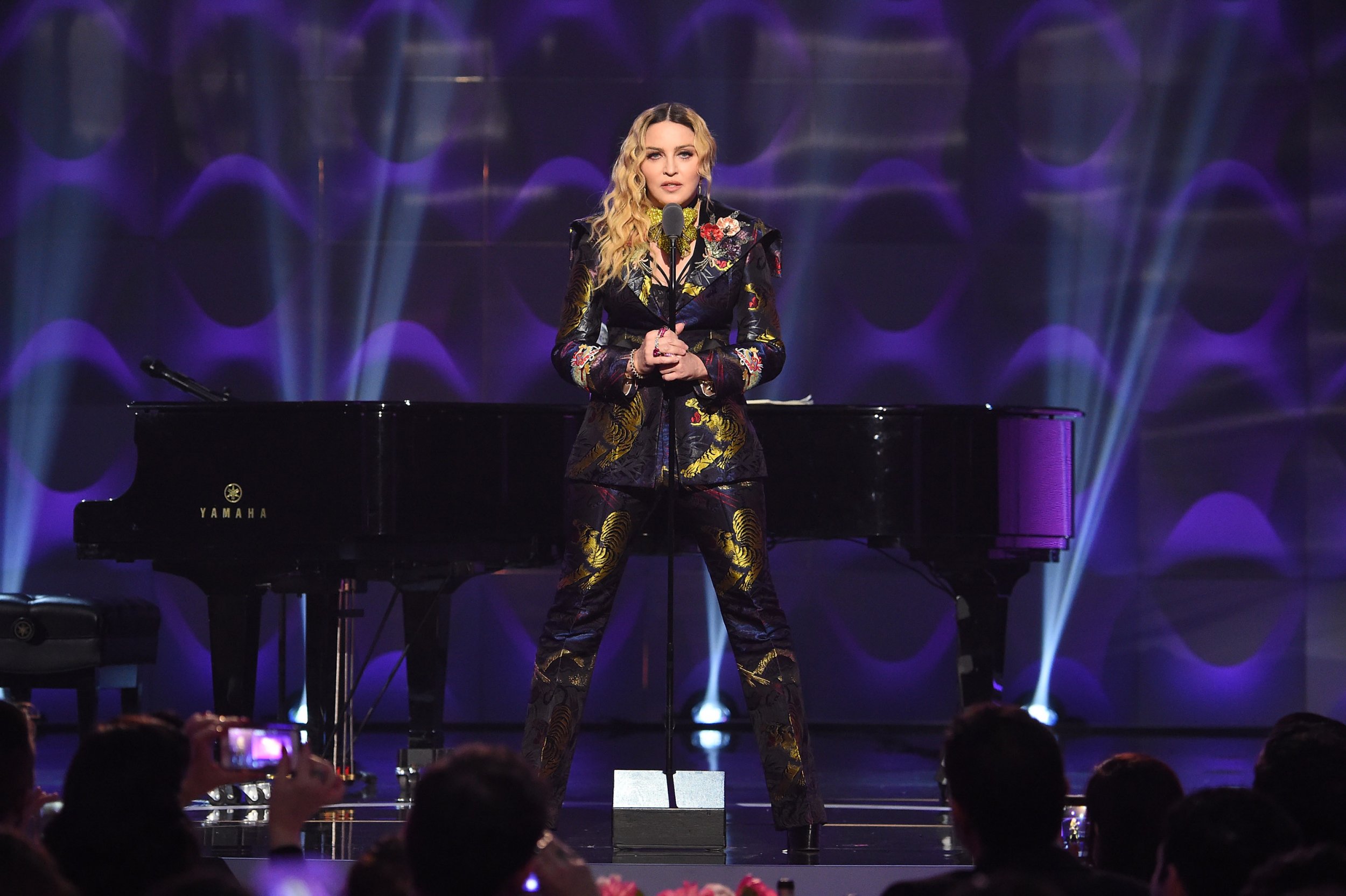 Madonna is not happy about plans for an unauthorized biopic about her life.
Universal Pictures picked up the rights to a script titled Blond Ambition, written by Hollywood newcomer Elyse Hollander and to be produced by movie veteran Brett Ratner, The Hollywood Reporter said Monday.
The project will chart Madonna's rise to fame and her struggle to break into the music industry in the 1980s.
The script topped the annual Hollywood Black List, a ranking of the best unproduced screenplays as voted by industry executives, in 2016.
However, Madonna has taken to her Instagram account to publicly call out Hollander's script for peddling "lies."
The singer posted a quote directed at Universal, Hollander and Ratner Wednesday night. It reads: "Don't worry about those who talk behind your back, they're behind you for a reason."
In the caption, as well as a very liberal use of the snake emoji, Madonna named the studio, writer and producer. She wrote: "Lies have no legs."
Madonna's allegation of "lies" apparently relate to the script's factual accuracy in recounting her youth.
In a now-deleted Instagram post, picked up by The Huffington Post, Madonna posted a picture of Hollander's script. The scene in question recreates a 1984 appearance on U.S. variety television show American Bandstand, hosted by the late Dick Clark.
Madonna highlighted a portion of the dialogue where she said, "I was born in Detroit and I'm a famed high school dropout," and wrote next to it in blue marker: "WTF!"
In the caption, HuffPost says, the singer wrote that she was born in "Bay City, not Detroit. And I did not drop out of high school; in fact, I went to University of Michigan."
"Why would Universal Studios want to make a movie about me based on a script that is all lies?" she reportedly wrote.
Madonna is right—she was born in Detroit and did not drop out of high school. She graduated from Rochester Adams High School in Michigan in 1976. She is also right that she went to the University of Michigan; she talked about attending college in a 2015 interview with shock jock Howard Stern, noting that she left after one year to pursue fame in New York.
But Hollander's script is also right. In the American Bandstand interview with Clark, Madonna did indeed say she was born in Detroit and was a "famed high school dropout." Watch the clip here:
In a further Instagram post, Madonna said "only I can tell my story." She added: "Anyone else who tries is a charlatan and a fool."
Newsweek has contacted Universal, Hollander and Madonna for comment.