Madonna's Body Criticized by Michael Rapaport—'That Is Not a Real Butt'
Madonna's physique has been criticized by Michael Rapaport, who accused her of having a surgically enhanced posterior as he critiqued one of her photos.
On January 28, the "Material Girl" singer, 63, took to Instagram to share a series of racy snapshots. While the images have attracted more than 480,000 likes on the platform, True Romance star Rapaport, 51, has revealed, in no uncertain terms, that he is not impressed.
Rapaport has body-shamed Madonna in the past, making comments about her in a video shared on YouTube in December as she faced attacks from rapper 50 Cent. Madonna has spoken out about the "outdated, patriarchal" ageism she has faced over the years.
On Tuesday, Rapaport took to TikTok to share a clip of himself addressing the audience on The Wendy Williams Show, which he is guest-hosting this week as the titular presenter's extended sick leave continues. While the video has been viewed over 93,000 times, the clip was taken from the broadcast of a show that has averaged more than 1.8 million daily viewers.
Pulling up a photo that showed Madonna posing with her back to the camera, the actor said, in an address to the pop icon: "I am not here to disrespect you or body-shame you, I am here to talk about the doctor that gave you that butt.
"That is not a real butt. The Material Girl is putting too many materials into her butt. I'm not body-shaming you, I'm surgery-shaming you. You deserve better, Madonna."
"Isn't there somebody in your clique, in your crew, who will say, 'No, that butt looks as weird as that jacket you're wearing?'" Rapaport went on, as he added that he feared she would end up on Botched, the E! show about cosmetic procedures gone wrong.
"I do not wanna see the Material Girl on an episode of Botched and that's where we're heading to, Madonna," he said. "It's concerning to me. And it feels like it's painful. Like, how do you sit down with that puppy?"
After singing the lyrics to Madonna's 1982 debut single "Everybody," Rapaport concluded: "I love Madonna. Just take it easy. I really do not wanna see you on Botched. But if it makes you happy, keep doing your thing, with love. "
Newsweek has contacted representatives of Madonna and Rapaport for comment.
In a video shared on YouTube in December, Rapaport spoke about another of the singer's Instagram uploads.
In his unflattering assessment he said that "it feels like she's trying to recreate herself in her 20s. She's so Botoxed up and plastic-surgeoned up, and the photos are so filtered and they're so heavily made up."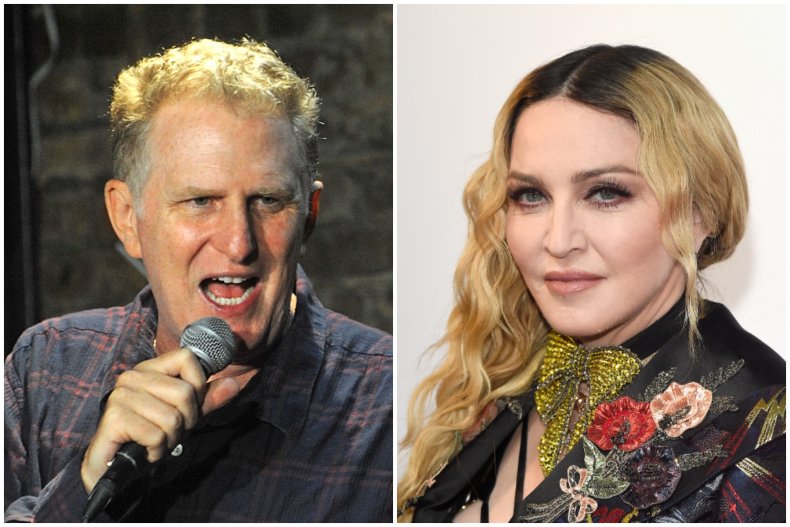 While he noted that nobody should be told what to do when it comes to things that make them feel good about themselves, he went on: "I think it's disappointing for me as a fan—and I was a huge fan of Madonna's—to see her... Like, be the sexy person your age.
"I'm not saying don't do a little work. Everybody's entitled to do a little work—a filter here, change stuff there, stay in shape. But I think it's because she was so natural when she first came out."
He added: "To see her like this, I could see why 50 Cent would be like, 'Yo, don't try so hard.'"
Rapaport faced accusations of misogyny in 2018 when he attacked Ariana Grande's appearance in comments shared on his Twitter account.
He wrote of the chart-topping singer: "Ariana Grande is 27 acts 12, you take off those boots she hides her legs in, the cat eye make up and the genie pony tale and I think there's hotter women working the counter at Starbucks no disrespect to Starbucks."
His comment was met with criticism from fans, who questioned why he was commenting on Grande's appearance.
In November, Madonna was locked in a war of words with 50 Cent, after the rapper, real name Curtis Jackson III, mocked a set of photos that showed her in a skimpy ensemble.
Sharing her photos on social media, 50 Cent, 46, wrote: "Yo this is the funniest s***! LOL. That's Madonna under the bed trying to do like a virgin at 63. She shot out, if she don't get her old a** up. LMFAO."
Madonna hit back days later, posting a photo of herself posing alongside 50 Cent, as she wrote: "Here is 50 Cent pretending to be my friend. Now you have decided to talk smack about me!
"I guess your new career [is] getting attention by trying to humiliate others on social media. The least elevated choice [you] could make as [an] artist and an adult. [You're] just jealous you won't look as good as me or have as much fun when you are my age!"
Power executive producer 50 Cent tweeted in response: "I must have hurt Madonna feelings, she went and dug up a old MTV photo from 03."
He continued: "Ok Im sorry I did not intend to hurt your feelings. I don't benefit from this in anyway i said what i thought when i saw the picture because of where i had seen it before i hope you accept my apology."
In a video shared on Instagram days later, Madonna branded 50 Cent's apology "fake" and "bull****," as she said: "You were trying to shame me. You were trying to humiliate me. Yeah, your apology is fake, it's bull**** and it's not valid."
The video then cut to BET footage of 50 Cent describing Madonna as "a friend" as he greeted her while she worked in a neighboring studio.
Madonna continued in her video that "an apology is not valid if you don't know what you're apologizing for. What you should be apologizing for is your misogynistic, sexist ageist behavior and remarks."
At the time, 50 Cent responded by continuing to share posts that mocked Madonna's ensembles and poses.
In a 2018 interview with New York magazine's The Cut, Madonna spoke about the ageism she has faced, saying: "It's an outdated, patriarchal idea that a woman has to stop being fun, curious, adventurous, beautiful or sexy past the age of 40. It's ridiculous.
"Why should only men be allowed to be adventurous, sexual, curious, and get to have all the fun until the day they leave this earth? Why should that only be the domain of men? How do we fight this?
"By standing up to men and by standing up to social mores or standards that say we cannot. The more women that do it, it will just be a matter of time."