Venezuela's Maduro Regime Accused of Training Leftist Guerrillas to Use Anti-Aircraft Missiles: Report
The regime of Venezuelan leader Nicolás Maduro has been training a revolutionary left-wing armed group to use Russian-manufactured anti-aircraft missiles, according to military officials in Colombia.
The Marxist National Liberation Army, known as ELN for its acronym in Spanish, has been fighting Colombia's military since the 1960s. It is considered the country's second largest leftist guerilla group after the Revolutionary Armed Forces of Colombia (FARC), which signed a historic ceasefire agreement with the Colombian government in 2016.
As FARC laid down its arms, the ELN has continued its opposition to, and clandestine fight with, the Colombian government. The ELN also has close ties to the Maduro regime in Venezuela, which is fighting for its own survival amid a severe economic and political crisis in that country.
Colombian General Luis Navarro told Bloomberg that the Colombian military had intelligence proving that the ENL was cooperating militarily with Maduro's government.
"These are weapons used by the Venezuelan armed forces," Navarro said. "We have the clear evidence and the necessary intelligence to affirm that the ELN is considered as part of the defense of the revolution of the Maduro regime."
Also on Monday, Venezuela's foreign minister said it would welcome Russian military advisers into the country. Russia has been supporting the Maduro regime in Venezuela even as more than 50 countries have recognized opposition leader Juan Guaidó as interim president. Russia has been supplying the Venezuelan army with aircraft and weapons for years, and has given them the surface-to-air missiles that Venezuela has allegedly trained the ELN to use.
The ELN denied that it was cooperating with Venezuela's military.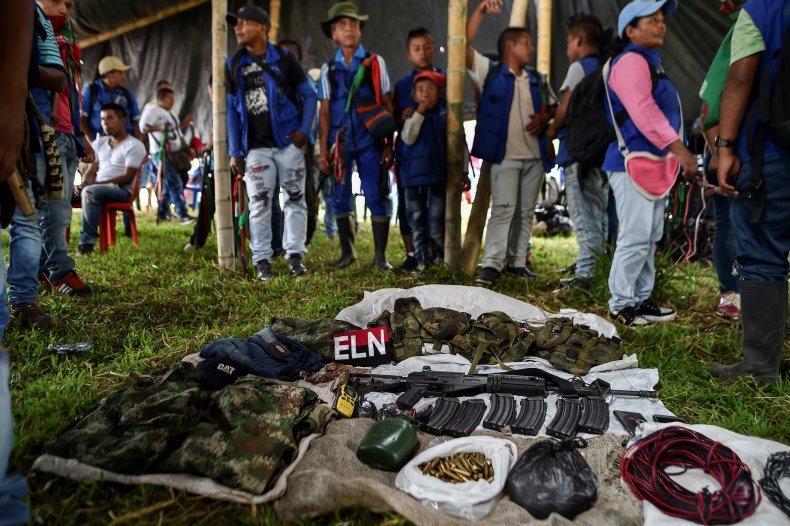 Maduro also claimed that Colombia's government was training Venezuelans who want to overthrow him.
At least four protesters were killed in Venezuela over the past week and hundreds injured as the political crisis there worsened.
"The security forces under the command of Nicolás Maduro and the armed civilian groups that support him insist on repressing the protests by people demanding a way out of the serious political and human rights crisis that has plagued the country for several years," Erika Guevara-Rosas, Americas director at Amnesty International, said in a statement. "The crimes under international law that they are committing add further weight to the already bulging dossier to be investigated under international justice systems. Maduro must put an immediate end to his policy of repression."
The U.S. recognizes Guaidó as the country's legitimate leader and has called for Maduro to step down. Secretary of State Mike Pompeo will meet with Russian Foreign Minister Sergei Lavrov on Monday, and Venezuela's political crisis will be among the topics of discussion.