Salt Bae Controversy: Maduro Says he Wants to Return to Plush Steak Restaurant, Brushes Off Critics
Venezuelan President Nicolás Maduro told reporters on Tuesday that he wants to go back to Salt Bae's restaurant in Istanbul "very, very soon," despite widespread condemnation in Venezuela and abroad following a series of videos and photos that show the strongman enjoying an expensive, sumptuous meal as millions of Venezuelans starve.
Maduro recalled his visit to Salt Bae's restaurant and the chef's patronage. "I sent my regards to Nusret [Gökçe, Salt Bae's real name], a very nice man [who] loves Venezuela," he said. "I even sat down in a chair of a true sultan … We hugged like 100 times."
Maduro also imitated Salt Bae's famous salt-sprinkling gesture: "Look, I learned the technique," the president said. He added that he'll visit the internet sensation's premises in a future visit to Turkey, and referred to the reporting of his feast as "an international mob."
"Any member of the opposition can visit [the venue]," Maduro said using the Spanish word "escuálido," a term that belittles the regime's critics.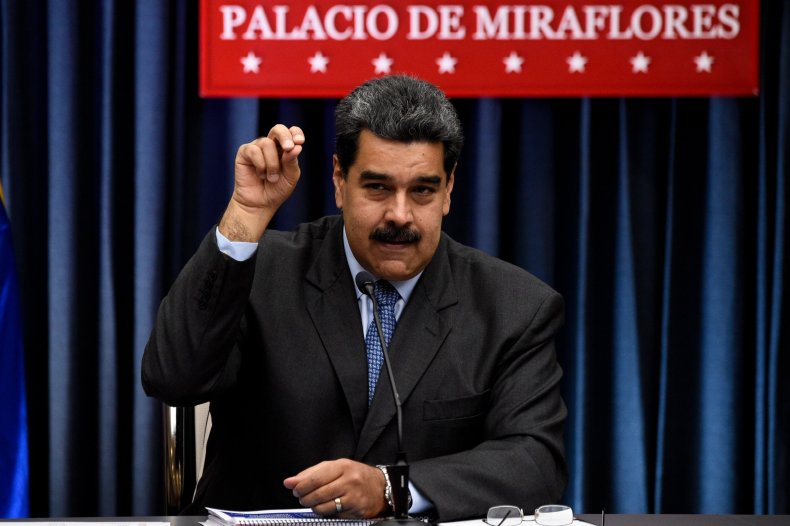 Footage of Maduro and his wife Cilia Flores feasting on Salt Bae's steaks enraged many at home, where Venezuelans have to line up for hours to buy meat and other staple food. Hyperinflation, medicine shortages and starvation have forced most of them to cross the border into Colombia and other neighboring countries. "By world standards, Colombia is receiving migrants at a pace that now rivals what we saw in the Balkans, in Greece, in Italy in 2015, at the peak of [Europe's] migrant emergency," Joel Millman of the U.N. International Organization for Migration told The Wall Street Journal.
To make matters worse, Maduro has halted food imports and arrested bakers for reportedly making the wrong bread, The Week reported earlier this year. "Pasta, chicken—I also don't have milk, nor sugar," a Venezuelan resident told CNN Money in July. "I don't know if I have a future in this country."
Salt Bae's controversial videos sparked indignation also in the sizeable Venezuelan diaspora in South Florida. Republican Senator Marco Rubio of Florida also entered the fray on Twitter: "This guy… who admires dictator @NicolasMaduro so much actually owns a steakhouse in, of all places, #Miami," the legislator wrote of the Turkish chef, adding the restaurant address and telephone number.
A number of Venezuelans have staged rallies in front of Salt Bae's restaurants in Miami and New York this week, and Yelp had to stop receiving reviews for Nusr-Et Miami after a flurry of criticism over Salt Bae's service to Maduro.
"This business recently made waves in the news, which often means that people come to this page to post their views on the news," Yelp's post read. "While we don't take a stand one way or the other when it comes to these news events, we do work to remove both positive and negative posts that appear to be motivated more by the news coverage itself than the reviewer's personal consumer experience with the business."
Salt Bae rose to prominence thanks to a 2017 video that shows his peculiar meat salting technique. The Turkish celebrity has something of a knack for posting photos of controversial leaders as well as impersonating film characters such as The Godfather's Vito Corleone and Scarface.