Maduro Wants a 'Face-to-Face' Meeting With Trump, Calls Sanctions an 'Award'
Venezuela's embattled President Nicolas Maduro has responded to strong condemnation from the U.S., saying he wants to meet directly with President Donald Trump.
"I'm ready to talk to U.S. President Donald Trump. I would like it to be a face-to-face meeting between Donald Trump and Nicolas Maduro," he said in a state TV channel broadcast on Tuesday, Russian news agency Tass reported.
But Maduro also blasted new U.S. sanctions, which have now targeted his wife Cilia Flores, arguing that they are futile and actually make his position stronger.
"U.S. sanctions are useless, they are also an award for revolutionaries, because they show that we are courageous, that we are on the right path, that we have not been led astray," he said.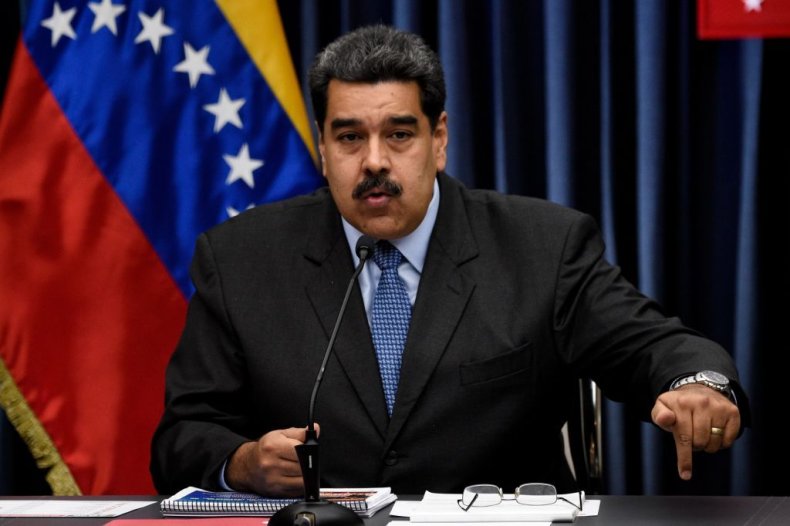 Foreign Minister Jorge Arreaza said that the Venezuelan leader was ready to meet with Trump as soon as possible.
"If President Donald Trump wants to talk to President Nicolas Maduro, this can be arranged as early as tomorrow [Wednesday]," he said, according to a tweet posted by the Venezuelan Foreign Ministry.
Addressing the United Nations General Assembly on Tuesday, Vice President Mike Pence warned Venezuela to "not test the president," after its military stationed troops along the Colombian border.
"Let me be clear: The United States of America will always stand with our allies for their security," Pence said in a stern rebuke. "We stand with Colombia and with our allies across this new world because of our shared values and our shared interests."
The Venezuelan government has accused embassy staff from Colombia, Chile and Mexico of supporting an early August assassination attempt against Maduro. "We are ready to present confessions made by the detainees to the foreign ministers of Colombia, Chile and Mexico," Venezuela's Communications Minister Jorge Rodriguez said on Monday, the Associated Press reported.
More than 2 million Venezuelans are also estimated to have fled their country as refugees due to a severe economic crisis and growing instability. They have mostly traveled to surrounding South American countries, with Colombia, Ecuador, Peru and Brazil taking in large numbers. Pence announced on Tuesday that the U.S. would give $48 million in additional aid to deal with the crisis, on top of $50 million already contributed.
Meanwhile, Maduro has repeatedly mocked those fleeing his country, calling them "slaves and beggars" who are tricked into menial labor in neighboring nations.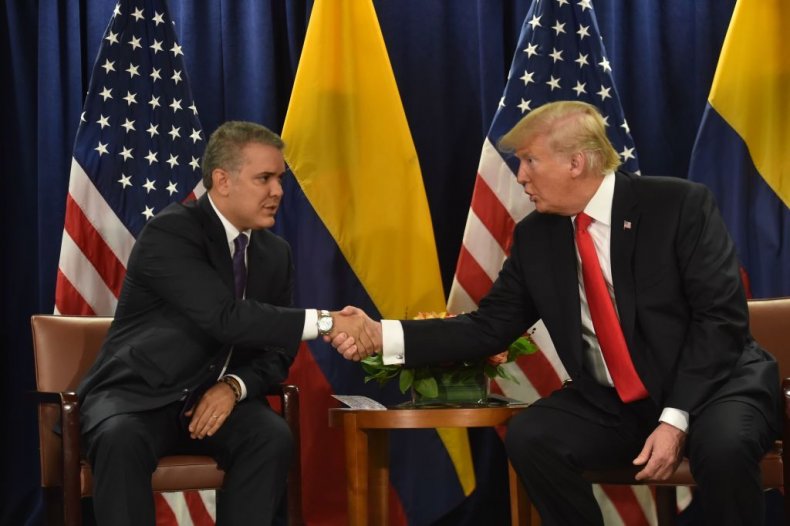 In his speech to the U.N. General Assembly, Trump slammed Venezuela's leaders, calling for a "restoration of democracy" in the country.
"Today, socialism has bankrupted the oil-rich nation and driven its people into abject poverty," Trump said in his address. Later, during a bilateral meeting with Colombian President Iván Duque Márquez, Trump called Venezuela "one of the truly bad places in the world today."
Trump also said on the sidelines of the General Assembly that Venezuela's regime "could be toppled very quickly by the military if the military decides to do that," the AP reported.